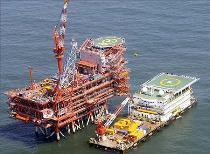 State-owned Oil and Natural Gas Corp has bid for Russia's Trebs and Titov oilfields and is pitted against local giant LukOil and a venture owned by energy major BP Plc for rights to develop the giant reserves.


ONGC put in a bid through its Russian unit, Nord Imperial, for rights to develop Russia's largest undistributed fields at the close of bidding on Monday, a source said. The two fields, located in the Arctic, may hold more than 200 million tonnes of recoverable reserves. This is about half the reserves of Rosneft's Vankor, the country's largest new oil development.


Five other Russian firms -- country's second largest oil producer LukOil, TNK-BP (a firm half-controlled by BP), Gazprom Neft (oil unit of Russian gas monopoly OAO Gazprom), Surgutneftegaz and mid-sized firm OAO Bashneft, are in race.
It is not clear if ONGC, bidding through its Russian arm, qualified for consideration as the fields fall under regulations on strategic assets and foreign companies' participation may be restricted.
The Trebs and Titov deposits will be sold at a government auction on December 2. Nord Imperial is part of Imperial Energy, which ONGC Videsh Ltd, the overseas investment arm of state-owned firm, had acquired in 2008 for $1.9 billion.
The source said ONGC had previously expressed interest in the oil and gas fields in the Arctic and had been looking at a possible joint bidding with state-controlled Rosneft, Russia's biggest oil producer.
But OAO Rosneft dropped plans to bid for Trebs and Titov. ONGC and Rosneft are partners in Russia's Far East Sakhalin I project, each with a 20 per cent stake. Sakhalin-I has been producing oil for several years and reached peak production of 11.2 million tonnes in 2007.
Its current output is 155,000 barrels per day, and is expected to touch 200,000 bpd in the next calendar year.