The country has fully switched over to cleaner Euro-III and Euro-IV petrol and diesel as of Wednesday and well ahead of the October one deadline, Minister of State for Petroleum Jitin Prasada said on Thursday.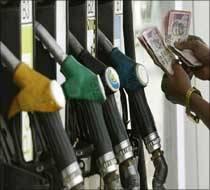 "We launched Euro-IV grade petrol and diesel in 13 big cities from April 1 and Euro-III grade fuel was to be introduced in the rest of the country in phases by October one. We introduced Euro-III petrol and diesel in North Eastern states (the last of the regions) on Wednesday," he told reporters here.
With this, the launch of ultra low sulphur and benzene fuel has been completed ahead of schedule, he said.
"The roll-over happened without a glitch. There are no disruptions of fuel (supplies) anywhere in the country." When Euro-IV grade fuel was launched in April, petrol prices were increased by Rs 0.50 a litre and diesel by Rs 0.26 per litre. For introduction of Euro-III grade, petrol prices have been raised by Rs 0.26 per litre and diesel by Rs 0.21 a litre in phases as the fuels were introduced throughout the country.
"There will be no further increase in prices as a result of introduction of Euro-III fuel. Whatever had to be done, has already been done," Prasada said. He said public sector firms spent over Rs 32,000 crore (Rs 320 billion) in upgrading refineries to produce higher quality fuel.
"This (introduction of Euro-III and IV grade fuel) will considerably improve the air quality with reduction in emission of pollutants in fuels."
As against the approved scheduled of introducing Euro-III fuel by October one, introduction of higher grade petrol was advanced in 20 states and that of diesel in 23 states. In the last leg, Bharat Stage-III (the India equivalent of Euro-III) petrol and diesel has been introduced in the seven North Eastern States on September 22, he said.
The government had already introduced BS-IV (the India equivalent of Euro-IV grade) petrol and diesel in all 13 identified cities (NCR of Delhi, Agra, Kanpur, Lucknow, Kolkata, Mumbai, Ahmedabad, Surat, Pune, Solapur, Chennai, Bangalore and Hyderabad) on a single day effective April 1, 2010.
The Auto Fuel Policy had prescribed a road map for introduction of BS-IV and BS-III grades of petrol and diesel (equivalent to Euro III and Euro-IV Petrol and Diesel) in the country.
© Copyright 2020 PTI. All rights reserved. Republication or redistribution of PTI content, including by framing or similar means, is expressly prohibited without the prior written consent.