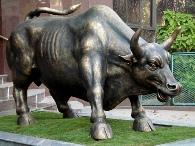 The Indian economy and stock markets will continue to do well and investors will gain if they remain invested in the capital market, Unit Trust of India chairman and managing director, U K Sinha, said.
The Sensex, which as an index was created in 1980, had given a compounded return of 17 per cent year-on-year, Sinha said. This was the period when GDP was growing very slowly, there was external war and civil disturbance in the country and natural calamity.
Despite all these factors, the benchmark has given a compounded return of 17 per cent, he said. Financial Inclusion can also take place through the capital market, he said.
UTI also launched schemes for milk farmers, women and an income protection scheme for girl child below poverty line in Bihar, which is the largest scheme in the world.
Sinha, who chaired a committee on behalf of the central government on Capital flows to the country, said during 2000-2009, the Indian economy had become closely integrated to the global economy.
Indian corporates have foreigners on board, Foreign pension funds are investing in India, he said adding Indian pension funds will have to come to the market and it would give a boost.
There were no plans to start a Real Estate fund, he said. UTI has passed through certain problems in the past.
"We started with Rs 13,000 crore (Rs 130 billion) in 2003 and the fiscal ending March this year it was Rs 89,000 crore (Rs 890 billion).
We grew very well. However, our focus is reaching out to investors', he said. UTI presently has one crore (10 million) investors.
Asked if enough protection was being given to investors, he said Indian investors are being protected. No where in the world today entry load has been banned like in India. Replying to another query, he said Retail investment penetration was very low in India.