The International Monetary Fund head Dominique Strauss-Kahn has said that the global economic recovery is fragile and remains uncertain as not enough jobs are being created.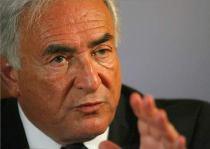 "It would be difficult to say that the crisis is over before the unemployment rate is really decreased," the IMF Managing Director Strauss-Kahn told a group of reporters ahead of the next week's annual meeting of the IMF and World Bank.
India would be represented by Finance Minister Pranab Mukherjee at the meet. Strauss-Kahn further said that "Even if the recovery is secure, the question is how many jobs it will provide."
"In other part of the world, except emerging economies and most of the Asian nations, the question is of maintaining the right balance between weak private demand and unsustainable public demand," he said.
Besides key countries like India and China in Asia, Latin American countries are doing very well, Strauss-Kahn said.
"Clearly during the crisis, people understood that there was no way to find a domestic solution to the global crisis. Today people believe that the crisis is behind us. This is not totally true. It is still not over," he said.
Strauss-Kahn said it would be difficult to say the crisis that began toward the end of 2007 is over until "unemployment is really decreased."
Responding to questions, the IMF chief said that as of now he does not feel that there is a risk of a currency war. "The probability is rather low, because everybody can understand that a big conflict can have negative output," he said, adding that China's effort to rebalance its economy from export-led growth and putting more emphasis on strengthening domestic consumption are steps in the right direction.
Strauss-Kahn said it is fair enough to make room for emerging countries at the IMF Board, which is currently dominated by Europe.
However, there is no guidelines in the fund's charter for distribution of seats on the 24-member decision-making executive board. It must be the job of member nations to resolve the issue, he stressed.
Some countries want the nine seats that Europe holds reflecting the declining role of the region in the global economy, but smaller European nations are reluctant to give up their places.
"I understand that the Europeans themselves are discussing in Brussels and they probably would come up with a solution or a proposal in the coming days," he said.
Image: International Monetary Fund managing director Dominique Strauss-Kahn.