How IBM is going 'desi'!
Last updated on: December 22, 2009 14:41 IST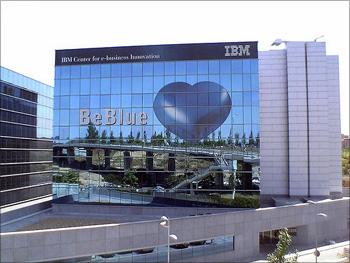 History has put IBM and Amul in two different worlds.
IBM is a key flag bearer of the US in global business. It got thrown out of India in the late 1970s as the last gasp of the Third World desire to rid itself of the neo-colonial yoke. Amul is not just a flag bearer of desi competitiveness but an icon of the cooperative movement to boot. Still, Gujarat Cooperative Milk Marketing Federation, which owns the Amul brand, recently outsourced its information technology operations to IBM.
This will help Amul become even more competitive as it will get equipped with a state-of-the-art IT system that weaves the automated village milk collection centre and the management information system into a seamless whole.
For well over a decade, Indian software services leaders have taken the world by storm by recording exceptional growth and industry-beating margins. But even as they have done this, they have not adequately looked at their own backyard, the domestic market.
There, with a minimum of noise, IBM has emerged as the largest player with a 10.8 per cent share of the Indian domestic IT services market in 2008, according to the analyst and IT market research firm Springboard Research.
This, in itself, would not have mattered that much to the Indian players were it not for the fact that the global economy tanked the same year and took the developed world's IT spending decisions with it.
How IBM is going 'desi'!
Last updated on: December 22, 2009 14:41 IST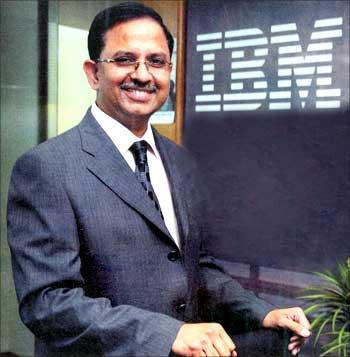 Even more dramatically, the Indian government woke up to the need to sharply up IT spending and UPA II took giant strides to e-enable governance. Suddenly, the Indian market was the growth engine which no one could ignore and there was IBM at the head of the pack.
According to Dataquest, in 2008-09, IBM's total business grew 19 per cent, whereas those of its competitors like Cisco, Oracle and HP grew by under 5 per cent. If you exclude domestic business process outsourcing, IBM's top-line growth was even more impressive at 36 per cent.
This growth took the domestic revenue share (excluding exports) of IBM's revenue from 42 per cent to 48 per cent. In 2008, IBM's India business grew the fastest among the BRIC countries.
How has this happened? IBM India managing director Shanker Annaswamy says: "IBM is fundamentally a different company than what we were a decade ago. We have remixed our portfolio to focus on what one would call 'higher-value' spaces, including high-end hardware, software and services."
It has significantly improved service margins globally over the past five years by automating labour-based processes and creating intelligent, software-like assets.
"In India, we have been successful at replicating our telecommunications expertise in business model transformation in emerging sectors such as insurance (Reliance Life), FMCG (Cavincare), infrastructure (Hiranandani) and pharmaceuticals (Torrent)," says Annaswamy.
How IBM is going 'desi'!
Last updated on: December 22, 2009 14:41 IST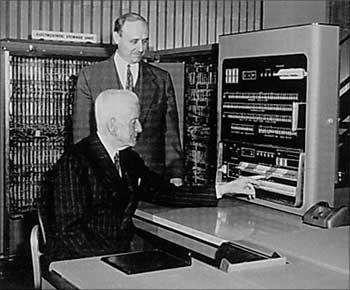 Saving costs
Explains Mukul Mathur, director of the company's systems and technology group, IBM's Indian and global strategy is to move on the two legs of consultancy and systems integration towards high-value enterprise-critical solutions. Along with this has been the strategy to show customers that partnering IBM, using its servers, can cut costs.
Seventy per cent of IT expenditure goes in meeting infrastructure maintenance costs. Greater energy efficiency of servers means lower air-conditioning and backup costs.
To this is added the cost-saving achieved by sharing servers as, research shows, 85 per cent of server capacity goes unused. Reducing client and own costs goes hand in hand. Since 1997, IBM has reduced its global data centres, where clients increasingly host their computing and data, from 155 to seven!
IBM is still number two in India (behind HP) in server revenue but it is catching up fast and Annaswamy claims that it does not run for the sake of numbers but keeps an eye on how paying the business is.  However, it leads in non-x86 Unix-based servers and also in external disc storage.
IBM in India has also gone after small and medium businesses. Serving such customers should be difficult for a global firm with its overheads and preponderance of large customers who can be efficiently served in a distributed manner round the world.
How IBM is going 'desi'!
Last updated on: December 22, 2009 14:41 IST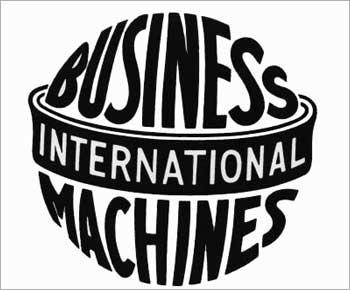 Small businesses in India, for their part, could feel overawed and sceptical about engaging with a firm of the size of IBM. So, the approach has been, says Jyothi Sathyanathan, vice-president for the mid-market segment, to offer as simple a solution as possible where the customer acquires a capability which he can virtually 'plug and play'.
To reach such customers, IBM India is spreading out from metros into Tier II and III towns.
The main platform through which customers are served is Smart Business. "It does not customise solutions but offers options in terms of packages and features off the shelf, not tailored garments but T-shirts of many sizes and standard designs," explains Sathyanathan.
And there is great flexibility in terms of whether you want to host, manage or share, in different combinations of the three. This drive for small and medium businesses has brought in new categories of customers like private hospitals, educational institutions and cooperative banks that wish to become professional.
A private hospital should be able to give a patient checking out his bill with the same speed as a hotel. A private engineering college should be able to digitise its course content so as to build a reputation that will bring in good students who will then go on to get good placements.
P Kulkarni, who was till lately managing director of Pune-based Mahesh Sahakari Cooperative Bank, recalls that in 2006 it had engaged IBM for the installation of hardware and networking for core banking at a project cost of just under Rs 2 crore (Rs 20 million), including replacement of desktops.
How IBM is going 'desi'!
Last updated on: December 22, 2009 14:41 IST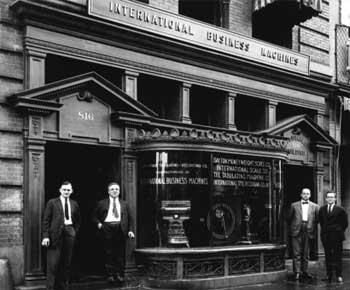 Core banking was installed in August 2008 but not without some effort as "initially there was resistance from staff who had to be given training."
The bank has ten branches plus head office, done Rs 550 crore (Rs 5.5 billion) of business, and clocked a net profit of Rs 3.5 crore (Rs 35 million).
"We had a good experience of IBM which was not just the vendor but also guided us, setting aside concerns for its own sales. We never felt IMB was a very big company. It often sent very senior representatives to us and gave us a one-point contact," says Kulkarni.
Innovation Auto Risk is a joint venture between Innovation (turnover: pound140 million) and Auto Risk (Rs 19 crore). It has a full-time staff of 30 and works through a network of 1,400 engineers who work through regional offices.
Says Director Manu Mehta: "We offer a claim management solution in motor insurance. We needed a portal and a facility to host our software. Our main requirement was connectivity and speed." When a truck meets with an accident, the insured gets in touch with Auto Risk, which helps him to lodge a claim through their portal.
Recalls Mehta: "The hardware and software were tested by calling us from remote parts of the country. The crucial thing was how soon we could be reached."
Auto Risk has a data centre at its office which has been created and is served and run remotely by IBM. "We are capitalising its cost, close to $1.5 million, over five years." The agreement with IBM, signed in July, is getting off the ground now.
How IBM is going 'desi'!
Last updated on: December 22, 2009 14:41 IST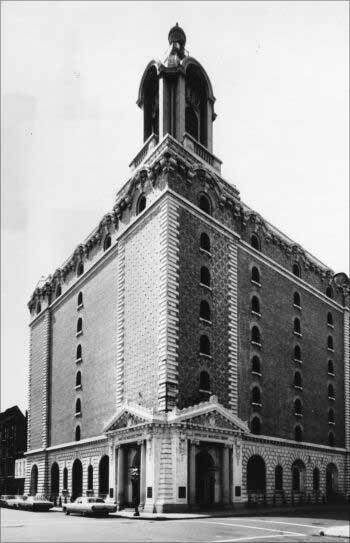 Innovation hub
Annaswamy adds: "IBM has treated India as an innovation hub and a market with immense potential. There is a lot of interesting work that we do in our Indian research labs and software labs where we have created solutions keeping the Indian clients and business landscape in mind."
It recently showcased some of the latest technologies developed like the medical analytics platform, drug pedigree and traceability solutions, and threat and fraud detection solution.
At another end is the Spoken Web project, one of the innovative initiatives currently being piloted by the India research team which aims to transform how people create, build and interact with information using the spoken instead of the written word.
The Spoken Web is the World Wide Web in a telecom network, where people can host and browse 'VoiceSites', traverse 'VoiceLinks', even conduct business transactions, all just by talking over the existing telephone network.
Does IBM, which does not share India-specific figures, make money in India, aside of exports? Annaswamy recalls that since 2007 it has invested in the domestic market and expanded its presence in 14 new cities.
How IBM is going 'desi'!
Last updated on: December 22, 2009 14:41 IST
Today, it continues to invest and focus in more cities and sectors, bringing in new products and services and strengthening the channel network. "In addition, we continue to leverage our global footprint to help clients in India."
It works the other way too. For example, as a result of its strong relationship with Bharti Airtel, it has been able to generate takeaways that have helped it serve other telecom clients elsewhere in the world.
So IBM India seems to be in the 'investment mode', which means it is building resources here. Industry sources say that what it does for the Indian market clearly makes money today but the investments are aimed at making things better for the future. Globally, IBM is doing well and India is a part of its global scheme of things.
...and the Big Three
Dismissed until recently as a low-margin business, the domestic market has come to hold the key for Indian IT companies. Some top companies have been vying for projects in their own backyard.
Last week, Wipro, Infosys, TCS and others bid for the home ministry's Rs 2,000-crore (Rs 20 billion) online FIR (first information report) project to devise an automated complaint filing and tracking system across the country.
How IBM is going 'desi'!
Last updated on: December 22, 2009 14:41 IST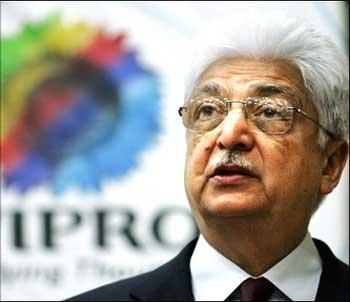 Winning strategy
In May, Wipro went past rivals IBM, Tech Mahindra and TCS to bag the Rs 2,200-crore (Rs 22 billion), nine-year contract from Unitech Wireless which is rolling out mobile services in the country.
Earlier this year, Wipro had signed a contract worth Rs 3,000 crore (Rs 30 billion) with Aircel and got an e-governance order of Rs 1,182 crore (Rs 11.82 billion) from the Employees' State Insurance Corporation.
The price quoted by Wipro in most of the recent bids is said to be far below rivals', which has helped it bag deals. For instance, the company's quote of Rs 1,182 crore (Rs 11.82 billion) for the ESIC bid was way lower than TCS' Rs 1,530 crore (Rs 15.30 billion) and Infosys' Rs 1,791 crore (Rs 17.91 billion).
What has worked in its favour, says the company, is its emergence as "an end-to-end solution player."
The company spent time till 1987 "establishing a pedigree in hardware", concentrated next on systems integration and networking, graduated to professional services and managed IT services, and has now got into application development and consulting. This, according to Wipro, has helped it bag large multi-layered deals like Unitech Wireless.
Wipro has also mastered the art of transaction-based pricing which has played a key role in the recent orders it has won. For instance, a bank will be billed for each customer transaction rather than a pre-decided sum.
If footfalls increase, it's a win-win situation for both the bank and the IT vendor. If there's a fall in the customer base, the risk is contained for the bank. This is opposed to outcome-based pricing where the bank shells out a huge sum of money upfront.
How IBM is going 'desi'!
Last updated on: December 22, 2009 14:41 IST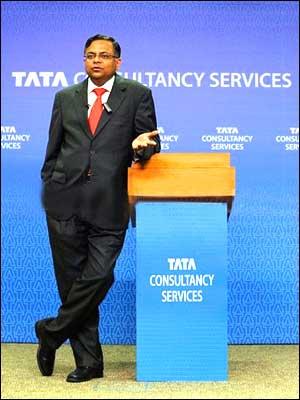 Strong footprint
TCS, the country's largest information technology company, is not far behind. In September, the company won the country's largest State Wide Area Network project from the Andhra Pradesh government on a five-year build, own, operate and transfer model.
On implementation, government offices in 1,088 mandals and 23 district headquarters in Andhra Pradesh will have video conferencing facility. In October last year, it signed a Rs 1,200-crore (Rs 12 billion) deal with the Government of India to migrate passport services to the electronic platform.
TCS expects to double the revenue from the country over the next three or four years. According to Country Head (India business) G S Raghavan, "The company believes in bringing its entire branding and global experience to its local clients."
Like Wipro and IBM, it has an integrated business unit (as opposed to just sales offices) to address customer acquisition, management and delivery. The company has around 12,000 people dedicated to the India business.
TCS has a very strong footprint in the finance sector which happens to be the largest buyer of IT services in the country. Fifteen of the top 30 players in the industry are its customers. Five of the top 10 Indian retailers are its customers too. In the insurance sector, it works with 15 of the 24 players.
Experts say TCS is the company to watch in the domestic space because of the work it has done with the central and state governments. The space poses a Rs 24,000 crore-Rs 48,000 crore (Rs 240-480 billion) opportunity over the next five years for TCS as the government plans to roll out its 30 mission mode projects (of which TCS has already bagged two).
How IBM is going 'desi'!
Last updated on: December 22, 2009 14:41 IST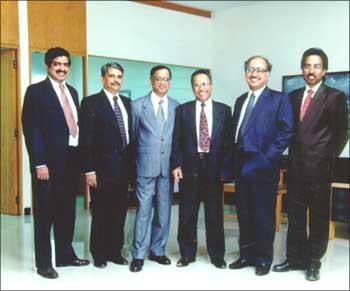 Growing presence
Infosys, too is getting its feet wet here. India contributes around 1.3 per cent to its total revenues, the larger part of which comes from its banking product, Finacle.
Last year, however, it announced the formation of a separate business unit to focus on just the domestic market. Infosys signed an e-governance deal with the Income Tax Department to establish back-office hubs in four states. In the private sector, the company has about six customers including Thermax.
And it is ready to up the ante. In June, the company bagged a prestigious 10-year eBiz project of the Department of Industrial Policy and Promotion in a bid which also saw participation from TCS, HCL and Wipro among others.
Infosys will develop and maintain the eBiz portal which will work as a one-stop shop to provide efficient services to investors, business and industry.
Source: