Water! Delhiites guzzle the most, face crisis
Last updated on: December 23, 2009 12:39 IST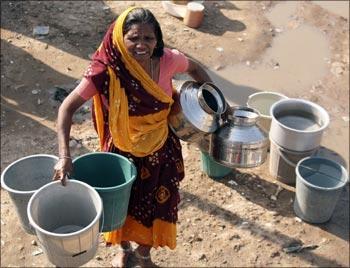 Delhi gets more water than Paris, according to a report of the Planning Commission. If the national average water supply for cities is 140 litres per capita, Delhiites guzzle 240 litres per capita.
But in certain parts of Delhi, like the south, and in the slums and unauthorised colonies, this rule does not apply and shortages are chronic, both due to poor supply and falling levels of ground water. But Delhi, which empties the river Yamuna as it enters the city to fulfill its water needs, says it is facing a water shortage of the intensity of a crisis.
Delhi Jal Board, which manages the city's water supply, points a finger at the population of 15 million, though its billed consumers are much less. The board itself is a tattered mechanism, running permanently on deficit, both on funds and supplies.
It has an annual expenditure of Rs 1,500 crore (Rs 15 billion) and treatment of water alone costs Rs 350 crore (Rs 3.50 billion) but it manages to raise only Rs 300 crore (Rs 3 billion) from its 1.8 million connections.
It has just raised the rates after five years but this should get it only an additional Rs 300 crore, which leaves it still struggling to make ends meet. Click NEXT to read on further. . .
Water! Delhiites guzzle the most, face crisis
Last updated on: December 23, 2009 12:39 IST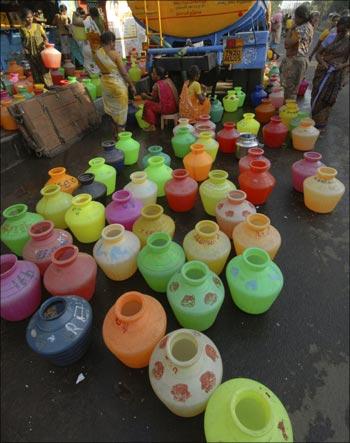 Delhi has been looking for newer sources of water rather than making the most of what it has.
It has a 40 to 50 per cent leakage when it comes to funds. Only half its meters are functional, according to official records. It does not tap rain water, which would have met most of its water deficit.
It has enough groundwater, but has little control on this, sitting on a Bill which will give it powers to meter and bill groundwater. It is also looking the other way as groundwater is being used for things like air conditioning, gardening and for running bottled water plants in a city that is supposed to be stressed for water.
Himanshu Thakkar of the South Asia Network on Dams, Rivers and People says the city should first decide what is the right cost before complaining that it is not being met. He points to the huge hole in the metering of the water supplied.
R K Garg, member, water supply, in the Delhi Jal Board, says almost 40 to 50 per cent of users don't pay for the water they use, something confirmed in  a report of the standing committee of the Legislative Assembly.
Water! Delhiites guzzle the most, face crisis
Last updated on: December 23, 2009 12:39 IST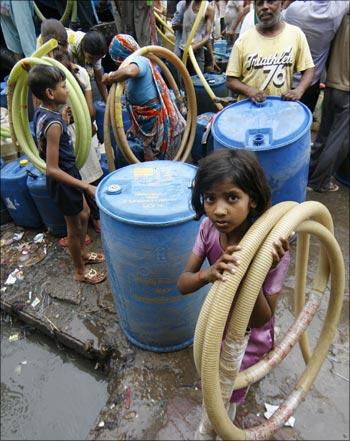 Garg says the government has only one solution for meeting the endless needs of the city-state, whose decadal growth in population is 47 per cent compared to the national growth of 21 per cent. "We will have three storage facilities constructed in the valleys and this will ensure year-round water supply. These includes a storage on the Renuka river in Himachal Pradesh and two storage facilities in Uttarakhand."
He dismisses the concerns of people living near the Renuka who have been opposing the project for reasons of displacement and also the draining of the entire river to feed the capital. He says: "If Delhi is to allow people from other states, then they should allow water to be taken from their states, too.''
On the misuse of water in five-star hotels and large establishments, he says: "We are advising them to have their recycling plants."
DJB is also casual about rainwater as a source of water and does not set targets for consumers for setting up harvesting systems. Says Garg: "Rainwater harvesting is a good habit but not a source of water."
Water! Delhiites guzzle the most, face crisis
Last updated on: December 23, 2009 12:39 IST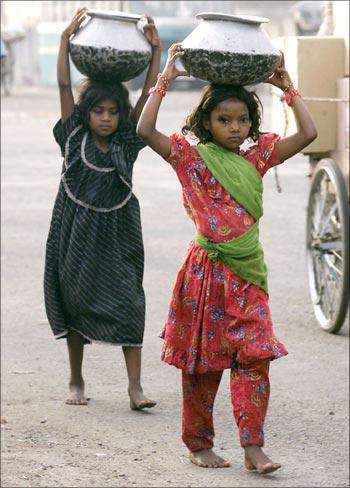 Says Thakkar: "Delhi is a paved city and can store enough water to last for a year and more. Gujarat and Rajasthan have done it for ages.  Delhi Government spends all its money on posters and advertisements rather than setting strict targets, which should not be beyond two years for various categories of buildings."
On the positive side, the Delhi Jal Board has some plans to rectify shortages of revenue through reforms in metering, besides plans to stop pilferage of water.
These include a computerised revenue management system, a tanker system overhaul and a system to meter water at every stage of the flow. All these are expected in the next six months.
The Board is also banking on the groundwater bill being prepared by the state government. With it in place, the government would be at liberty to charge consumers for using groundwater.
Water! Delhiites guzzle the most, face crisis
Last updated on: December 23, 2009 12:39 IST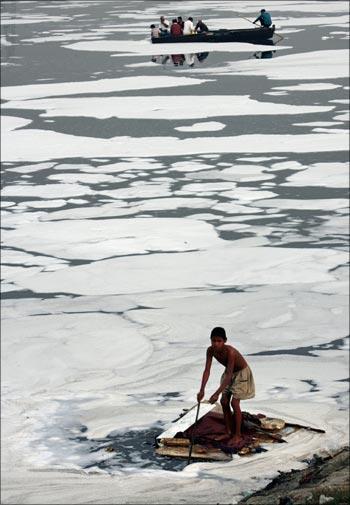 However, while the Board is excited about increasing revenue, it is less enthusiastic about ways to reduce wastage and leakage. The Government is still banking on subtle advertisements to discourage malls and   hotels from using drinking water for non-drinking purposes.
It is aware of scores of water bottling units operating in Delhi but it is winking at it, as it is politically sensitive, say officials. There is no ban yet on these, says Thakkar.
According to sources, Board CEO Arun Mathur tried to close a bottled water unit recently but failed to do so, as there was too much political pressure.
Says Thakkar: "Delhi's problem is not of water scarcity or lack of funds, but poor governance and lack of accountability." Metering and transparency is the only solution here, he says.  But that is something for which the state does not seem to be in a hurry.
Source: