The latest buzzwords? Solar products!
Last updated on: December 23, 2009 17:44 IST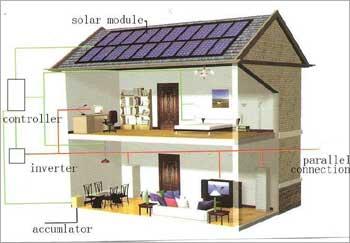 Rising electricity bills and the need to save power have prompted an increasing number of consumers all over the country to go in for solar products, which has seen a 25 to 30 per cent growth.
A wide range of products are available in the market... from solar lanterns to solar exhaust fans to address consumers' daily needs for power, says K L H Raya, chief executive officer of Deepa Solar Lighting Systems.
A hybrid system harnessing solar and wind power to run a household has found takers in Karnataka, said Raya, whose firm set up six such systems since its launch six months ago.
Setting up the system which costs Rs 300,000 and it could be used to run common household appliances. It can be used to run power for seven to eight hours and more.
The latest buzzwords? Solar products!
Last updated on: December 23, 2009 17:44 IST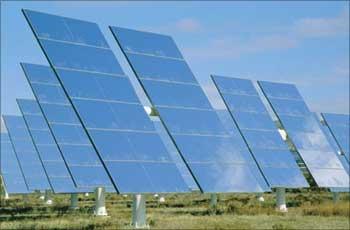 Sunlight and wind speed of five metres per second, with no tall buildings or objects obstructing wind flow are all that is required, he said.
Solar lighting is another product seeing takers, not just among individuals but corporates, said Raya. Solar lighting ensures four to five times saving on energy bills, making good business sense to corporates, apart from labelling them as green enterprises.
A solar fan cap, whereby a person can enjoy cool breeze while watching a match in an outdoor stadium was a hit, with 1000 pieces being sold a month.
It has a small pocket size solar panel which charges when exposed to the sun and runs a fan attached to the cap. Solar toys and miniature models of solar products have also found takers, Raya said.
The latest buzzwords? Solar products!
Last updated on: December 23, 2009 17:44 IST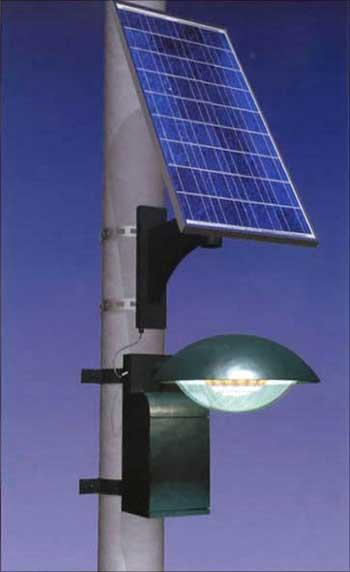 Cooking on large-scale in pilgrimage centres like Tirupati has seen many investing in solar cookers even on institutional basis, said V S Mahesh, director of Sun Ray Solar Museum, Hubli.
Solar energy for purification of urine used for medicinal purposes, apart from solar fencing, has also found takers.
But the biggest challenge to growth has been lack of after sales service, says Mahesh, who plans to start a course to train local people to repair solar products. Many dealers are city-based and after sales service is not available in rural areas.
Another challenge is the misconception that solar products cannot be run in the rainy season and that it involves huge capital cost, says Raya.
The latest buzzwords? Solar products!
Last updated on: December 23, 2009 17:44 IST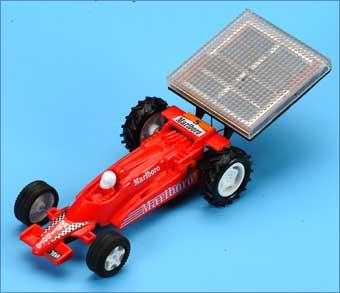 But solar energy can be divided into solar photovoltaic, which can be used all year and thermal devices, which cannot be used in the rains.
The capital cost of installing a solar device appears huge and hence has deterred some from investing in such products. But in terms of recurring costs it is negligible, compared to monthly electric bills, he said.
Aggressive communication and awareness campaign to dispel myths on solar products and ease-of-use features, coupled with huge reduction in bills could help promote the industry, solar manufacturers opine. More government initiatives could also help.
A posh upmarket mall in Bangalore recently installed such lighting. Wipro's corporate office had invested in lighting from renewable energy sources, said Raya.
The latest buzzwords? Solar products!
Last updated on: December 23, 2009 17:44 IST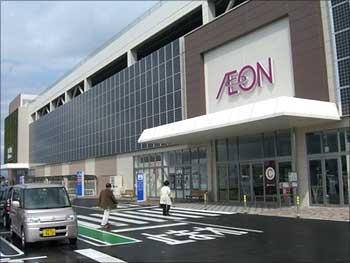 The fastest moving consumer goods in the solar product category are solar lighting, solar lanterns and solar water heaters, said Mahesh, whose unique museum dedicated to solar energy has been set up in Hubli.
Investors in solar products include agricultural farms, residential buildings and industries, especially the IT sector.
More investors are now coming forward to pump money into such products. Government subsidies to purchase such products, power subsidies, IT exemptions have made it attractive to go in for these products.
Solar companies have also begun selling power to electric companies, which had made it conducive to invest, said Mahesh.
Incentives like subsidies for solar heaters (down payment of 15 per cent of cost, 85 per cent bank loan at two per cent interest for five years had made it attractive) and similar offerings for commercial establishments and non-profit organisations has also driven the market, he said.
The latest buzzwords? Solar products!
Last updated on: December 23, 2009 17:44 IST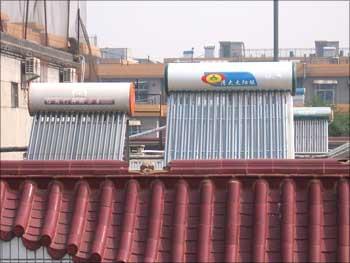 Initiatives like those undertaken by Hubli-Dharwad civic body to make it mandatory for solar water heaters for all residential buildings and five per cent rebate on property tax for those investing in such initiatives have also helped.
In Bangalore, use of solar water heaters has seen a reduction in peak demand for power by 200 watts.
While government initiatives have helped drive momentum, some ease-of-use and novelty has also driven the market. Mobile solar chargers which could help charge batteries sans power bills had found takers, said Mahesh.
© Copyright 2021 PTI. All rights reserved. Republication or redistribution of PTI content, including by framing or similar means, is expressly prohibited without the prior written consent.