Now, 'standing room' on airlines!
Last updated on: July 16, 2009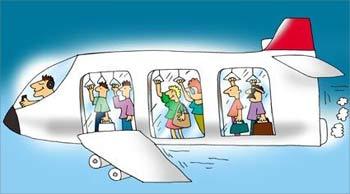 Ryanair plans standing room to get more passengers
Irish discount airline Ryanair is said to be making plans for standing rooms on their planes so that they can accommodate more people onboard.
The company's chief executive officer, Michael o'Leary, wants Boeing to build a special standing room only jet so that fliers can perch on stools rather than sit in chairs, a method Ryanair thinks could get 30 per cent more customers on their planes.
"Passengers wouldn't be fully standing, they would have something like a stool to lean on or to sit on," the New York Daily News quoted Stephen McNamara, a Ryanair spokesman as saying.
He said that the plan would "completely adhere to safety procedures", as the stools would have lap belts to keep you attached, with the standing room tickets costing less than seats.
The idea came from the Chinese airline Spring, which is developing a similar plan. Ryanair flies to destinations throughout Europe and a few in Northern Africa. -- ANI
Now, 'standing room' on airlines!
Last updated on: July 16, 2009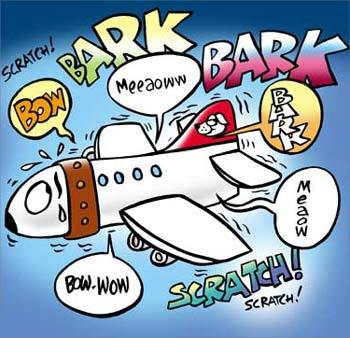 An airline ONLY for pets!
Posh pets will no longer have to ruff it in the cargo holds, thanks to an exclusive airline.
PetAirways which has launched its service in the United States for the pampered 'paws-engers'.
PetAirways will fly a pet between five major cities -- New York, Washington, Chicago, Denver and Los Angeles. Tickets start at $149, which is almost comparable to pet fees at the largest American airlines.
The airliner offers free in-flight pet treats, comfy crates, and a climate-controlled cabin. A veterinary assistant will ride on every flight along with the pilot and co-pilot, the New York Daily News reported.
In fact, dogs and cats will fly in the main cabin of a Suburban Air Freight plane, retooled and lined with carriers in place of seats. The pets will be escorted to the plane by attendants who will check on the animals every 15 minutes.
The pets are also given pre-boarding walks and bathroom breaks. And at each of the five airports it serves, the company has created a 'Pet Lounge' for future fliers to wait and sniff before flights. Trips are much longer to accommodate the needs of pets.
A trip from New York to Los Angeles, for example, will take about 24 hours. On that route, pets will stop in Chicago, have a bathroom break, play time, dinner, and bunk for the night before finishing the trip the next day.
"People actually called to ask my dog's preferences. I've never gotten that kind of customer service on a human airline," said Heather Donaheu, whose dog was on the maiden flight which took off from a Long Island airport. -- PTI
Now, 'standing room' on airlines!
Last updated on: July 16, 2009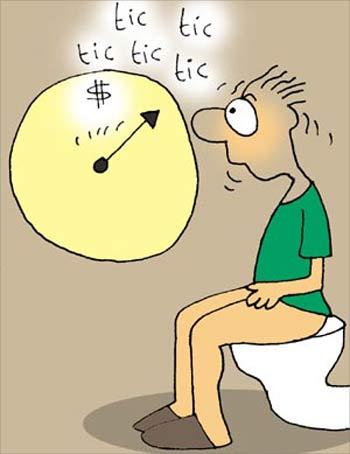 Meanwhile, with the airline industry the world over in the doldrums, carriers are trying to come up with new ways to make every rupee they spend go farther. Thus, innovative cost-cutting schemes are being resorted to.
Ryanair (that airline again!) has come up with some really novel ways of keeping costs down could perhaps give some India airlines something to think about. Here are some of them:
Charging for the toilet
Ryanair airline has been toying with the idea of having coin-operated toilets on flights. So, if you want to use the loo, you pay.
Banning any hold luggage
Ryanair says that some flights were being needlessly weighed down by hold luggage that resulted in more fuel being used up. So, it has banned it.
Duty free charges
Upset over people flouting the 'only one cabin bag' rule while buying duty-free stuff, Ryanair decided that if what was bought duty free did not fit in the one cabin bag, then one of the cabin bags would have to go to the hold, at an extra cost of 30. Hmmm .
Now, 'standing room' on airlines!
Last updated on: July 16, 2009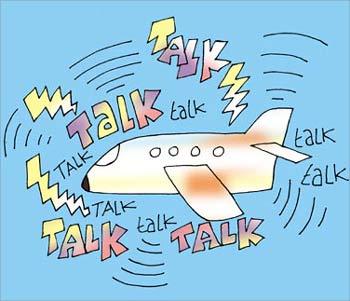 Charging for mobile calls
Ryanair allows passengers to use their mobile phones in-flight, but charges 2 a minute for the same.
Load your own hold luggage
Airport baggage handlers, apparently, come at a substantial cost to airlines. Ryanair, thus, planned to come up with its own scheme to save money: asking passengers to load their own luggage. But the plan was soon dropped when there was a huge hue and cry over the proposed move.
70 to change your name
If by mistake you get your name wrong on the boarding pass, you've had it. Ryanair will charge you 70 extra just to change it!
Now, 'standing room' on airlines!
Last updated on: July 16, 2009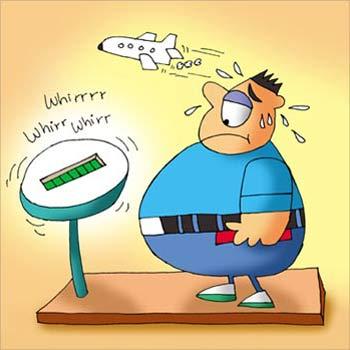 Charging by the pound
And Ryanair means your body weight pounds, not just the luggage weight!
The airline is trying to make more money from overweight people who take up more space!
Cash-strapped Air Canada to be pet-friendly
Cash-strapped Air Canada is set to allow cats and dogs to board aircraft cabin along with their owners as carry-on items, reversing its policy of confining the pets to the luggage compartment.
For a fee of $100 on domestic round trips and $200 for overseas trips, the airline will allow cats and small dogs weighing up to 10 kgs to be stowed under their owner's seat as a carry-on item, the Toronto Star said recently.
The newspaper said that Air Canada will allow up to two animals on its smaller planes and four animals on larger aircraft.
"The ability to travel with pets in the cabin is something people have been requesting. We believe this policy achieves a good balance that will ensure the health, safety and comfort of all our customers," the daily quoted Air Canada spokesman Peter Fitzpatrick as saying.
The moves changes its 2006 policy wherein pets were banished to the luggage department amid pressure from a handful of agencies that said severe cat or dog allergies can be aggravated by their presence in a closed airplane cabin, the report said.
It brings Air Canada's policy to par with its major competitor, WestJet Airlines Ltd, which has allowed pets in aircraft cabins for more than 10 years.