Why India needs to move to a green future
Last updated on: July 30, 2009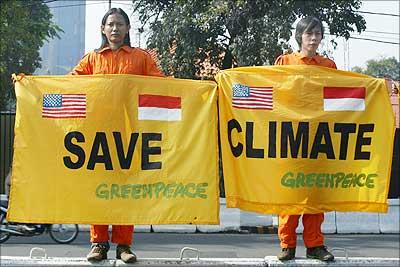 Global warming is too serious a problem to just discuss or debate on. Some really well-orchestrated steps are required to counter the threat.
As nature's fury constantly threatens to destroy the technology-driven modern world, people and organisations in India and abroad opt for measures to make this world a greener place to live in.
Read on to find out why we need to gear up against global warming and what steps are being taken by India.
With additional inputs from Indian Green Building Council web site
Why India needs to move to a green future
Last updated on: July 30, 2009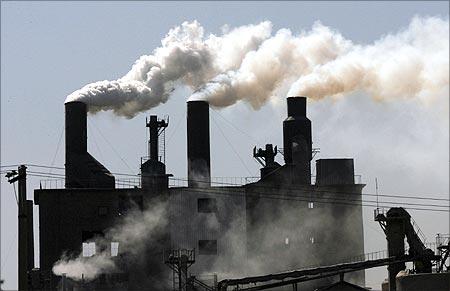 Global warming: The dangers it poses
In 1986, a panel of 150 scientists from 11 countries issued a report warning that human activities such as automobile use, the production of energy from burning fossil fuels, and deforestation could cause global temperatures to rise by intensifying the earth's greenhouse effect.
An essential component of the earth's climate, the greenhouse effect is the warming process that results from the atmospheric presence of heat-trapping gases such as water vapor, carbon dioxide, and nitrous oxide. Much of the solar energy that reaches the planet is absorbed by oceans and land masses, which in turn radiate the energy back into space.
However, small concentrations of water vapor and other 'greenhouse gases' convert some of this energy to heat and either retain it or reflect it back to the earth's surface. This 'trapped' energy creates a blanket of warm air around the earth that moderates global temperatures and climate patterns. Without greenhouse gases, the earth would exist in a perpetual ice age.
In 1995, the Intergovernmental Panel on Climate Change, a United Nations subcommittee, asserted that human activities were partly responsible for rising global temperatures.
Why India needs to move to a green future
Last updated on: July 30, 2009
In its ensuing assessment reports, the IPCC also predicted that carbon dioxide levels could double by the year 2100, causing temperatures to increase from 2 to 10.4 degrees F.
Such a temperature change would likely bring a greater incidence of floods, droughts, heat waves, wildfires, hurricanes, and other forms of extreme weather -- which in turn could cause an increase in storm-related deaths, infectious diseases, and economic crises, analysts warned.
The weather of the 1990s -- the hottest decade on record -- and also of the first eight years of 2000s seemed to bear these warnings out.
Global warming threatens even the world's most biologically diverse natural areas, according to a new report, Habitats at Risk: Global Warming and Species Loss in Globally Significant Terrestrial Ecosystems, from WWF.
This report is the first to look specifically at how global warming in the coming decades could impact our most treasured natural habitats -- outstanding areas still rich in species and biological distinctiveness.
It examines 113 land-based regions of significant size and vegetative surface and finds that huge parts of the world, from the tropics to the poles are at risk.
The report also finds that as global warming changes their habitat, many species will be unable to move to new areas fast enough to survive, raising the possibility of a 'catastrophic' loss of species in one-fifth of the world's most vulnerable nature areas.
Why India needs to move to a green future
Last updated on: July 30, 2009
India's plans: Why are they important
India's plans to combat climate change have been keenly awaited around the world as many industrialised countries have said they will not commit themselves to reducing their greenhouse gas emissions if India and China do not do so.
The National Action Plan on Climate Change released by Prime Minister Manmohan Singh in New Delhi last year consisted of eight national missions.
They are on solar energy, enhanced energy efficiency, sustainable habitat, water conservation, sustaining the Himalayan ecosystem, creating a 'green India' through a large tree-planting programme, sustainable agriculture and establishing a knowledge platform on climate change.
Is India actually moving towards a 'greener' future? What steps are being taken to confront the grave problem of global warming? Read on to find out.
Why India needs to move to a green future
Last updated on: July 30, 2009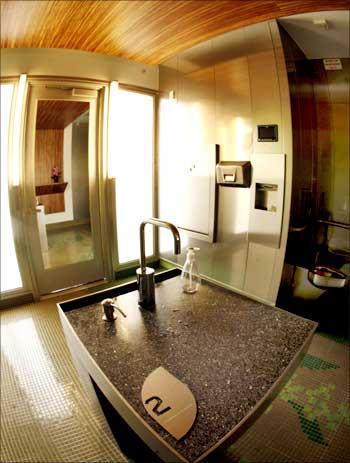 Real estate turns eco-friendly
Since real estate has played a big role, directly and indirectly, in increasing the emissions of the green house gases mainly responsible for global warming, the industry in India is gradually turning eco-friendly.
Soon after the country got its first green building, the CII-Godrej Green Business Centre in Hyderabad in 2003, India developed Indian Green Building Council, the first rating programme, exclusively for the residential sector.
It is based on accepted energy and environmental principles and strikes a balance between known established practices and emerging concepts. The system is designed to be comprehensive in scope, yet simple in operation.
Its mission is to usher in a green building movement and facilitate in India emerging as one of the orld leaders in green buildings by 2010.
Indian Green Building Council has 604 members, including 70 founding members, 381 registered buildings and 34 certified buildings.
Why India needs to move to a green future
Last updated on: July 30, 2009
What is a green building?
A green building uses less energy, water and natural resources, creates less waste and is healthier for the people living inside compared to a standard building.
A green home can have tremendous benefits, both tangible and intangible. The immediate and most tangible benefit is in the reduction in water and operating energy costs right from day one, during the entire life cycle of the building.
Tangible benefits
Energy savings: 20 - 30 per cent
Water savings: 30 - 50 per cent
Intangible benefits
Enhanced air quality,
Excellent day lighting,
Health and wellbeing of the occupants,
Conservation of scarce national resources,
Enhance marketability for the project.
With the advancement of green building movement in India, many companies have evinced keen interest in having a holistic green design and construction framework for upcoming factory buildings.

Promoting green buildings is key to addressing the challenge of environment conservation and climate change.
Between 2009 and 2011, it is estimated that a minimum of $750 billion -- 37 per cent of current economic stimulus packages and 1 per cent of global GDP -- is needed to finance a sustainable economic recovery by investing in the greening of five key sectors of the global economy: buildings, energy, transport, agriculture and water.


Green building rating
LEED-India, which has been developed by the Indian Green Building Council, is an important aspect of this green-building development. India is the only country, other than Canada to have licenced its green-building ratings programme from LEED US, developed by the United States Green Building Council.
LEED-India follows LEED-US closely with a few exceptions.
LEED, which stands for Leadership in Energy and Environmental Design, is not the only rating system in the world.
Australia follows a system named Green Star, Brits have BREEAM (Building Research Establishment Environment Assesment Method) which is even older than LEED, Japan has CASBEE (Comprehensive Assessment System for Building Environment Efficiency), and so on.
Since more buildings in India have gensets to provide back-up power, LEED-India makes adherence to pollution-control norms a pre-requisite if a building is to be pronounced green.
Why India needs to move to a green future
Last updated on: July 30, 2009
Green factories
IGBC, in its endeavor to extend  green building concepts to all building types has developed the IGBC Green Factory Building rating system.
IGBC Green Factory Building rating system is the first of its kind addressing sustainability in industrial buildings.
The programme is fundamentally designed to address national priorities and quality of life for factory workmen.
IGBC Green Factory Building Rating System is a voluntary and consensus based programme. The rating system has been developed based on the contemporary materials and technologies. This rating system would facilitate the development of green factories. The rating system evaluates certain credit points using a prescriptive approach and other credits on a performance based approach. The rating system is evolved so as to be comprehensive and at the same time user-friendly.
Why India needs to move to a green future
Last updated on: July 30, 2009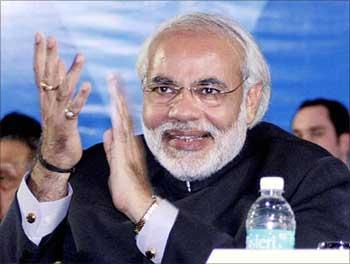 Alternative source of energy holds the key
India's booming economy has huge potential to shift to a low-carbon future but needs a little hand-holding by rich nations to keep it on the right path.
India needed to follow a different development path than rich nations' heavy reliance on coal, oil and gas.
Half the battle will be won if electricity which does not use fossil fuels can be generated.
India, however, needs technology and resources to become more efficient or run the risk of deploying cheaper coal-fired power in the short-term. For, while coal-fired power costs Rs 2.5 per kilowatt/hour, wind-fired power costs Rs 5 while solar Rs 10.
However, recognising the huge potential of solar energy, the government has made this a centerpiece of its climate change policy and will soon set a target of generating 20 gigawatts of electricity using solar energy by 2020.

According to a Business Standard report, the Clinton Foundation is investigating developing what would be by far the world's largest solar energy project in Gujarat.
The project would be an 'integrated solar city' with a capacity of 5 gigawatts.
The project, tagged as one of the largest foreign direct investment into Gujarat, will also be a landmark project as the cost of power generation is likely to be 70 per cent less -- about Rs 20,000 crore (Rs 200 billion) -- than the conventional cost of power generation, say sources close to the development.
At about five times the capacity of a typical coal or nuclear plant, this project would certainly a big step in the right direction towards making solar power a greater part of India's power mix.
Developing nations, led by China, now emit more than half of mankind's greenhouse gas emissions and getting them to  commit to reductions is seen by rich nations as crucial to agreeing a broader climate pact at UN talks at the end of this year.
Why India needs to move to a green future
Last updated on: July 30, 2009
Information technology to turn green?
US-based IT firm IBM has received a $3.1-million contract from Indian financial services group Religare Enterprises to build energy-efficient data centres in India. IBM will build and maintain three energy-efficient data centres in Delhi, Noida and Mumbai.
It claims the facilities will reduce Religare's energy costs by up to 35 per cent, or about
$250,000 per year. The data centres will use high density computing and precision air conditioning.
Green IT: WWF's Global Policy Advisor Dennis Pamlin's version
At the Nasscom CEO Summit 2008 held at Kolkata's Hyatt Regency, World Wildlife Fund International's global policy advisor Dennis Pamlin managed to engrave the idea of green IT into the minds of the 200-odd audience with his well-articulated and pleasingly-animated speech.
Pamlin's presentation was buoyed by a simple logic: why should we lose sleep over the paucity of fuel oil and coal, 'we don't drink oil, we don't eat coal'. But 'we need sunlight to live and air to breathe'.
The WWF Global Policy Advisor had quite a palatable offer to make as he stated 'there is a need to understand a new business situation where the reduction of CO2 can be seen as primarily an opportunity and a driver for innovation rather than as a risk and a challenge.'
Though information technology, say statistics, only accounts for two per cent of carbon dioxide emissions, IT can go a long way in mending the damage done by other industries. To quote, 'It has an unending bank of resources to turn this planet green'.
The National Association of Software and Services Companies is  promoting green IT initiatives  to help the Indian IT-BPO industry collaborate and become a global leader in addressing environmental issues.
Why India needs to move to a green future
Last updated on: July 30, 2009
Nasscom's Green IT Strategy
Nasscom's Green IT Strategy is broadly aligned along the following three vectors:
Make IT Green: Adoption by industry of green technologies and practices, including green buildings, green computing infrastructure e.g. energy efficient data centres, power efficient computers, sharing infrastructure e.g. shared data centres, addressing issues like e-waste management
Make Green Happen Through IT: Deploy IT solutions, which help firms become green. These include cloud computing, video-conferencing, web-conferencing, motion and heat detection sensors etc.
Make Green Warriors: Encourage over two million employees of the IT-BPO industry to adopt a green life-style and thereby become change agents.
AGENCIES