Mumbai gets a makeover
June 22, 2009 15:54 IST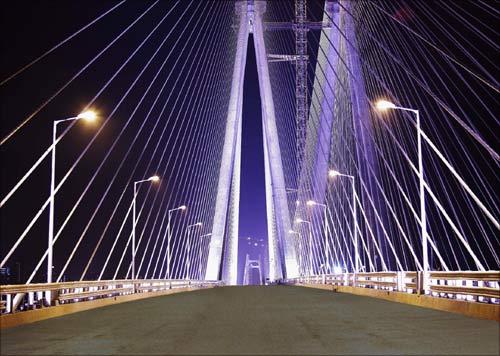 The much-publicised sea link isn't the only transport improvement coming Mumbai's way. More roads linking the east and west, the metro and monorail, and a trans-harbour link are changing the way people will live and work in the city.
Ever since he moved to the western suburb of Versova, in Andheri, Sameer Shah's visits to his friends in Ghatkopar have become rare. It's a killing one-and-a-half hour journey each way, if he's lucky. Shah's hoping for an easier ride, one he may get sooner than he thinks.
By July next year, he could get to Ghatkopar in less than a third of the time he currently takes, using the city's first elevated metro rail service being built by Anil Ambani's Reliance Infrastructure.
Historically, connectivity between the eastern and western suburbs of Mumbai has always been weak, and even now it's a nightmare going from one end to the other. Which is why Anand Krishnan, who lives in Vile Parle, misses out on the bhajan sessions at the Subramanya Samaj in Chembur where he grew up. He simply can't afford to spend two-and-a-half hours on his commute.
Mumbai gets a makeover
June 22, 2009 15:54 IST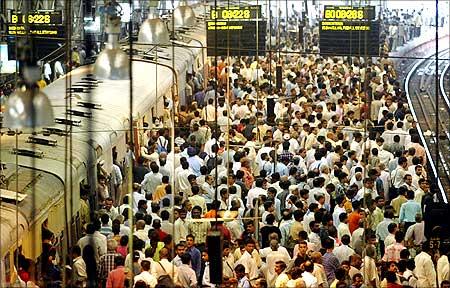 The State government's trying to hurry up the new Santa Cruz-Chembur link road, but Krishnan will still have to wait a couple of years before he can hope to zip to Chembur in 10 minutes.
It's not just east-west connectivity that's bad, the newer suburbs of Navi Mumbai too aren't easily accessible. And huge tracts of land on the mainland, across from Sewri on the island city, remain completely unused.
Since the suburban railways are the backbone of Mumbai's transport infrastructure -- 5 million people commute by train every day -- companies have been forced to locate their businesses in just three or four areas that are accessible by rail. So it's not surprising that rentals in Nariman Point actually skyrocketed to Rs 500 per sq ft per month at one time -- now they're down to Rs 250-300 per sq ft per month.
After all, here's where, in Maker Chambers IV, the Ambani headquarters are located, as is the State Bank of India. The neighbouring Fort area, with Bombay House and the HSBC Bank at Flora Fountain, isn't much cheaper.
But space was scarce and when the Maharashtra government invited bidders for land at the Bandra Kurla Complex, about a decade ago, among the first to move away from south Bombay were ICICI Bank and Citibank.
Mumbai gets a makeover
June 22, 2009 15:54 IST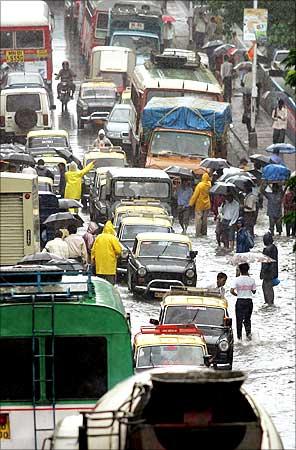 Others like the National Stock Exchange followed suit. Meanwhile, the superfluous textile mill land in the Lower Parel area was converted into either a Peninsula Park, which houses over 100 Indian and multinational firms, or a Kamala Mills Compound, which  houses 500 companies, including KPMG.
And KPMG's Arvind Mahajan, who lives in Bandra, is thrilled that his car will be among the 75,000 others driving across the the 4-km long Bandra-Worli sea link from later this month, and that he won't have to use the Mahim causeway any more. Mahajan knows there'll be a bit of a traffic jam at the Worli end but he's not cursing the city planners, he's just happy he'll be home earlier.
Arindam Chakraborty of  Tata Strategic Management, who drives home from Nariman Point each night, blesses Hindustan Construction Company which built the bridge because he knows exactly how much fuel he burns on the narrow stretch at Mahim.
And Ajay Srinivasan, who heads the financial services space at the Aditya Birla Group, too can't wait to drive over the bridge. "I'm really excited about the sea link, it's a glimpse of what Bombay city can become if we really work at it," he says.
Of course, what everyone's waiting for are the next two stretches of the sea link, which will get them to Nariman Point in less than 20 minutes. That's one place that will continue to remain an important hub; even now there are companies that want to be located here.
Mumbai gets a makeover
June 22, 2009 15:54 IST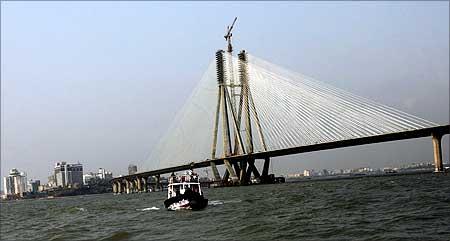 Which is why, says TC Benjamin, secretary, urban development, the state government plans to give builders additional FSI in Nariman Point as also in Lower Parel and BKC. Says Kaustuv Roy, executive director, Cushman & Wakefield, "Rentals in BKC are around Rs 220-240 per sq ft, and there's about 3,50,000 sq feet of space available."
Prices in Lower Parel though could fall further from the current levels of Rs 170-180 per sq ft since there's plenty of supply. However, with better east-west connectivity, the eastern suburbs, which don't boast any major commercial hubs, could now see some coming up.
Says Roy, "The LBS Marg area and stretches between Kurla and Thane will develop. Already, office complexes have been coming up in this belt over the past year-and-a-half with the JVLR partly in use, and it's possible that areas like Mulund and even Ghatkopar could develop quickly because some IT parks and corporate offices are being planned." Brotin Banerjee, managing director and CEO, Tata Housing, agrees.
"It makes sense for larger employers to move to the central suburbs and areas like Vikhroli where there is land available for BPO outfits," he points out. Banerjee adds that it is possible rentals here could be cheaper than those in Andheri, which are quoting at around Rs 120 per sq ft.
Mumbai gets a makeover
June 22, 2009 15:54 IST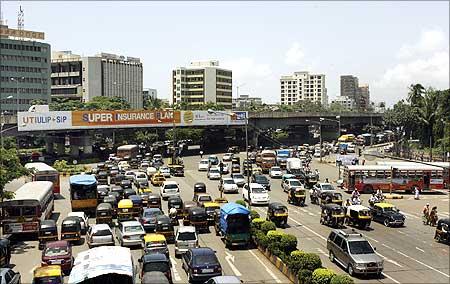 Smaller businesses could thrive even in the central parts of the city, for instance the stretch between Jacob Circle and Wadala, the route on which the state government is building the monorail.
Benjamin says people should be able to walk to work from the stations, and so the government may allow more FSI to facilitate this. It's not just the monorail that will bring relief to harassed commuters, all suburban trains are being upgraded and will have 12, and later 15, coaches. An additional line on the harbour route is being contemplated, says U P S Madan, project manager of the Mumbai Transformation Support Unit.
That, Madan says, could mean more business activity even in Andheri and Oshiwara, where there are already several IT parks and call centre operations. Deepak Parekh, chairman, HDFC, believes suburbs like Malad, down the same route, too have potential, because real estate rentals are still affordable at sub-Rs 100 levels.
With a new airport near Navi Mumbai, the land between Panvel and Navi Mumbai, much of it marshland, also has the potential to become a commercial centre. Of course, as HDFC's Parekh points out, the state government must start investing in infrastructure, especially water supply, right now, and must incentivise builders with tax breaks and more FSI.
Mumbai gets a makeover
June 22, 2009 15:54 IST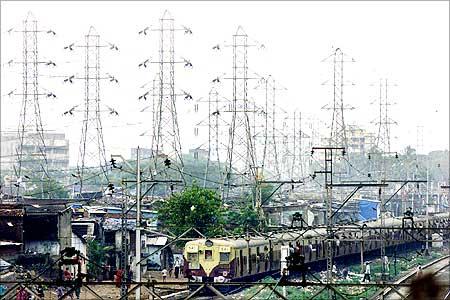 What could make this area easy to access is the second metro rail line between Kandivili and Mankhurd, the sole bidder for which is Reliance Infrastructure. Parekh, like many others, is disappointed at the way Navi Mumbai, has turned out. The only big campus there currently is the Dhirubhai Ambani Knowledge Park.
"It took too many years and the transport facilities didn't materialise," he says. But Cushman's Roy feels the Airoli bridge, which connects Thane with Belapur in Navi Mumbai, should prompt companies to set up either IT parks or call centres in Belapur.
Parekh would like to see Navi Mumbai become a Gurgaon, but real estate prices, he points out, are already very high and aren't likely to come down too much. For that to happen, land on the mainland needs to be accessible. But that can happen only once the Rs 6,000-crore (Rs 60 billion) Mumbai trans-harbour link (MTHL) comes up.
"We could use the large tracts in Nhava for residential purposes once the MTHL is up. People might prefer to stay in these areas rather than in Andheri, and it could solve the city's housing problems," points out Madan.
Mumbai gets a makeover
June 22, 2009 15:54 IST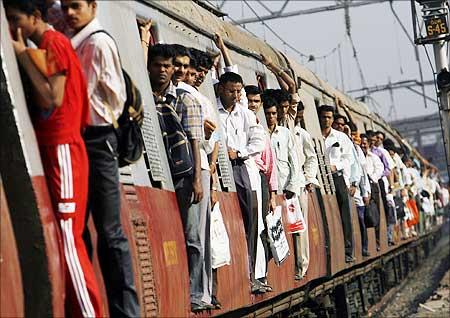 But that's at least five years away because although the state government has decided to fund the 22-km stretch, it hasn't quite decided how to go ahead with the project. In the first round there were two bidders -- Mukesh Ambani and Anand Jain's Sea King Infrastructure Limited, and the Anil Ambani-Hyundai consortium -- but the state government didn't award the contract to either.
After a second round of tenders was called for and which failed to see any bidders, the state government is once again planning to call for bids and set up the project on a BOT (build, operate, transfer) basis, according to Satish Gavai, vice chairman and managing director, Maharashtra State Road Development Corporation.
Once the MTHL is up, it will be much quicker to exit the city and get on to National Highway 4 on the way to Pune or Bangalore. Also, Mumbai Port could see more action than the Jawaharlal Nehru Port that currently does more business.
In a few years after the Eastern Freeway from Colaba in south Mumbai to Navi Mumbai is complete and the eight other metro corridors have been built, it will be possible for a commuter to travel from one point within the Mumbai Metropolitan Region to another point in just an hour.
And Kishore Biyani will actually be able to live in the house that he's bought in Alibaug. He could leave home at 8.00 am, cross over to the island city on the trans-harbour link, join the ring road at Sewri, and reach The Oberoi at Nariman Point in time for a 9 o'clock meeting.
Mumbai gets a makeover
June 22, 2009 15:54 IST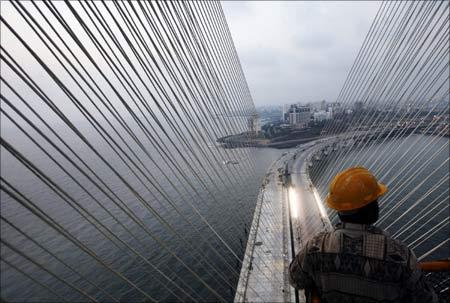 The transport network that will decongest Mumbai
Bandra-Worli sea-link
A Rs 1,634 crore (Rs 16.34 billion), 4-km long bridge that can be crossed in seven minutes, avoiding a dozen traffic signals. Expected traffic: 75,000 vehicles daily; one-way toll: Rs 50. Will decongest the Mahim causeway route to south Bombay. Once the entire bridge is built, the ride between Bandra and Nariman Point will take less than 20 minutes.
Mumbai Metro
Elevated transport connecting Versova in the west to Ghatkopar, a distance of 11km. To carry between 5.5-6 lakh passengers daily. Built at a cost of Rs 2,365 crore (Rs 23.65 billion), it should be ready ahead of schedule by July 2010. Second 33 km line between Kandivili and Mankhurd expected to carry 12 lakh passengers.
Mumbai trans-harbour link
Will connect Sewri on the island city with Nhava on the mainland. Quicker exit route from the city for those travelling to Pune and Bangalore on NH4. Easier access to Bombay Port.
Estimated cost: Rs 6,000 crore (Rs 60 billion).
Monorail
The Rs 2,400 crore (Rs 24 billion) monorail will connect Jacob Circle to Chembur, a stretch of 11 km, across 11 stations, by 2012. To carry 1.25 lakh (125,000) people per day in A-Cd comfort. Once the second leg, an 8.3 km stretch between Wadala and Chembur, is complete, carrying capacity will be 3 lakh (300,000) people.
Roads
The 10-km Jogeshwari-Vikhroli Link Road will be ready by May 2010. The 3.2 km Santa Cruz-Chembur Link Road will be ready by May 2011. The Eastern Freeway, Colaba to Mankhurd via the port area, is under construction. In all, Rs 15,000 crore (Rs 150 billion) will be the outlay on roads over five years.
Suburban Railways
All new trains to have 12, and later 15, coaches; existing trains to be phased out. Additional line on the harbour route planned. Around 80 km of new lines proposed, some parallel to existing tracks.
Source: