Meet the men who advise India's PM
Last updated on: October 15, 2009 14:40 IST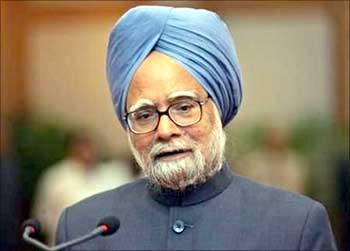 The men who advise the man who runs our country are experts and their experience says it all. The government is becoming complex and running crucial sectors smoothly requires specialised knowledge. Keeping this in mind Prime Minister Manmohan Singh recently picked software kings Nandan Nilekani and Sam Pitroda as his advisors.
Our prime minister has his team of advisors and this special group, constituted on December 29, 2004, is called the Economic Advisory Council.
Apart from advice on policy matters referred to the Council by the prime minister from time to time, the EAC also prepares a monthly report on economic developments at home and abroad. It monitors economic trends on a regular basis and bring to the prime minister's attention important developments- both domestic and international - and suggests suitable policy responses.
Read on to find out who are the PM's advisors, their background and some of their achievements...
Meet the men who advise India's PM
Last updated on: October 15, 2009 14:40 IST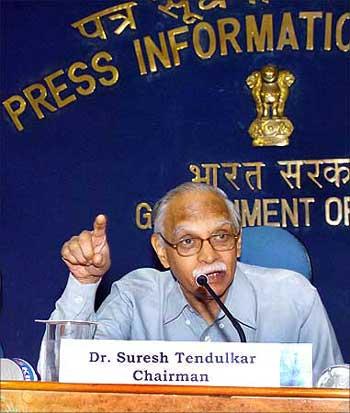 Dr Suresh Tendulkar, noted economist with expertise in the Indian statistical system, is the chairman of the Prime Minister's Economic Advisory Council.
The Centre appointed Tendulkar as chairman in August 2008, following the resignation of Dr C Rangarajan, who was holding the post ever since the UPA (United Progressive Alliance) government re-constituted the EAC in December 2004.
Tendulkar, an Economics professor in Delhi University, has a master's degree from the DSE and a PhD from the Harvard University.
He has written extensively on Indian development issues and policies, including those on liberalisation and globalisation.
He has been closely associated with the Indian Statistical System including the National Sample Survey Organisation and the Advisory Committee on National Accounts. He was also part-time member of the National Statistical Commission (2000-01), the first Divestment Commission (1996-99), and the Fifth Central Pay Commission (1994-97).
Meet the men who advise India's PM
Last updated on: October 15, 2009 14:40 IST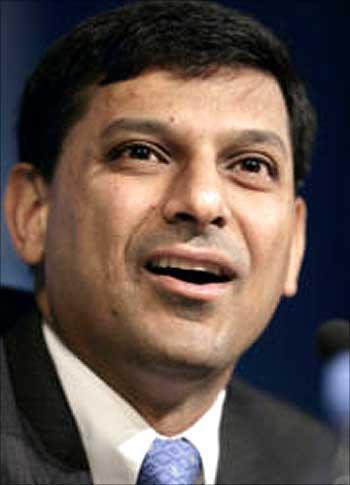 Raghuram Govind Rajan, an American economist of Indian origin, was appointed an honorary advisor to the prime minister in November 2008 and headed a committee appointed by the Planning Commission on financial reforms in India.
He has also worked as a consultant for the Indian finance ministry, the World Bank, Federal Reserve Board and Swedish Parliamentary Commission.
Rajan was the Economic Counselor and Director of Research at the International Monetary Fund from October 2003 until December 2006. He was the youngest individual to hold this position.
Prior to this, Rajan taught at the Graduate School of Business at the University of Chicago where he was the Joseph L Gidwitz Professor of Finance.
His research is broadly on the role of institutions, especially financial institutions, in fostering economic development.
In 2003, Rajan was awarded the inaugural Fischer Black Prize by the American Finance Association for contributions to finance by an economist under 40.
Rajan was born in Bhopal, Madhya Pradesh. In 1985, he graduated from the Indian Institute of Technology, Delhi, with a bachelor's degree in Electrical Engineering.
He earned his MBA from the Indian Institute of Management, Ahmedabad in 1987. He did his PhD from the Massachusetts Institute of Technology in 1991 with a thesis entitled 'Essays on Banking'. Upon graduation, Rajan joined the Booth School of Business at the University of Chicago.
Meet the men who advise India's PM
Last updated on: October 15, 2009 14:40 IST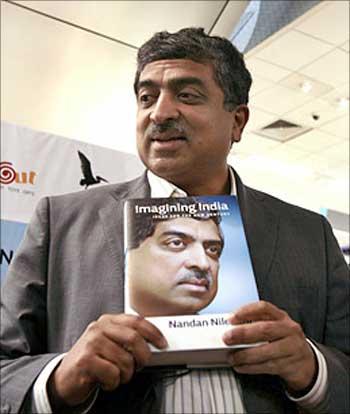 Nandan Nilekani relinquished his post as Infosys co-chairman to head the Unique Identification Authority of India.
The UIAI project has the ambitious plan of uniquely identifying every Indian, and with 1.2 billion population, the project is rather complex.
After graduating from Indian Institute of Technology, Bombay in 1978, Nilekani joined Mumbai-based Patni Computer Systems where he was interviewed by N R Narayana Murthy. Three years later, Murthy and his entire team walked out of Patni following a disagreement with one of the Patni brothers. The defectors decided to start their own company, Infosys.
Nilekani served as a director on the company's board since its inception in 1981. Between March 2002 and June 2007, he served as the company's chief executive officer and managing director. Thereafter he was re-designated as the co-chairman of the board of directors.
In his recently published book, Imagining India, Nilekani discusses topics such as the future of India, the ideas and attitudes that evolved with the times and contributed to the country's progress, India's early socialist policies, its young population, information technology, caste politics, labour reforms, infrastructure, and higher education.
Nilekani became one of the youngest entrepreneurs to join 20 global leaders on the prestigious World Economic Forum Foundation Board.
He is listed as one of the 100 most influential people in the world by Time magazine, 2006. He received Fortune's 'Asia's Businessman of the Year 2003' award and named among the 'World's most respected business leaders' in 2002 and 2003, in a global survey by Financial Times and PricewaterhouseCoopers.
In 2005, Nilekani was awarded the prestigious Joseph Schumpeter prize for innovative services in field of economy, economic sciences and politics.
In 2006, Nandan was conferred the Padma Bhushan, one of the highest civilian honours awarded by the Government of India.
Meet the men who advise India's PM
Last updated on: October 15, 2009 14:40 IST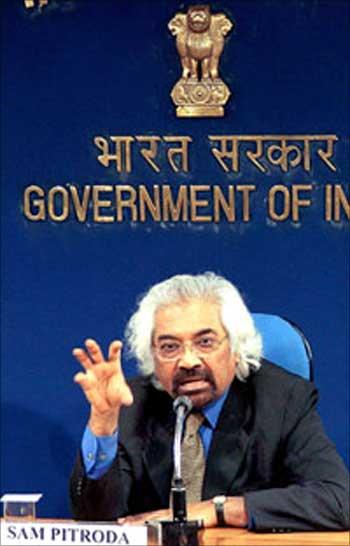 IT czar Satyanarayan Gangarm Pitroda aka Sam Pitroda who is also the chairman of National Knowledge Commission, will advise Singh on integrating information communication technology in the sectors of infrastructure, health, justice and information.
Pitroda is largely considered responsible for the telecommunications revolution in India and specifically, the ubiquitous, yellow-signed Public Call Offices that quickly brought cheap and easy domestic and international public telephones all over the country.
He is the chairman of World-Tel Ltd, an International Telecommunication Union initiative. He holds many key technology patents, has been involved in several startups, and lectures extensively around the world on management, governance and the implications of communications and information technology.
He also heads National Information Highway Authority - a Government of India initiative to synergize its various e-activities.
Born in Titlagarh, Orissa, Pitroda did his schooling from Vallabh Vidyanagar in Gujarat and completed his Masters in Physics and Electronics from Maharaja Sayajirao University in Vadodara.
After that, he went to the US and did his Masters in electrical engineering from Illinious Institue of Technology  in Chicago. Thereafter, he worked at GTE and formed Wescom Switching Inc.
He is the founder and CEO of C-SAM, Inc, which has developed a suite of patented mobile transaction technology called OneWallet.
In 1992, his biography, 'Sam Pitroda: A Biography' was published, and became a bestseller on The Economic Times list for five weeks.
This inventor, entrepreneur and policymaker has served as an advisor to the United Nations.
His family was deeply influenced by Gandhi and his philosophy.
In 1984, Pitroda was invited to return to India by then Prime Minister Indira Gandhi. On his return, he started the Center for Development of Telematics (C-DOT), an autonomous telecom R&D organisation. In 1987, he became advisor to Rajiv Gandhi.
Meet the men who advise India's PM
Last updated on: October 15, 2009 14:40 IST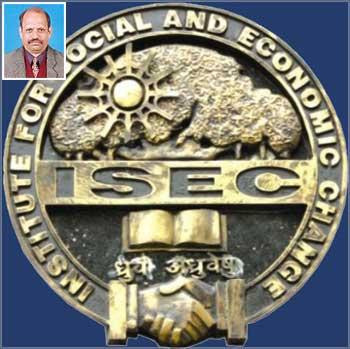 Dr M Govinda Rao is member of the Economic Advisory Council to the Prime Minister and has the Minister of State rank. He is also director, National Institute of Public Finance and Policy, New Delhi, since January 2003.
He has been a director at Institute for Social and Economic Change, Bangalore (1998-2002) and Fellow, Research School of Pacific and Asian Studies, Australian National University (1995-98).
After completing his doctoral degree in Economics in India, Rao undertook his post-doctoral research at University of Maryland, College Park, USA.
Rao has been a consultant to the World Bank, International Monetary Fund, Asian Development Bank and the United Nations Development Programme on issues relating tax policy and reforms, public expenditure management and fiscal decentralisation in Cambodia, China, Laos, Pakistan and Vietnam.
He has published technical articles extensively in a number of reputed journals besides 12 books and monographs on various aspects of public finance.
Meet the men who advise India's PM
Last updated on: October 15, 2009 14:40 IST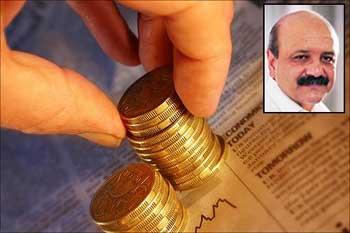 Saumitra Chaudhuri has been a Member of the Economic Advisory Council to the Prime Minister since January, 2005. He was appointed as Member of Planning Commission in June 2009.
Prior to that he worked as Economic Advisor and Research Co-ordinator with ICRA Ltd, a full service credit rating agency, for sixteen years and was executive editor of the research publication Money and Finance.
He began his working career in the Bureau of Industrial Costs and Prices, ministry of industry (1981-83) and later was senior economist in the Joint Plant Committee, department of steel (1983-85).
Subsequently he was associated with Steel Authority of India and State Bank of India (1986-91), besides for short durations with World Bank and United Nations Industrial Development Organisation over the two decades.
He has a basic degree in Science and studied economics at the Centre for Economic Studies & Planning, School of Social Sciences, Jawaharlal Nehru University, New Delhi.
He has over twenty five monographs and papers spanning issues of industry, the financial sector, regional development and fiscal policy.
Meet the men who advise India's PM
Last updated on: October 15, 2009 14:40 IST
Vijay Shanker Vyas, Professor Emeritus in the Institute of Development Studies in Jaipur, has a PhD in Economics from the University of Bombay.
He has taught at the Bombay University, Sardar Patel University, and Indian Institute of Management, Ahmedabad. He was a Senior Fellow of the International Development Research Centre, Canada, and a visiting scholar at the South Asia Centre of the Boston University, USA.
Vyas served as director of the Agro-Economic Research Centre, Vallabh Vidyanagar; professor of Economics and Dean of Faculty of Humanities and Social Sciences, Sardar Patel University; Member, Agricultural Prices Commission of the Government of India; director, Indian Institute of Management, Ahmedabad; senior advisor in the department of agriculture and rural development of the World Bank, Washington DC and, director, Institute of Development Studies, Jaipur.
He has served as chairman/member of several boards, committees and commissions at the international, national and state level.
He has written extensively on key issues of agricultural policies and rural development, and has been honored by academic community in India and abroad.
Meet the men who advise India's PM
Last updated on: October 15, 2009 14:40 IST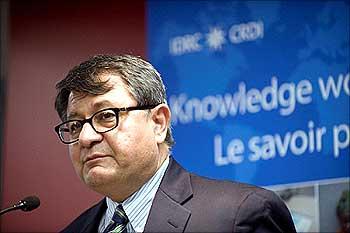 Suman K Bery is also director-general (CEO) of National Council of Applied Economic Research, India's leading independent policy research institutions.
In addition, he participates in numerous government committees and undertakes extensive public speaking and writing on economic issues.
Bery worked at the World Bank, Washington DC from 1972 to 2000 and held several positions there. He served the Reserve Bank of India from 1992 to 1994 as special consultant (on leave from the World Bank). He was advisor to the Governor on financial policy, institutional reform, and market development and regulation.
He was actively involved in reform of the government debt markets: linkages between general financial sector deregulation and the development of the bond market, as well as issues of market structure, drawing upon the experience of other developing countries.  Bery worked closely with officials in the finance ministry.
Others on the economic advisory council are Jayant Dasgupta as secretary, Padma Iyer Kaul as director and Seema as senior research officer.