Price rise: An end does not seem near
Last updated on: October 15, 2009 11:27 IST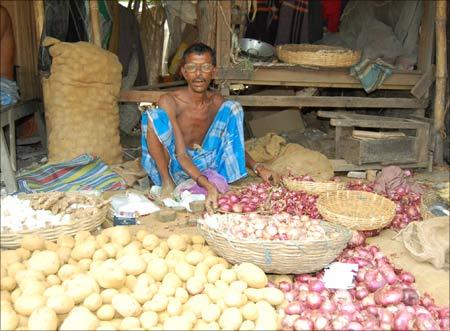 India's festival season is bound to leave behind a bitter taste for the common people with prices of several commodities skyrocketing.
Indians, particularly the middle class, could not have been hit harder. While prices of essential commodities -- ranging from wheat, pulses, tea, coffee, sugar, spices and vegetables -- have shot up significantly in the last 18 months, household incomes have not seen much rise.
This price rise is bound to have an impact on the political credibility of the present United Progressive Alliance government unless it takes dramatic initiatives to contain prices.
More demand and less supply of food items, coupled with climate change, are the main reasons for price rise, say analysts.
They are also of the opinion that the government primarily dragged its feet for too long in recognising the problem and the way it handled the issue is far from satisfactory.
Price rise: An end does not seem near
Last updated on: October 15, 2009 11:27 IST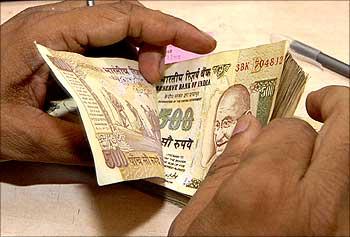 Escalating sugar prices: A bitter truth
Sugar prices in India have been surging for several weeks. Buoyed by global cues, it seems to have gone completely out of control.
The situation is compounded by rising prices of other essential food items such as pulses, rice and edible oil.
It is alleged that with an eye on Assembly elections, Agriculture Minister Sharad Pawar wanted the sugar prices to escalate so that sugarcane farmers in his home state of Maharashtra could reap huge benefits.
The issue of sugar shortage came to the fore as early as July 2008. Because of lower acreage and lower cane output, it became evident that sugar prices would shoot up. Strangely, sugar exports continued for months, that too with incentives.
The situation is unlikely to change until 2010 end when next year's cane harvest begins.
Taking a cue from India's plight, world sugar prices too have touched multi-decade highs.
Price rise: An end does not seem near
Last updated on: October 15, 2009 11:27 IST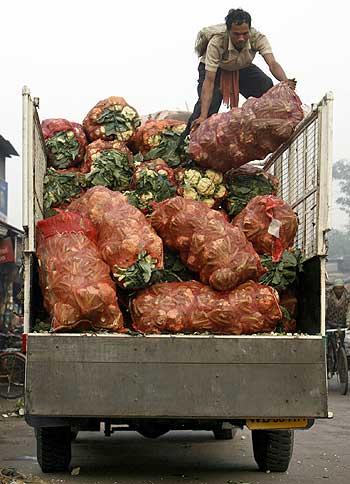 Prices may rise 121% by 2050
According to a recent Business Standard report, prices of food crops like wheat, rice and maize will rise between 121 per cent and 194 per cent by 2050 because of climate change.
This, coupled with decreased yields of these crops, will threaten food security of 1.6 billion people in South Asia and render 25 million children malnourished.
This has been revealed by a comprehensive assessment of the impact of climate change on agriculture made by the International Food Policy Research Institute.
It has been estimated that an additional annual investment of $1.5 billion in agriculture and rural development will be needed to counter the impact of climate change in South Asia while $7 billion will be needed to achieve this on a global scale.
Almost half of this investment will have to go into development of irrigation facilities. More investment would be required in farm research and rural roads to provide market access for poor farmers.
Price rise: An end does not seem near
Last updated on: October 15, 2009 11:27 IST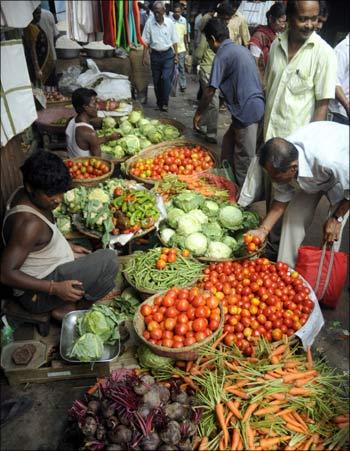 The report has categorically stated that South Asian countries, especially India, Bangladesh, Nepal and Afghanistan, are particularly vulnerable to declining crop yields because of glacial melting, floods, droughts and erratic rainfall, among other climate change-related factors.
The yield of wheat may drop by as much as 50 per cent by 2050 from 2000 levels in South Asia. The productivity of rice is projected to dip by 17 per cent and that of maize by 6 per cent by that time.
On food prices, the IFPRI report has stated that these will rise even without climate change, but the global warming will make the problem worse. "Prices are useful single indicator of the effect of climate change on agriculture", the report said.
Wheat prices are projected to swell by almost 40 per cent without climate change. But with climate change, the rise could be as steep as 194 per cent, it said.
Rice prices are projected to rise by 60 per cent without climate change and up to 121 per cent with climate change. Maize prices are forecast to surge 60 per cent without climate change but up to 153 per cent with climate change.
The report recommends more open agricultural trade to ensure that food reaches the poorest in times of crisis. This is apart from additional funding for agricultural research, irrigation and rural development.
Despite of continuous claims of curbing price rise making by the government, prices of commodities rose by more than 300 per cent in comparison with the per capita income in the past one year.
Price rise: An end does not seem near
Last updated on: October 15, 2009 11:27 IST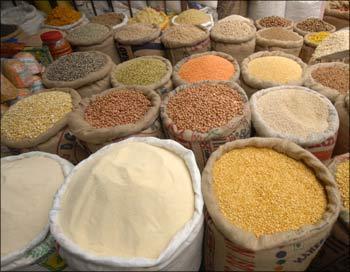 FAO warnings
The UN Food and Agriculture Organization warned about food price rises, similar to those in 2007 and 2008, because of the increase of raw material prices.
In a medium term, food prices could remain steady, but a report by the mentioned institution said the prices of wheat, rice, oleaginous plants, and refined and unrefined sugar will exceed those prior to 2006 until 2018.
According to the FAO, basic food prices rose in 2006 and reached record levels in 2008, causing social disturbances and a significant increase of the hungry in the world.
FAO also warned that the world food market will probably remain volatile in the near future.
He iterated that re-appearance of price rises was possible, due to factors that keep the demand vulnerable to any abrupt movement, as deficit of crops, speculation or a rise in oil prices.
The FAO said that while the general increase of the demand is slow, the need for products that are sensitive to income will increase at faster pace.
Insufficient investment in productive capacity and greater increase in the demand for biofuels will also be influential, as well as instability of the US dollar and oil, and restrictions to exports in times of high prices.
Price rise: An end does not seem near
Last updated on: October 15, 2009 11:27 IST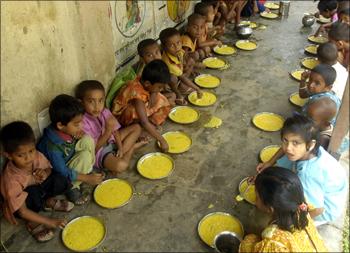 Rise in oil prices another vexing issue
The International Energy Agency is concerned about the rapid rise in oil prices, its executive director Nobuo Tanaka said recently, highlighting risks that a sharp increase could hurt the economic recovery.
Crude oil futures surged to a 2009 high above $75 a barrel, on Wednesday, boosted by optimism about a global economic rebound.
"The rapid hike of the price is certainly a concern," Tanaka told a news conference on the sidelines of the IEA's biennial ministerial meeting in Paris, without giving a reason for the organisation's concern.
"We have increased our predictions for demand. . . but data from the field is not that promising. We are watching carefully how the real economy is moving in OECD countries as well as emerging countries," he added.
The IEA, which advises 28 industrialised economies, said last week in a monthly report that it had increased its global oil demand growth estimate for 2010 to 1.42 million barrels per day, up 150,000 bpd from its previous projection.
Oil producer group OPEC also raised its forecasts for world demand, saying it now expected it to average 28.39 million bpd next year, up 300,000 bpd from its previous forecast.
Tanaka also said the economic crisis was an opportunity to reach an agreement at the Copenhagen summit on climate change in December, but added he was still unsure about the outcome of the summit.
Price rise: An end does not seem near
Last updated on: October 15, 2009 11:27 IST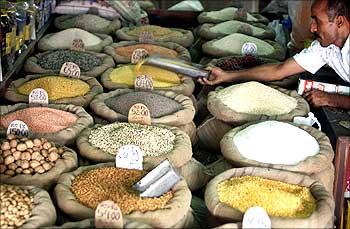 India may import pulses, but not rice
India may import pulses to tide over a deficit of about four million tonnes this year but it has enough rice and wheat stocks to meet domestic demand, minister of state for agriculture K V Thomas said recently.
"In pulses, as usual, we would have some problems," Thomas said on the sidelines of a seminar here when asked if the country would import food grains. But he affirmed that
India doesn't need to import rice and wheat despite drought and floods, as "we have enough stocks".
India, the world's largest importer and consumer of pulses, needs over 18 million tonnes for annual consumption, while it produced 14.66 million tonnes of pulses in the last season.
However, the government has enough stocks of other major foodgrain. According to official data, India has piled up reserves of over 47 million tonnes of rice and wheat as of August-end on bumper purchase by the government this year.
Nevertheless, apprehensions about the fate of paddy and pulse crops have set the prices spiralling.
While rice prices have gone up by about 25 per cent in the last four months for preferred varieties, those of pulses, especially tur, have surged by 50 per cent to as high as Rs 90 a kg.
After witnessing bumper production of both rice and wheat in successive years (2007-08 and 2008-09), the country was in for a shock as drought affected the sowing of paddy adversely.
Within three months of drought, floods in Karnataka and Andhra Pradesh again affected the paddy crop, triggering fears about the dip in domestic supply.
Price rise: An end does not seem near
Last updated on: October 15, 2009 11:27 IST
Finance minister's promise
In a bid to check price rise, the government is importing some of the commodities to bridge the supply-demand gap and strengthening mechanism for providing subsidised items to poor, finance minister Pranab Mukherjee said recently.
State governments have been requested to strengthen the public distribution system, Mukherjee said.
Arrangements for import of some commodities had been made to bridge the gap between availability and demand and also to protect vulnerable sections of society, he added.
Commodities like rice, wheat, edible oil, sugar and kerosene would be provided at subsidised rates to people living below the poverty line, he added.
The government has taken various steps to check rise in the prices of essential commodities, he said and warned that it would take action against hoarders and profiteers.
Price rise: An end does not seem near
Last updated on: October 15, 2009 11:27 IST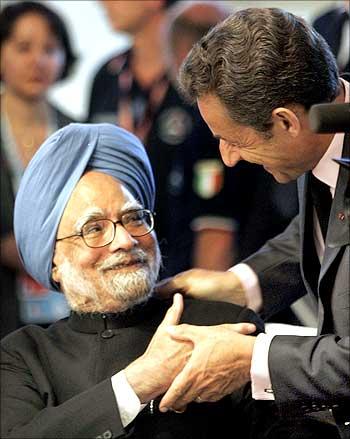 Prime Minister's assurance
Prime Minister Manmohan Singh recently said his government was fully aware of the difficulties faced by common people because of rising prices but said that the worst was getting over.
'The worst is getting over on price rise. With a good Rabi (winter) crop, we should be able to cope with things,' the prime minister said at an election rally at the Gandhi ground at Ambala.
'I know people are upset with the price rise. There are several reasons for that. Prices of food products in the international market have gone up, the monsoon rain has not been enough and drought-like situation has prevailed this year,' he said.
'We increased the prices for the farmers. All this contributed to the price rise.'
AGENCIES