American CTO Aneesh Chopra on what IITians can do
Last updated on: October 19, 2009 15:25 IST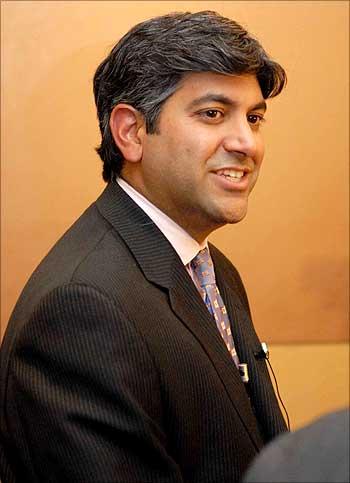 "President Obama did not appoint me because I am of Indian origin," says Aneesh Chopra, America's first ever Chief Technology Officer. "Nor did he stop my appointment because I am of Indian origin," he continues chuckling. "He has a blind eye for talent. With President Obama it is the question of choosing someone that he is convinced has the merit and drive to do a challenging job."
Chopra, 37, chatted soon after he addressed the Pan-IIT annual conference in Schaumburg, near Chicago and received spontaneous and lusty applause for his speech.
He apparently touched many hearts at the end of his energetic presentation of President Obama's mandate to use innovative technology to streamline immigration information to school learning.
Chopra, who served as Virginia's secretary of technology before Obama chose him to be the CTO has many challenges before him including the use of technological innovations to reduce health care costs. Together with chief Information officer Vivek Kundra, he said, he is mandated to make the government more efficient and transparent.
At the end of his speech, he showed the audience, over 2,000 of them and most being IITians, a black and white picture taken about 26 years ago. He grew poignant as he described the scene: the picture showed a very modest house near Meerut, standing next to it was his uncle Hari Chopra, a neurologist and his daughter, Anju.
Who would have thought, he said, that at least two people (from a family of 8 siblings who lived in that home) would come to America, become success stories and enrich their new homeland
He said surely there are pockets of unrecognized talents in America, too. And along with educators and community leaders who want to improve the standard of American education, Indian Americans can also play a role in that endeavor, he suggested.
Hari Chopra went on to become a well-regarded neurologists, adored by his students, and by the Indian community for taking the initiative to build a Hindu temple in Detroit, Aneesh Chopra remembers. And his father Ram, an engineer with three patents to his credit, instilled in Aneesh the importance of giving back.
'It could be like MIT versus IIT initiatives'
Last updated on: October 19, 2009 15:25 IST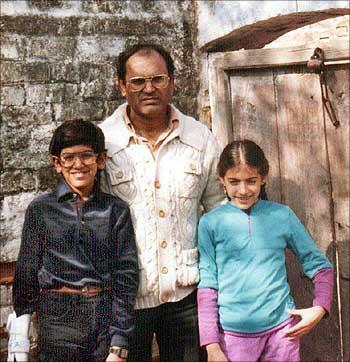 He came across the picture when his father was setting up a website with family images. I had gone to India with my uncle and niece, he said adding, I learned once again about my father's family, how they had fled from Lahore when India was partitioned, and how they lived in a very cramped home.
"They lived in a confined space without plumbing and very little resources," he continued. "My dad was the youngest of the eight, and there was considerable age difference between him and his oldest brother who was married. And yet each member of the family strove hard to be educated and make decent living."
Not all his uncles and aunts were as successful; as their two America-settled brothers. Hence the story of his father and uncle meant even more to him.
"Looking at the picture my father had discovered triggered a question in me: From where would the next neurosurgeon or engineer come in America, in a neighborhood that was something like or even worse than my father's home near Meerut?"
"Today, when I am serving this administration, and I am looking at the enterprising Indian American community, I want them to nudge me firmly towards harnessing the energy of Americans, especially the young people."
"Help me and others like me find the hidden talent in this country," he appealed to the IITians.
"What you have heard is your story, my father's story. In helping locate pockets of talent and nurture it, he said with a broad smile, it could be like MIT versus IIT initiatives."
He recalled in the interview what he had told the conference about a recent Obama mandate to make the US Customs and Immigration Service website "more user-friendly by, for instance, enabling people to learn the status of their visa or citizenship paperwork."
"We know how difficult it has been to get information regarding the progress of an immigration application, we have lived with this problem," he said. He told the story of an elderly Indian man who was trapped in the immigration limbo and who had died during the process of getting approved for immigration. He had to leave the country during the much delayed process and his health was affected because of the long wait and travel.
'Technology is a verb, not a noun'
Last updated on: October 19, 2009 15:25 IST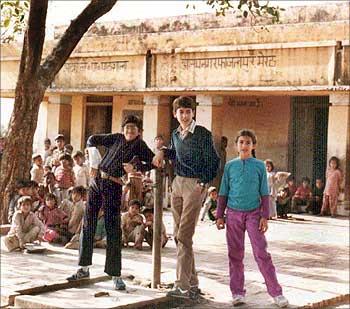 Chopra said immigration authorities would have an improved and effective web-based system that will let applicants get updates about their immigration status via email and even text message or online query. He said a few days ago: "This is personal. This is real, adding, we have to have a government that works."
One of Chopra's biggest passion and concern is to develop an open government initiative, which will implement government platforms that will be transparent and collaborative. He also said that his biggest source of hope is that the nation is waking up to our challenges in the science and technology space and realising that technology is a verb, not a noun.
Many accomplished and successful Indian Americans are involved in varieties of activities of giving back to the mainstream community, and have the know-how to make technology work for the community at large, he said.
"There are three things that strike me when I think of how they can strengthen the hands of people like me," he continues. First, they can alleviate the social and economic status of the underprivileged. Here, I am thinking of some of the work people like Desh Deshpande have done (helping the organization Akshaya Patra that offers free lunch to one million students in India). We can offer services like that in America, too.
Secondly, Indian Americans can engineer new platforms and create new challenges and the methodology of learning to help learning at school levels, especially in the underprivileged groups.
Finally, he said, the community can offer help in cutting down the barriers that prevent the students (and not just school students) from life term learning.
The world's most exciting, fastest-growing new market is where you least expect it
Last updated on: October 19, 2009 15:25 IST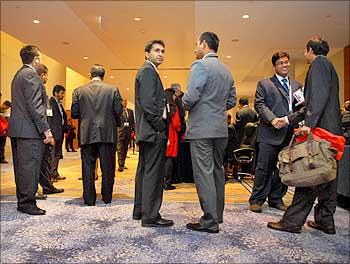 Chopra is a voracious reader. He says one of the books that has inspired him most is The Fortune at the Bottom of the Pyramid: Eradicating Poverty Through Profits, published over four years ago. It also happens to be written by an Indian American, CK Prahlad, one of the most recognized of business professors across the globe.
The world's most exciting, fastest-growing new market is where you least expect it: at the bottom of the pyramid, he has argued, adding that billions of poor people have immense untapped buying power. They represent an enormous opportunity for companies who learn how to serve them, Prahlad argued.
Chopra says he agrees with Prahlad that not only can it be done, it is being done -- very profitably. What's more, companies aren't just making money by serving these markets, they're helping millions of the world's poorest people escape poverty, Prahlad has said.
His thinking can be applied across America too, Chopra adds. It is a big challenge for all of us, especially the emerging generation.
The book, whose admirers include Bill Gates, offers according to its author a blueprint for driving the radical innovation you will need to profit in emerging markets, and using those innovations to become more competitive everywhere.
For Chopra, the 'everywhere' includes not only villages around Meerut and the whole of India and other countries but also vast pockets in America. And while the IITians are looking back at their motherland to give back, he feels they should also look around them in America and figures out best ways to harness the energy and creativity especially in areas that look like wasteland.