Housing prices likely to rise 15%
Last updated on: September 3, 2009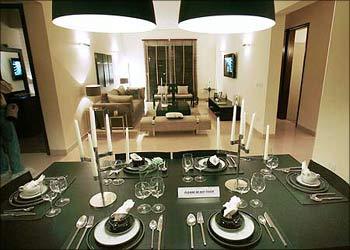 Housing prices, which have cooled down from their peak, are expected to rise by 15 per cent in the next one year on the back of increased demand, a report said.
"We expect residential prices to rise 15 per cent from the bottom over a one year period," Investment banker JP Morgan said in its latest report on the realty sector.
After falling 25-30 per cent from peak levels, property prices in India are showing signs of stabilisation as volumes have picked up significantly, it said, adding, 'we see this as a precursor for price increases to start flowing through'.
With projections of India and China outperforming global markets in the coming years, with blistering growth rates, reports say that the real estate sector is likely to benefit the most.
Housing prices likely to rise 15%
Last updated on: September 3, 2009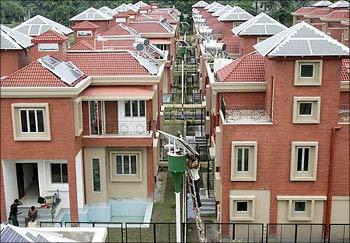 With property prices dropping a bit after recession hit the world economies, the Reserve Bank cut its key lending rates prodding banks to cut home loan rates. This move and signs of some stability in the economy and job market, led to demand in the real estate market growing.
However, now at the slightest hint of a rise in housing demand, builders are again on the verge of raising prices.
JP Morgan said, if the sale during festival season is substantial, then 'there is a good chance of a 15-20 per cent appreciation being undertaken by developers'.
Housing prices likely to rise 15%
Last updated on: September 3, 2009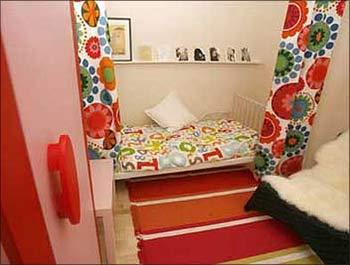 Strong volume offtake in new launches, low real mortgage yields, marked improvement in the job environment and limited supply of 'ready to move in' are some of the reasons, which have started to drive housing property rates upwards, it said.
'Job security is now much better and this should enable first-time home buyers to commit to house purchases. If salary increments in January-March 2010 are much better, one can expect a very direct benefit to the housing sector,' the report said.
Indian property market witnessed huge slump in demand during second half of 2008-09 fiscal, forcing the developers to focus on affordable housing to boost their sales. The shift seems to have paid dividend as sales in the low-income segment have improved.
© Copyright 2022 PTI. All rights reserved. Republication or redistribution of PTI content, including by framing or similar means, is expressly prohibited without the prior written consent.