GDP: The top 10 cities in India
Last updated on: April 23, 2010 18:39 IST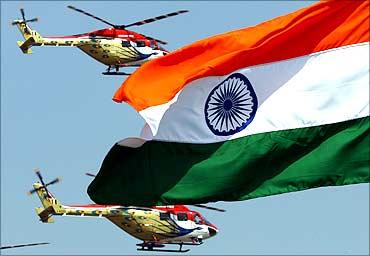 A report by McKinsey Global Institute says that India will have 68 cities by 2030 with a population of over 1 million, 13 cities with more than 4 million people, and 6 megacities with populations of 10 million or more.
As many as 590 million people will be living in cities in India, and Mumbai and New Delhi will be among the five largest cities in the world.
In 2030, India's largest cities will be bigger than many major countries in both population and economic output.
The McKinsey report also says that cities will generate 70 per cent of new jobs, more than 70 per cent of India's GDP, 85 per cent of the tax revenue that will finance development, and drive a four-fold increase in per capita income.
But, currently, which are India's biggest cities in terms of GDP? Here are India's top 10 urban centres in terms of their respective gross domestic product in 2009 based on purchasing power parity, according to a PricewaterhouseCoopers study. . . Click NEXT to check out .
1. Mumbai: GDP $209 billion
Last updated on: April 23, 2010 18:39 IST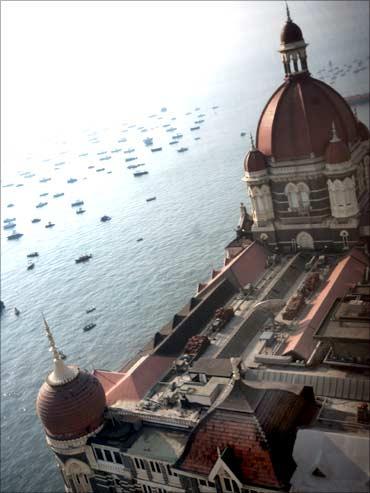 India's commercial capital is not only the city with the highest GDP in India, it also ranks among the world's top ten trade centres. The city contributes 25 per cent of industrial output and 70 per cent of capital transactions to India's economy.
The city accounts for about 1 per cent of the total population in India but has a per capita income which is almost three times that of India. Mumbai accounts for 14 per cent of India's income tax collections and 37 per cent of the corporate tax collections in the country.
The city is the berth of significant financial institutions like the Reserve Bank of India, Bombay Stock Exchange and the National Stock Exchange of India.
Numerous corporates and multinational companies have their headquarters in the city that attracts migrants from all over India. The city offers countless employment opportunities and is known for its interesting and high standard of living.
The city, with a population of 19 million, is also known as the Indian seat of entertainment as it is the home to the Hindi film industry, the largest in the world.
Most of the city's inhabitants rely on public transport to commute. Transport systems in Mumbai include the Mumbai suburban railway, also known as the lifeline of Mumbai, BEST buses, taxis and auto rickshaws.
Click NEXT to read on .
2. New Delhi: GDP $167 billion
Last updated on: April 23, 2010 18:39 IST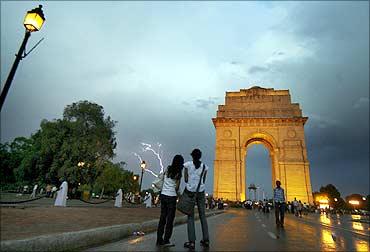 The national capital has the second highest GDP in the country. And although it cannot rival Mumbai in terms of contribution to the growth of the Indian economy, Delhi is no pushover. It contributes 4.94 per cent to all-India GDP.
Connaught Place, one of India's largest financial centres, is located in the heart of Delhi. Being an important commercial centre in South Asia, Delhi has a per capita income of Rs 78,690, which is more than double the national average.
Delhi's key service industries, backed by as strong and well laid out infrastructure, include IT, telecommunications, hotels, banking, media and tourism. In recent times, Delhi's manufacturing industry has grown considerably and consumer goods industries have established manufacturing units and headquarters in and around the capital.
Construction, power, telecommunications, health and community services, and real estate form the backbone of Delhi's economy. The capital's retail industry is one of the fastest growing industries in India.
Public transport in Delhi consists of buses, auto rickshaws, taxis, suburban railways and metro rail.
Click NEXT to read on .
3. Kolkata: GDP $150 billion
Last updated on: April 23, 2010 18:39 IST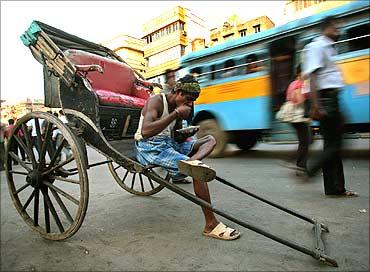 Kolkata, the capital of West Bengal, has a population of over 5 million. Like its many other metropolitan cousins, Kolkata suffered from economic stagnation in post-independence India.
However, since 2000, the city has witnessed an economic rejuvenation, thanks to the development of IT industry in Rajarhat in Greater Kolkata. The city's IT sector is growing at 70 per cent yearly -- twice that of the national average.
The city has seen a surge of investments in the housing infrastructure sector. Several new projects have come up in recent times.
Some reputed companies are headquartered here. Of them, Bata India, ITC Limited, Birla Corporation, Domodar Valley Corporation deserve special mention. Opening of the Nathu La in Sikkim as a trade route has put Kolkata in an advantageous position.
Like other metropolitan cities of India, Kolkata continues to struggle with problems like poverty, pollution and traffic congestion.
Click NEXT to read on .
4. Bangalore: GDP $83 billion
Last updated on: April 23, 2010 18:39 IST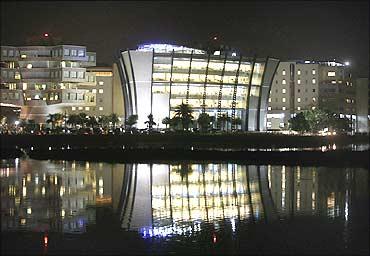 What was knows as the Pensioners' Paradise 10 years back, has grown 10-fold today and a study reveals that the rupee millionaire club in Karnataka's capital is the most crowded in India. Bangalore also boasts of having the largest number of households with an annual income of Rs 10 lakh (Rs 1 million) or more.
With an estimated population of 6.5 million, Bangalore is one of India's most populous cities.
Bangalore's main business activity is information technology and information technology-enabled services. Being the leading contributor to India's IT industry, the city is often referred to as the Silicon Valley of India. Software majors Infosys and Wipro being headquartered in the city.
Businesses involving large corporates that are either multinational companies or Indian firms dealing with or catering to MNCs employ a very large workforce in Bangalore.
And although the city's infrastructure has been unable to keep pace with the rapid growth of the city, Bangalore still remains one of India's boom towns.
Click NEXT to read on .
5. Chennai: GDP $67 billion
Last updated on: April 23, 2010 18:39 IST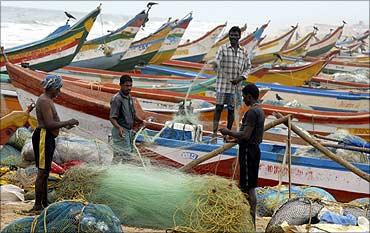 The capital of Tamil Nadu, the fourth largest metropolitan city in India, has an estimated population of 7.5 million.
The economy of the city is supported by industries like automobile, technology, hardware manufacturing, and healthcare. According to a recent report in The Hindu, economists have predicted that Chennai's per capita income would increase to $1,149 in 2015 and $17,366 in 2050.
The city houses India's major automobile companies and happens to be India's second-largest exporter of information technology and information-technology-enabled services, behind Bangalore.
Buses, trains, and auto rickshaws are the most common form of transport within the city. To counter traffic congestion, the state government of Tamil Nadu is building a number of flyovers at important intersections.
Click NEXT to read on .
6. Hyderabad: GDP $60 billion
Last updated on: April 23, 2010 18:39 IST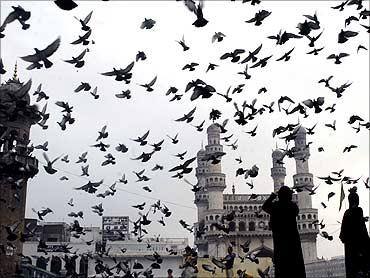 Hyderabad, the financial capital of Andhra Pradesh, is also known as the city of pearls. With an estimated population of 7 million, the city is the biggest contributor to Andhra Pradesh's gross domestic product, state tax and excise revenues.
Hyderabad, which used to be primarily a service city, is now the seat of many businesses, including trade, transport, commerce, storage, communication and lately IT.
Like Bangalore, Hyderabad too has witnessed a real estate boom in recent times, mainly because of the growth of IT and retail business in the city.
Major pharmaceutical companies like Dr Reddy's Laboratories, Matrix Laboratories, Aurobindo Pharma Limited and Vimta Labs are located here.
Hyderabad has also made considerable progress in the field of bio-technology through initiatives like Genome Valley and Nanotechnology Park.
For the advancement of infrastructure in the city, the Andhra Pradesh government is building a skyscraper business district at Manchirevula.
Click NEXT to read on .
7. Ahmedabad: GDP $59 billion
Last updated on: April 23, 2010 18:39 IST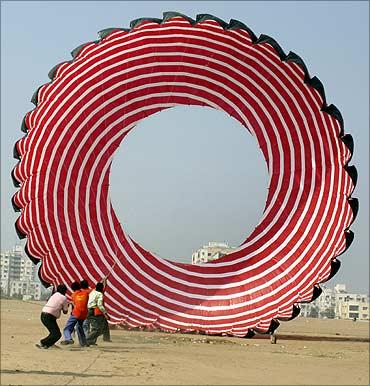 Ahmedabad is the largest inland industrial centre in Gujarat and has been an important base of commerce, trade and industry. Ahmedabad has seen great prosperity because of its proximity to Surat and its access to the hinterland of Gujarat.
Though dusty roads and bungalows used to dot the city once, Ahmedabad is now witnessing a major construction boom and an increase in population. In recent years, the city has seen a significant rise in information technology and scientific industries.
Apart from these, chemicals and pharmaceutical industries contribute to the state's economic growth, with two of the biggest pharmaceutical companies of India -- Zydus Cadila and Torrent Pharmaceuticals being based here.
Ahmedabad also forms the corporate headquarter of the Nirma Group of Industries and the Adani Group. Of late, many foreign companies have set up their units here. Among them, Bosch Rexroth of Germany, Stork and Rollepaal of Netherlands deserve special mention.
Click NEXT to read on .
8. Pune: GDP $30 billion
Last updated on: April 23, 2010 18:39 IST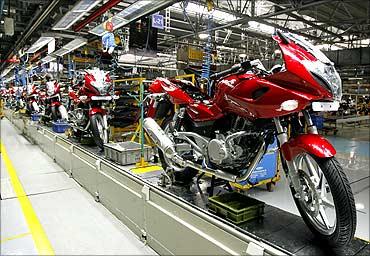 The growth of this major industrial city, located roughly 150 km east of Mumbai, has become the topic of discussion these days.
Starting from automobile majors like Tata Motors, DaimlerChrysler, Pune will soon house units of global biggies like General Motors, Volkswagen, Fiat, et cetera. A number of important engineering goods industries like Cummins Engines Co Ltd and Bharat Forge Ltd, electronic goods companies like LG, Whirlpool, food companies like Frito Lay and Coca Cola are also located here.
Of late, Pune's software industry has grown by leaps and bounds. IT parks like Rajiv Gandhi IT Park at Hinjewadi, Magarpatta Cybercity, MIDC Software Technology Park at Talawade, Marisoft IT Park at Kalyani Nagar are seats of technology that the city can boast of.
To meet the demands of this explosive economic growth in Pune, the state of Maharashtra is planning a 1,000 MW power plant to exclusively cater to the need of Pune. MIDC is the lead agency for the project.
Click NEXT to read on .
9. Surat: GDP $22 billion
Last updated on: April 23, 2010 18:39 IST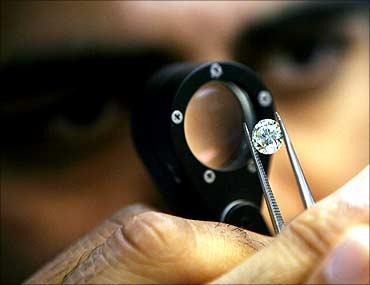 Surat is Gujarat's second largest city with a population of 4 million. It is the fastest growing Indian city in terms of economic prosperity. The city has registered an annualised GDP growth rate of 11.5 per cent over the past seven fiscal years, according to the data compiled by economic research firm Indicus Analytics.
Known for its thriving diamond and textile industry, Surat is situated on the banks of the Tapti river. More than 90 per cent of world's diamonds are cut and polished here.
These two industries have largely contributed to the city's growth as the economic powerhouse of India. Though often affected by floods and earthquakes, the city has always come out on top.
Improved infrastructure has been key to Surat's rapid rise. A number of elevated roads and flyovers have facilitated the thriving diamond and textile business of the city.
Surat with its low unemployment rates, high job rates and one of the highest per capita small business credit is the top destination for jobs and business. It is said that if you want to make money, Surat is the place to be in.
Click NEXT to read on .
10. Kanpur: GDP $17 billion
Last updated on: April 23, 2010 18:39 IST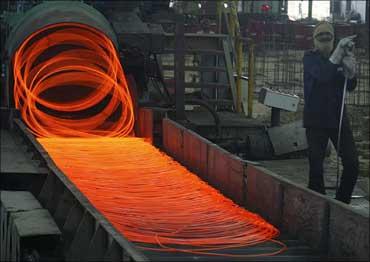 Kanpur in Uttar Pradesh is a major centre of leather products and textiles. The city also has a booming steel, chemicals, two-wheelers, engineering, and fertilizer industries. There are also numerous small- and medium-scale enterprises in the city.
A throbbing financial nerve centre in UP, Kanpur is also home to many a major banks. The3 city's locational advantage, the availability of skilled manpower, good educational institutions, fairly developed infrastructure, etc. It also boasts of the prestigious Indian Institute of Technology.