Could Noel Tata be the next Tata chairman?
Last updated on: August 3, 2010 14:43 IST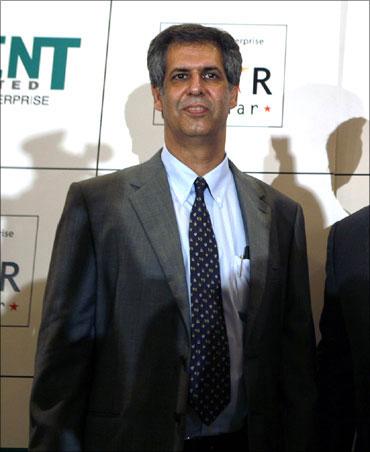 Noel Naval Tata, 53, on July 29 added yet another interesting chapter to the Tata Group's succession story. The half-brother of Ratan Tata resigned as the managing director of retail firm Trent, and joined Tata International, which handles the group's overseas trade, in the same position.
Tata International did not have a managing director so far and was led by chairman B Muthuraman. Noel will also continue to be Trent's non-executive vice chairman, another newly-created position.
The move to appoint Noel Tata as Tata International MD comes a month after he was appointed non-executive chairman of Tata Investment Corp Ltd, a listed investment firm that has a substantial holding in Tata Group companies.
He had taken over from N A Soonawala, a trusted lieutenant of Ratan Tata.
So who will succeed Ratan Tata as the head of the $71-billion Tata Group? That's the question that has been doing the rounds in corporate circles for some time now.
Click NEXT to read on . . .
Could Noel Tata be the next Tata chairman?
Last updated on: August 3, 2010 14:43 IST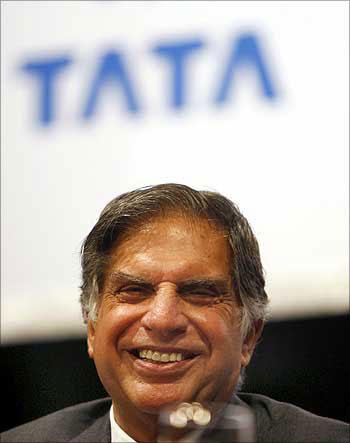 The conjecture over the Tata Group's succession plan grew last Thursday when Noel Tata joined Tata International as the MD.
Ratan Tata is due to retire in 2012 at the age of 75. He is the chairman of Tata Sons, the group's holding company, and non-executive chairman of group companies like Tata Steel, Tata Motors and Tata Consultancy Services.
In November last year, he had told the Wall Street Journal: "The successor, I would hope, would have integrity and our value systems in the forefront and hopefully would carry on the path that we have tried to set for the company's growth.''
Tata also said: "We are looking both within the organisation and outside. It would certainly be easier if that candidate were an Indian national."
He added:  "It could also be an expatriate sitting in that position as nearly 65% of the Tata Group's revenues come from overseas markets."
Click NEXT to read on . . .
Could Noel Tata be the next Tata chairman?
Last updated on: August 3, 2010 14:43 IST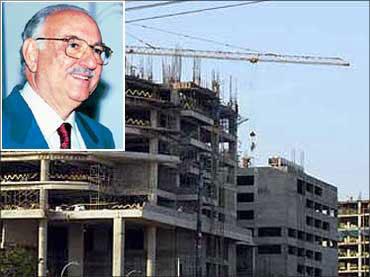 There was speculation that Citigroup CEO Vikram Pandit, PepsiCo boss Indra Nooyi, or former Vodafone CEO Arun Sarin might step into Ratan Tata' shoes. However, news reports said that neither of them appears to be interested.
Ratan Tata who is one of the most powerful global business heads had said in January 2008 that if he had a firm successor in place after the Nano is launched, it would be a 'terrific time to step away'.
"I do not want to go out on a wheelchair," Tata told financial weekly BusinessWorld in an interview in 2008 when asked about the succession issues in comparison with that faced by his predecessor J R D Tata.
He said that realistically his successor would need up to 18 months as handover time. "It should not be longer because the way things work, there would be tremendous pressure to unseat that person. It should be stated and that person should become known for filling the position and not just waiting in the wings. I know what happened in my case," he said.
Tata said his successor should have values and that is one of the issues that makes the question of succession so difficult. "The person must maintain our values, because they are, in a manner of speaking, the DNA of the group, the crown jewel of the group.
Click NEXT to read on . . .
Could Noel Tata be the next Tata chairman?
Last updated on: August 3, 2010 14:43 IST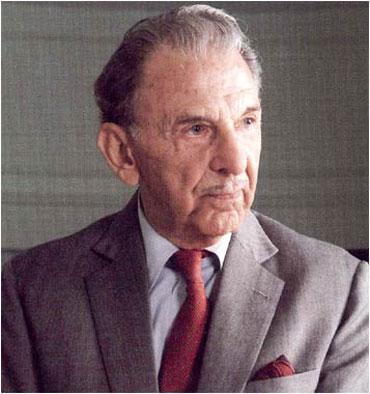 "You could play the game that others play, and you would probably grow faster and you would probably be more profitable, but you would be just like everyone else."
With Noel Tata taking over a major responsibility at the Tata Group, tongues have again begun to wag that he could be the next Tata chief. What strengthens this view further is that he is also the son-in-law of Pallonji Mistry, the largest single shareholder in Tata Sons, the controlling arm of the diversified Tata Group, with an 18 per cent stake. Mistry's sons, Shapoor and Cyrus, are on the boards of Indian Hotels and Tata Power. Cyrus is also a director of Tata Sons.
Noel is a graduate of Sussex University and has an MBA from Insead in Fountainbleau, Paris.
While sources close to Bombay House, the Tata Group's headquarters, said not too much should be read into these movements, they acknowledged the new positions would give Noel, who has been handling retail for 11 years, more exposure in group-wise finance and export activities.
Click NEXT to read on . . .
Could Noel Tata be the next Tata chairman?
Last updated on: August 3, 2010 14:43 IST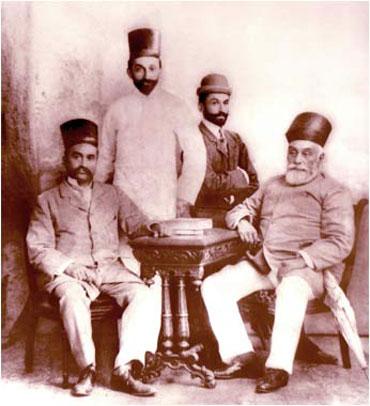 Observers said Noel is as low-profile and introverted as Ratan Tata was before being forced into the limelight, and prefers to spend much of his time on the shop floor rather than board rooms.
He also hates suits and pin-stripes and his standard response to most invitations to corporate dos is a polite 'no'.
Ratan Tata's move to the corner office in the Tata Group was also a long one. He was assigned to various companies before being appointed director-in-charge of the National Radio & Electronics Company (Nelco) in 1971.
It took him 10 more years to become chairman of Tata Industries and another 10 years for taking over the chairmanship of Tata Sons from J R D Tata.
Ratan Tata has said many times in the past that he would not continue beyond December 2012 when he reaches the age of 75, the group's retirement age for non-executive chairmen.
In the picture:  J N Tata (sitting right to left), the founder of the Tata Group; Sir Dorabji Tata, (standing right to left); the elder son of J N Tata, Sir Ratan Tata, his younger brother and R D Tata, father of JRD Tata.
Click NEXT to read on . . .
Could Noel Tata be the next Tata chairman?
Last updated on: August 3, 2010 14:43 IST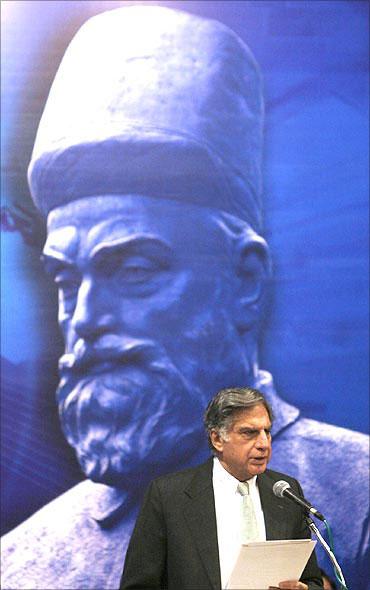 Meanwhile, speculation about his successor just refuses to die down. Earlier in July, at the annual general meeting of Tata Consultancy Services, Tata said in reply to a shareholder's query that he was also human and would like to move on and give others a chance to take his place.
A press release issued by the Tata Group said Noel has overseen the profitable growth of Trent from a single-store company in 1998 to over 90 stores across its retail formats.
Under his leadership, the consolidated turnover of Trent has increased from Rs 8 crore (Rs 80 million) in 1998-99 to Rs 1,137 crore (Rs 11.37 billion) in 2009-10. Noel will continue to remain on the board as non-executive vice-chairman and, consequently, will continue to be involved in the overall management.
A new chief executive will be appointed 'as soon as possible', the release said.
Tata International is into a wide range of businesses including leather and trading of a variety of products like minerals, steel, ferroalloys and engineering products.
Click NEXT to read on . . .
Could Noel Tata be the next Tata chairman?
Last updated on: August 3, 2010 14:43 IST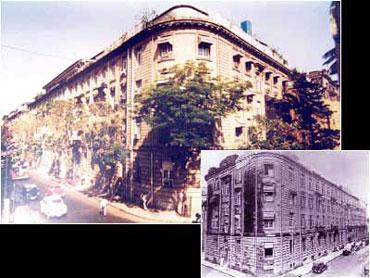 Through its 100 per cent subsidiary, Tata Africa Holdings, it is present in 11 countries in Africa. The company is engaged in distribution and marketing of commercial vehicles and other products and acts as the lead arm to help other Tata Group companies enter the growing African market.
Tata International is also present in China, South East Asia and West Asia.
Under Noel, Tata International is expected to take on an aggressive growth path, strengthening its leather business by organic expansion and through acquisitions, the statement said. The company will acquire resources and trade in minerals, consolidate and grow its position in Africa and enter new geographies, it added.
The Tata Group has over 90 companies, of which 28 are publicly listed. The group has operations in over 85 countries.