India's highest paid CEOs
Last updated on: August 4, 2010 18:18 IST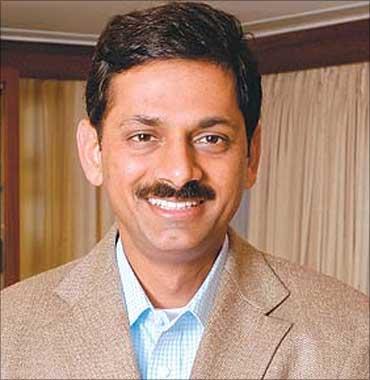 Question: Who is the highest paid CEO in India?
Answer: Mukesh Ambani?
WRONG! The Reliance chairman never drew an annual salary of Rs 50 crore (Rs 500 million). Rs 50 crore? Yes, you read it right.

According to the Daily News and Analysis, that is what Kishore Biyani of Future group has offered to V Vaidyanathan to shift base to Future Capital Holdings from ICICI Prudential Life Insurance.
This is undoubtedly the highest salary for an Indian non-promoter CEO. Vaidyanathan, former managing director and CEO of ICICI Prudential Life Insurance, as a sign-on bonus got 20 lakh (2 million) warrants worth Rs 47.40 crore (Rs 474 million), DNA said.
These warrants are convertible into Future Capital shares 18 months from now or February 2012.
The package, said DNA, is Rs 10 crore (Rs 100 million) more than the annual pay cheque of the chairman and managing director of Sun TV, Kalanithi Maran, and twice Mukesh Ambani's annual salary in 2009.
On Monday, Future Capital Holdings allotted him shares at Rs 237 each. He can convert them into equity shares in his own name by paying Rs 237 per share in February 2011 or 18 months from now as a joining bonus.
Vaidyanathan's compensation, as DNA pointed out, is 'a performance-linked booty'. If Future Capital shares rise by even a rupee (from Rs 237), this will add Rs 20 lakh to Vaidyanathan's wealth.
On Monday, the Future Capital shares surged 11.83 per cent to Rs 279.75. It means Rs 85 lakh or Rs 8.5 million has already been added to Vaidyanathan's wealth -- a week before he joins the company on August 10, said DNA.
Click NEXT to read more about India's highest paid CEOs...
India's highest paid CEOs
Last updated on: August 4, 2010 18:18 IST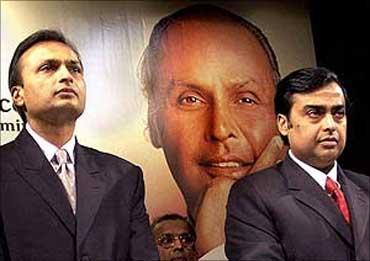 Anil Ambani
Remuneration in 2008-09: Rs 52.04 crore ($11.19 million)
Commission: Rs 52.04 crore
Anil Ambani is the highest paid among promoters and non-promoter chief executive officer. With a package of over Rs 52 crore (Rs 520 million) in 2008-09, Anil scores higher than elder brother Mukesh Ambani, who is the richest person in India.
Mukesh Ambani is the country's highest dividend earner at Rs 930 crore (Rs 9.3 billion), as per rankings compiled by Business India magazine.
Though Mukesh Ambani, chairman and managing director, Reliance has a net worth of $32 billion, and is the richest Indian according to a Forbes list, when it comes to CEO remuneration for 2008-09, he is ranked way below at number 19, by a study conducted by the magazine.
This ranking, however, does not surprise anyone, as, in October this year, Reliance Industries had announced that its chief has decided to lower his pay package by nearly two-thirds to Rs 15 crore (Rs 150 million) for 2008-09.
As a result of scaling down his package from over Rs 44 crore (Rs 440 million) in 2007-08 to Rs 15 crore, Mukesh Ambani got a lot less than many other industrialists and executives heading companies with a size less than one-tenth of RIL.
According to Business India, 64 of the 100 top paid executives are either the controlling shareholders of members of the family that started the companies.
Click NEXT to read on . . .
India's highest paid CEOs
Last updated on: August 4, 2010 18:18 IST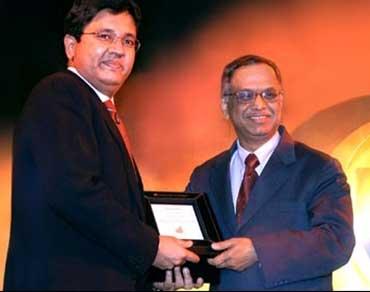 Kalanithi Maran, chairman and managing director, Sun TV
Kavery Kalanithi, joint managing director, Sun TV
Remuneration: Rs 37.08 crore each ($7.99 million)
Commission: NA
Anil Ambani is followed by media baron Kalanithi Maran and Kaveri Maran of Sun TV with packages of Rs 37.08 crore (Rs 370.8 million) each.
Maran derives his fortune from 77 per cent stake in Sun TV Network, country's biggest regional broadcaster, with 20 channels.
He also owns FM radio stations, newspapers and magazines. Besides, Sun Pictures a film production outfit Maran also owns Sun Direct, a direct-to-home satellite TV service provider. It was launched in 2007 in partnership with Malaysia's Astro.
Recently, Kalanithi Maran acquired 37.7 per cent stake in low-cost airline SpiceJet for an estimated Rs 750 crore (Rs 7.5 billion), thus becoming its single largest stakeholder.
Click NEXT to read on . . .
India's highest paid CEOs
Last updated on: August 4, 2010 18:18 IST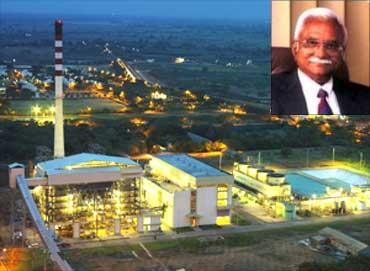 P R Ramasubrahmaneya Rajha, chairman and managing director, Madras Cements
Remuneration: Rs 28.71 crore ($6.2 million)
Commission: Rs 28.40 crore ($6.1 million)
Rajha joined Madras Cements in 1962. With 2,447 employees, Madras cements is the fifth largest cement producer in India.
Click NEXT to read on . . .
India's highest paid CEOs
Last updated on: August 4, 2010 18:18 IST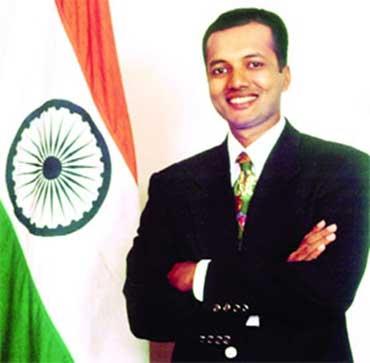 Naveen Jindal, executive vice chairman & managing director, Jindal Steel & Power
Remuneration: Rs 28.28 crore ($6.09 million)
Commission: Rs 20.36 crore ($4.38 million)
Jindal is the chairman of Jindal Power Limited, which runs the 1,000 MW O P Jindal Super Thermal Power Plant at Raigarh, Chhattisgarh - India's first mega power project in the private category.
Jindal currently holds several senior positions in various trade bodies.
He was listed among 25 Indians who were part of the annual list of 250 Global Young Leaders in 2007 prepared by the Geneva Based World Economic Forum.
Jindal is also a Member of Parliament and a sports enthusiast.
Click NEXT to read on . . .
India's highest paid CEOs
Last updated on: August 4, 2010 18:18 IST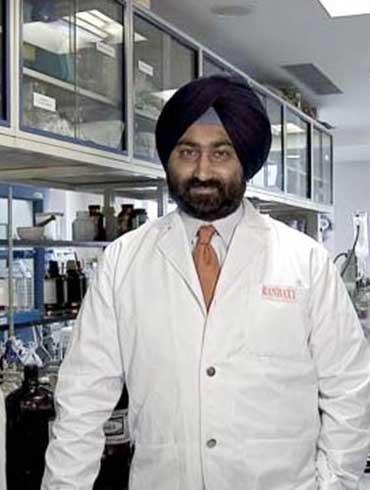 Malvinder Mohan Singh, ex-chairman, CEO and MD, Ranbaxy
Remuneration: Rs 23.72 crore ($5.09 million)
Commission: NA
Malvinder Singh stepped down, within a year of Japanese giant Daiichi Sankyo acquiring Ranbaxy, marking an end of family's 48-year long association with the company.
Singh is a promoter of Fortis Healthcare Limited and Religare Wellness Ltd.
Singh served as the chief executive officer and managing director of Ranbaxy Laboratories from January 18, 2006 to May 24, 2009 and its chairman from December 2008 to May 2009.
Singh joined Ranbaxy in 1998 and worked through various functions of general management, sales and marketing, finance and business development. He was responsible for the company's global operations.
After Singh quit, Atul Sobti, the then chief operating officer took over as CEO and managing director.
Click NEXT to read on . . .
India's highest paid CEOs
Last updated on: August 4, 2010 18:18 IST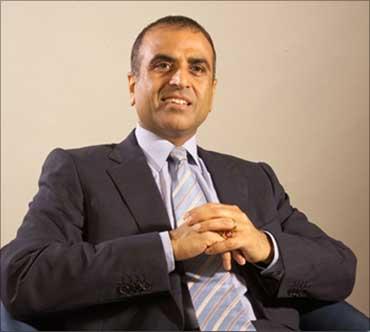 Sunil Bharti Mittal, chairman and managing director, Bharti Airtel
Remuneration: Rs 20.90 crore ($ 4.48 million)
Commission: NA
A first generation entrepreneur, Mittal started his first business in April 1976 at the age of 18, with a capital investment of Rs 20,000 borrowed from his father. His first business was to make crankshafts for local bicycle manufacturers.
Bharti Enterprises is now one of India 's leading business groups with interests in telecom, financial services, retail, manufacturing, and agri business.
Sunil Mittal started his career after graduating from Punjab University in India . He founded Bharti in the year 1976.
Today, at 50, he heads a successful enterprise with a market capitalization of about $40 billion employing over 30,000 people.
Click NEXT to read on . . .
India's highest paid CEOs
Last updated on: August 4, 2010 18:18 IST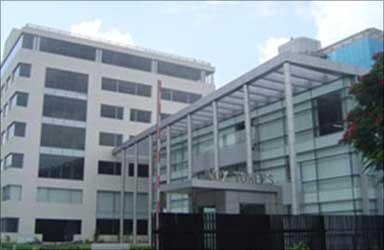 Vivek Kumar Jain, managing director, Gujarat Fluorochemicals
Remuneration: Rs 20.73 crore ($4.45 million)
Commission: NA
Vivek Kumar Jain is a graduate of Commerce from St Stephens College, Delhi and also has a post graduate degree in Business Administration from the Indian Institute of Management Ahmedabad. He has over 25 years of business experience in setting up and managing several businesses.
Gujarat Fluorochemicals Limited is a part of the $2 billion INOX group of companies -- a family owned, professionally managed business group, with interests in diverse businesses.
Listed on both the Bombay Stock Exchange and national Stock Exchange, GFL has a market capitalisation of close to $1 billion.
Click NEXT to read on . . .
India's highest paid CEOs
Last updated on: August 4, 2010 18:18 IST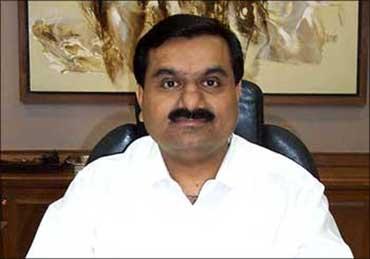 Gautam Adani, chairman, Adani Group
Remuneration: Rs 20.03 crore ($ 4.30 million)
Commission:  Rs 17.64 crore ($ 3.78 million)
Adani started his career as a diamond sorter at Mahindra Bros in Mumbai. After working there for two years, Adani, 20 at the time, set up his own diamond brokerage outfit at Zaveri Bazaar and made his first lakh.
In 1981, his elder brother Mansukhbhai, bought a plastics unit in Ahmedabad and asked Gautam to run it. This marked the beginning of Adani's foray into global trading. He started importing polyvinyl chloride. After the economic liberalisation, the import duty on various goods was slashed, and profits of Adani Exports, then his flagship company, grew immensely.
Today, the Adani Group has transformed into a multi billion dollar businees empire with interests in power, infrastructure, trading, energy logistics, SEZs, and oil and gas exploration. Adani is the man behind Mundra Port, the largest private sector port in India.
The above salary is from his companies, Mundra Ports and Adani Enterprises.
Click NEXT to read on . . .
India's highest paid CEOs
Last updated on: August 4, 2010 18:18 IST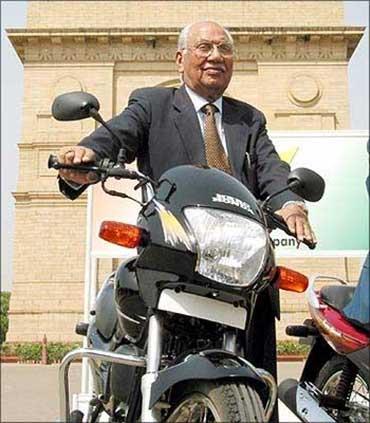 Brijmohan Lall Munjal, chairman, Hero Honda
Remuneration: Rs 19.79 crore ($4.24 million)
Commission: Rs 18.61 crore ($3.99 million)
B M Munjal's journey began in 1944 when he was just 20. Along with his three brothers, Dayanand (32), Satyanand (27) and Om Prakash (16) Munjal moved from his birthplace Kamalia in Pakistan to Amritsar. The brothers started supplying components to the local bicycle business.
In 1952 the Munjals shifted supplying to manufacturing. They started manufacturing handlebars, front forks and chains.
In 1956, the Punjab government issued tender notices for twelve new industrial licenses to make bicycles in Ludhiana. Munjal and his brothers participated in the bid and won the contract. Hero Cycles was registered as a large-scale industrial unit. The capital was partly financed by the Government of Punjab.
Before entering into a joint venture with Honda Motors, Munjal started the Majestic Auto Limited and manufactured Hero Majestic Moped.