Want to fund the next Google? All you need is Rs 1,000!
Last updated on: August 5, 2010 12:24 IST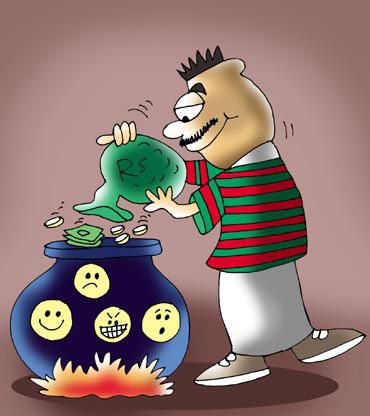 It takes Rs 1,000 to fund a start-up. Yes, you read that right. Now, Rs 1,000 is all you need if you want become a venture capitalist.
Thanks to the innovative concept of 'crowd funding', anyone can now become a shareholder in new projects and partake in their profits.
Crowd funding is an extension of another new age phenomenon called crowd sourcing. Crowd sourcing is the act of outsourcing jobs, typically performed by employees or vendors, to a large group of people, or the crowd.
In case of crowd funding, it is the financial requirements of a business that are outsourced to a group of people.
The concept has been formally introduced in India with the launch of GrowVC's 'Virtual Silicon Valley' software platform.
If you have started your own business or are thinking of starting one, you'll be familiar with the chicken-and-egg situation most start-ups face.
To start a business, you need funds, and when you approach venture capitalists for these funds, they want to see the progress you have made and the tangible results that your business has produced; which in turn cannot be achieved without sufficient funds.
Click NEXT to read on . . .
Want to fund the next Google? All you need is Rs 1,000!
Last updated on: August 5, 2010 12:24 IST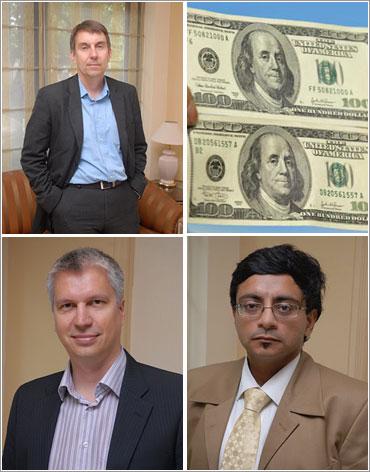 This is where angel investors come in. They fund start-ups at an early stage and help them reach a level where they can get other investors in.
"Unfortunately in India, angel funds -- or incubators -- are too few compared to the amount of talent, ideas and potential entrepreneurs that the country can produce. In the United States, around 350,000 angels invest up to $30 billion annually to fund around 60,000 new ventures. Whereas in India, the angel investments are in the range of $ 15 to 20 million annually," says Satish Kataria, managing director of Springboard Ventures, the official partners of GrowVC in India.
This tremendous gap in early stage investments is what this platform hopes to fill with its initiative of getting common people to fund interesting ideas.
The fund is aimed at start-ups that need up to $ 1 million -- or Rs 5 crore. In venture capital circles, this would be a  small amount to fund and most VCs in India today look for bigger deal sizes and later-stage companies.
The GrowVC platform has no minimum deal size and start-ups can seek funds as small as Rs 50,000 and can have 50 people investing Rs 1,000 each to fulfil this requirement.
"With the support of a strong local network in place to back great ideas and assist in the growth of early stage start-ups we expect to see a lot more successful ventures come out of this potential goldmine of young talent," says Valto Loikanen, co-founder & CEO, GrowVC International.
The other co-founder of the company is Jouko Ahvenainen. Ahvenainen is also the chairman of GrowVC International.
Click NEXT to read on . . .
Want to fund the next Google? All you need is Rs 1,000!
Last updated on: August 5, 2010 12:24 IST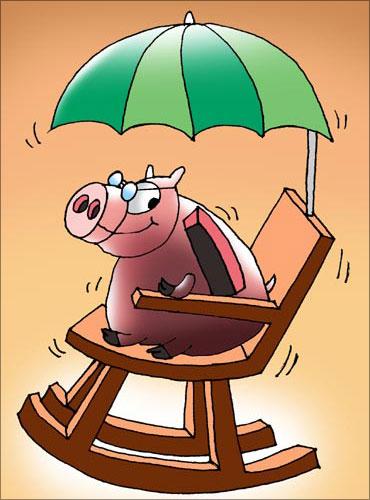 "The next Google or YouTube can come out of India and with the right network of people working together to discover and nurture innovative start-ups, it could be sooner than you think," Valto states.
If you want to invest in a start-up, you can subscribe to the website. The subscription fees is Rs 1,000, out of which Rs 750 is available to you to invest in a company of your choice.
GrowVC retains the remaining Rs 250 as management fees. Once you have become a member, you can access the list of start-up companies available for investment on the website with a short description and a basic business plan.
The maximum amount you can invest through GrowVC is Rs 50,000.
"The typical holding period we have in mind for these investments is around 3-4 years after which we will start looking at exit options and distribute the profits to the investors," says Kataria. The company will once again keep 25 per cent of the returns earned as their management fees and handover the remaining 75 per cent of the profit to the original investors.
The crowd funding approach has many precedents worldwide, mainly in the spheres of charity, microfinance and creative fields like music and films. Tapping the Internet to collect money for a cause or project has eventually led to many international websites designed specifically for this purpose. Kiva, Sprouter and Kickstarter are some examples.
Click NEXT to read on . . .
Want to fund the next Google? All you need is Rs 1,000!
Last updated on: August 5, 2010 12:24 IST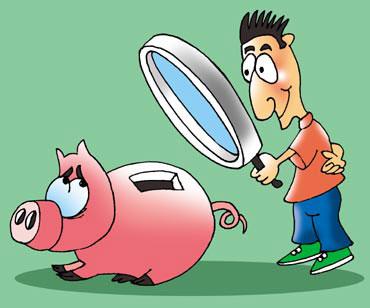 In India, the closest example we have seen of crowd funding is director Rajat Kapoor's fund raising efforts for the production of his film Raghu Romeo. Kapoor had sent out around 3,000 emails inviting people to be part producers in his film by contributing anything over Rs 10,000. The proposition was that the investors would be given a pro-rata share in the profits of the film.
Now people like Kapoor and others who want to set up new ventures will be able to use the GrowVC platform to seek funding. The company is not limiting itself to any specific sector.
"We are open to ideas from all spheres, ranging from technology to the creative line. In fact, I believe that this concept can work very well for regional films in India where the money required to produce a film is not huge, but nevertheless there's a scarcity of funds," says Kataria.
The company has also tied up with the PE firm IndiaCo which has committed $5 million for investment through the GrowVC platform. But only after a start-up has raised at least 70 per cent of the required capital from the community, will IndiaCo put in the rest of the money.
So in this way, crowd funding also acts as a predictive tool for VCs where they can use the collective wisdom of the crowds to judge the merit of an idea.
The company plans to tie up with many other angel and VC funds and claims to provide a 360-degree solution for start-ups where it will provide all tools needed for building a company from the ground up. This includes expert advice and mentoring.
Click NEXT to read on . . .
Want to fund the next Google? All you need is Rs 1,000!
Last updated on: August 5, 2010 12:24 IST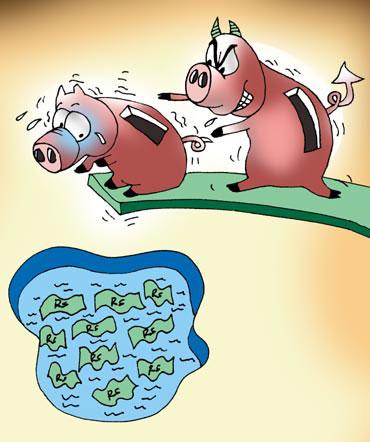 Within two weeks of its launch, GrowVC India has garnered 60 members, seven of whom are investors. Two start-ups have listed themselves on the platform and a slew of experts and service providers have registered on the website.
Globally, since its launch in February this year, GrowVC has managed to get 3,212 members and has raised $12 million for investment. They already have over 1,000 start-ups listed with them.
The company likes to call itself the 'e-Bay of start-ups' as it brings together founders and funders. But there are a few questions that need to be asked. Does the common man have the appetite for such high-risk investments in early stage start-ups that even seasoned VCs are wary of?
Won't the 25 per cent management fees, both, at entry and exit act as a deterrent for the common investor? Will there be any regulatory issues with a model like this because it is virtually a stock exchange of start-ups? How will the transparency in the investment process be maintained?
Will quality start-ups sign up for a concept like this? Won't the confidentiality of new ideas be compromised by exposing them to general public?
However, since the concept aims to provide a boost to the entrepreneurial environment in the country, one hopes that all these issues will be dealt with and many more new and exciting ideas will see the light of the day in future India.