Nothing wrong in MPs' pay hike, but . . .
Last updated on: August 25, 2010 14:17 IST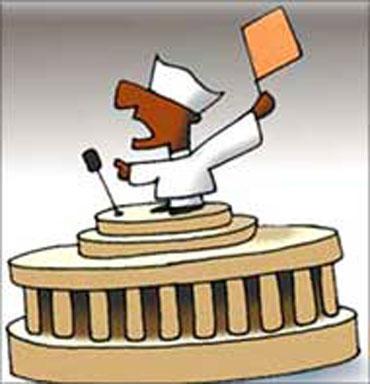 The problem with the current debate over the salary and allowances for Members of Parliament (MPs) is not the extent of increase that the government has proposed or a few parliamentarians have sought.
The increase proposed by the government is reasonable by any yardstick -- a three-fold rise takes their salary and allowances to around the compensation level enjoyed by a secretary to the Union government at present. There is nothing wrong in that.
The problem lies elsewhere, but first let us place the debate in the right context.
There are some members, primarily those belonging to the Left, who are not happy deciding on the increase in their own salary and allowances.
That is a valid point. Should MPs be approving their own salary? Would you be comfortable running a company where the employees decide by vote what salary they should get?
Members of Parliament are the people's representatives and should not fix their own salary. The government, which acts in the larger interest of the people of India, should devise a mechanism for fixing and revising the MPs' salary and allowances.
Click NEXT to read on . . . 
Nothing wrong in MPs' pay hike, but . . .
Last updated on: August 25, 2010 14:17 IST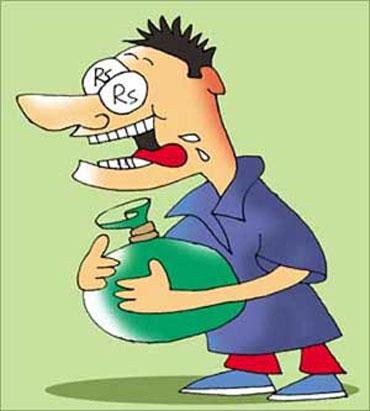 Why not then set up an empowered committee like the Pay Commission for government employees and let that panel recommend a revised pay structure for the MPs? This will absolve the MPs of the charge that they are approving what salary they should get.
Unfortunately, a section of the media has misconstrued the Left MPs' stance on the salary issue as a demand that they are not in favour of any increase in their emoluments. That is not what they actually are seeking, even though a few of their members' inarticulate mumblings on television channels may have led a few of us to believe that way.
The Left point of view is indeed a principled stand and the government should consider that seriously. A separate pay commission for MPs is not a bad idea and indeed one whose time has come!
A pay commission for MPs should also be able to resolve an associated controversy over the compensation package for parliamentarians. At present, the government does not properly calculate the total cost that it incurs on an MP, who enjoys a host of fringe benefits, apart from the housing facility.
Click NEXT to read on . . . 
Nothing wrong in MPs' pay hike, but . . .
Last updated on: August 25, 2010 14:17 IST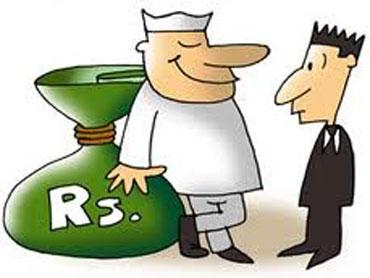 Back-of-the-envelope calculations show that the total cost the government incurs on an MP's salary, allowances and other facilities like free phones, travel, power and water is close to Rs 18 lakh (Rs 1.8 million) a year.
Add the market rent of the flat allotted as her official accommodation, the government's annual cost on an MP goes up by another Rs 30 lakh (Rs 3 million). In other words, an MP's gross salary on a cost-to-government basis at present is Rs 4 lakh (Rs 400,000) a month, or Rs 1.5 lakh (Rs 150,000) a month plus housing.
The government now proposes to raise this amount to Rs 2.25 lakh (Rs 225,000) a month plus housing. Mind you, this is only an increase of around 50 per cent after a gap of about seven years.
This increase, therefore, is quite reasonable. In any case, nobody can argue that the people's representatives should not earn a decent salary for the onerous legislative responsibilities they carry on their shoulders.
Click NEXT to read on . . . 
Nothing wrong in MPs' pay hike, but . . .
Last updated on: August 25, 2010 14:17 IST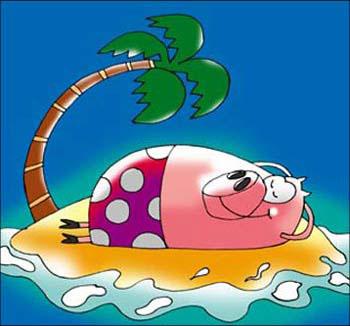 Why then is there so much criticism and disenchantment over the rise in the MPs' salary? This is where the real problem lies.
Over the years, the popular perception of MPs has turned adverse and has created an image that is hardly edifying. It is this image that is responsible for the popular disapproval of the proposal for an increase in their salary, which otherwise appears perfectly reasonable.
Add to this the fact that a large number of MPs today are already wealthy and the list of crorepati MPs has only been rising over the years. Thus, a perfectly legitimate need for paying the MPs well has been lost in their image problem.
It is, therefore, time the government tackled this issue head on. The best way forward is to link the MPs' salary and allowances to the number of days or hours they actually attend Parliament.
To establish a linkage between their salary and their attendance is important, because it is their lackadaisical approach to parliamentary work and responsibilities which is responsible for their poor public image.
Click NEXT to read on . . . 
Nothing wrong in MPs' pay hike, but . . .
Last updated on: August 25, 2010 14:17 IST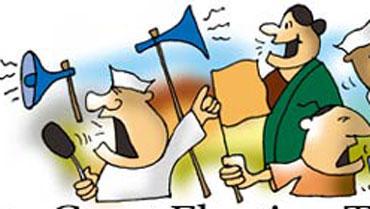 Consider, for instance, what they did during the last Budget session of Parliament. The average attendance of MPs in the Lok Sabha was 66 per cent and 79 per cent in the Winter session of 2009 and the Budget session of 2010, respectively.
For the Rajya Sabha, the attendance was marginally better at 68 per cent and 78 per cent for the same period, but this shows that about a fourth of MPs did not attend Parliament regularly.
Worse, interruptions and walkouts reduced the total productive time in the Lok Sabha during the Budget session to only two-thirds of the scheduled time or 138 hours, which is less than 18 days of work (assuming eight hours in a working day) in a session that ran for about 10 weeks.
Productive time in the Lok Sabha Winter session of 2009 was similar, though marginally higher at 76 per cent. The Rajya Sabha too had the same story with its productive time estimated at 74 per cent of the scheduled time in the Budget session compared with 88 per cent in the Winter session.
Would anyone have any objections if a government-appointed pay commission recommends even higher salary and allowances for MPs, but links a bulk of those payments to their attendance in Parliament and the extent of productive work in a session?
The moment that linkage is established, MPs will start behaving more responsibly. There would be less disruptions and the MPs' attendance in Parliament would improve dramatically. And the number of pending legislative Bills waiting to be cleared by the two houses would decline!
Source: