The chaos called Bt brinjal!
Last updated on: February 2, 2010 15:01 IST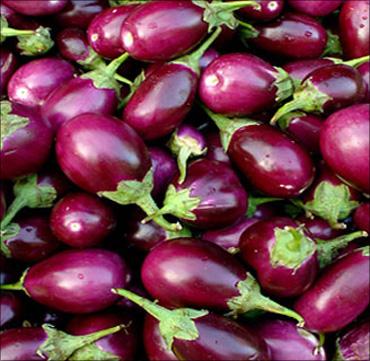 In Medhasan village of North Gujarat many farmers are complaining that Maharashtra Hybrid Seed Company (Mahyco), a big-time promoter of the hybrid seeds, has provided some of them Bt brinjal seeds to 'try out' in their fields.
Even though such reports have not been verified by any authority in Gujarat yet, farmers who are against the introduction of Bt brinjal express the fear that sooner than later some cultivators in Gujarat might start producing illegal Bt brinjal crop, just like they had done some years back in case of Bt cotton.
Bt brinjal is a genetically modified strain created by India's number one seeds company Mahyco in collaboration with American multinational Monsanto. The companies claim that these seeds improve yields and help the agriculture sector. Bt brinjal is created by modifying its gene with the help of agro-engineering so that it can resist certain insects/pests that create havoc in the fields.
The seeds of Bt brinjal (bacillus thuringiensis brinjal) are being developed in India by Mahyco and American multinational Monsanto. Monsanto, which has invested millions of dollars in research on GM strains, is now eyeing the Indian market for their GM seeds. Mahyco-Monsanto Biotech India had also enjoyed a monopoly in the supply of Bt cotton seeds.
Ramanbhai Patel, an agro-products expert and a respected farmer from Modasa in Gujarat, while speaking to rediff.com, claims: "We will be doomed if our farmers are lured by Mahyco to accept Bt brinjal seeds. How can you sow something whose side-effects are not yet known to anyone?"
Currently, a national debate is raging on the pluses and minuses of allowing production and marketing of Bt brinjal in India. Click NEXT to read further. . .
The chaos called Bt brinjal!
Last updated on: February 2, 2010 15:01 IST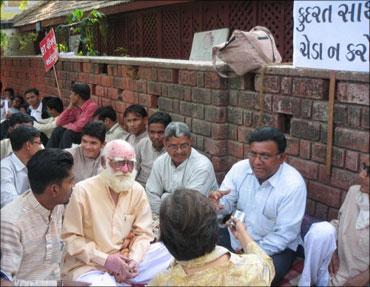 The Genetic Engineering Approval Committee has for the first time approved the trials and, eventually, the marketing of Bt brinjal in India. The government is in the process of taking a final call on the issue.
Non-governmental organisations and alert farmers are horrified at the GEAC's decision which is considered to be the first major step toward liberally allowing genetically modified crops and vegetables into the Indian market. Although Bt cotton is still produced in many Indian states, so far India has resisted the private sector's attempts to produce/market GM foods.
Gujarati farmers have made millions from Bt cotton in the last five years, but on the issue of Bt brinjal Indian farmers, including those in Gujarat, are divided.
The issue is so serious that India's renowned agriculture scientist M S Swaminathan has also urged the government to 'go slow' on it. Recently, he was quoted by a Chennai daily as saying: "Every technology has its benefits and risks. But it all depends on our capacity to analyse risks and benefits. We must analyse whether the risks are more or the benefits are more. There should be an authority to analyse these risks and benefits in a transparent way. Unfortunately, we don't have an authority like that."
Kapil Shah, head of the Baroda-based Jatan (an organisation that has been pioneering the organic farming movement in Gujarat), says: "The opposition to Bt brinjal is mainly because India doesn't have enough research facilities and infrastructure to monitor the long-term impact of GM foods. Companies that want to make millions from selling genetically engineered foods are the only ones doing any field research. There is no independent research or monitoring whatsoever." Shah is known for his significant research on natural and organic farming.
The opposition to Bt brinjal is so strong that Union Environment Minister Jairam Ramesh is touring the entire country and holding open sessions to understand firsthand the views of farmers and experts on the issue. Click NEXT to read further. . .
The chaos called Bt brinjal!
Last updated on: February 2, 2010 15:01 IST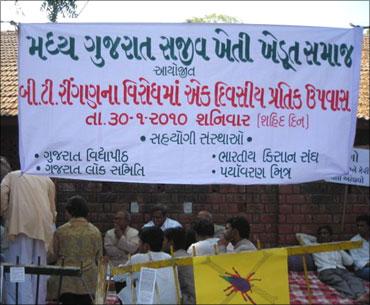 Ramanbhai Patel, who is a strong opponent of Bt brinjal, says: "What you wear on your skin (Bt cotton) is different from what you eat (Bt brinjal). How can you eat toxic food? The element that kills insects remains in the final product of GM brinjal. It is as simple as that."
Jatan's Shah says, "Wherever minister Ramesh has gone, most people have opposed Bt brinjal. Mahyco has sent its representatives to speak with cultivators but most of the farmers understand that they don't want to poison their land and their food."
According to Shah, the meetings called by Jairam Ramesh in Kolkata saw that of the 56 representations received, 41 opposed Bt brinjal. In Bhubaneswar, 65 of the 70 farmers and experts gathered there opposed Bt brinjal, while in Ahmedabad out of the 66 people who came to give their opinion at the open session, 51 opposed it.
"Ramesh is facing the ire of experts and farmers because they fear that the GM seed companies will enter the Indian market, by hook or crook," says Narsibhai Patel, who observed a token fast on January 30 at the Gandhi Ashram in Ahmedabad to oppose Bt brinjal.
He says, "Farmers won't pick up Bt brinjal seeds, like they took Bt cotton, because even when the production of brinjal is good we just don't get enough money. Many a time, we have to sell 20 kg brinjals at Rs 8. Sometimes we don't even get money enough to cover the cost of the sack in which we carry our produce to the market. We don't need Bt seeds. We need cheaper pesticides or some alternative."
Some three dozen farmers were participating in dharna in Ahmedabad to protest the government's attempt to give permission to Bt brinjal. Click NEXT to read further. . .
The chaos called Bt brinjal!
Last updated on: February 2, 2010 15:01 IST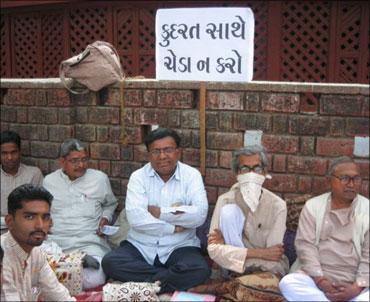 In New Delhi, Jairam Ramesh had assured that he would take a decision on Bt brinjal in mid-February, and now the farmers are waiting anxiously. Union Agriculture Minister Sharad Pawar has already supported the marketing of the Bt brinjal as GEAC has approved it. But the problem is that the credibility of GEAC is under a cloud.
Jatan's Kapil Shah points out: "Some time back GEAC had written to the Gujarat government to destroy the illegal crop of Bt cotton, but no action was taken. How do you expect any better implementation of rules in case of brinjal?"
When rediff.com met some of the farmers in Medhasan village they were scared to talk to the media. Two local farmers who have accepted seeds from Mahyco were afraid to give their names.
They told rediff.com, "It is true that Mahyco has given us brinjal seeds, but we don't know what it contains! We are not sure if its hybrid or Bt brinjal." They avoided all queries related to the subject.
An old farmer in Anandpara village near Modasa said, "When we heard that farmers of Andhra Pradesh, Kerala and Maharashtra have accepted illegal Bt brinjal seeds, we too thought of trying it. We are waiting to see the development." Click NEXT to read further. . .
The chaos called Bt brinjal!
Last updated on: February 2, 2010 15:01 IST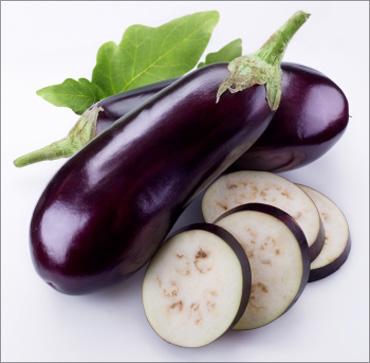 According to his neighbour, they had informed the villagers that they were ready to develop a 'seed plot' for Mahyco.
A senior government officer, dealing exclusively with farmers in Modasa, says: "What regulation? In matters pertaining to rules and regulations in the agriculture sector, India is like a banana republic. The production of Bt cotton also started illegally in a similar fashion. Even today, it is produced illegally in many places. The agriculture sector is in a complete state of chaos. There is no enforcement of law once you go into the interiors of the country."
Shah says that "India grows brinjal worth more than Rs 200 crore (Rs 2 billion) on around 550,000 hectares of farmland. We should oppose Bt brinjal because it is symbolic. One does not know where the entire issue of GM foods will end. We are shooting in the dark without fully knowing and understanding the side-effects."
And even though the supporters of GM foods have ample arguments to counter the robust opposition to Bt brinjal, Jairam Ramesh's current tour shows that the seed companies who are eyeing big business from India will have to work harder to enter the Indian market.
It seems that the battle for GM foods in India has just begun.