She became an entrepreneur by accident
Last updated on: February 11, 2010 15:01 IST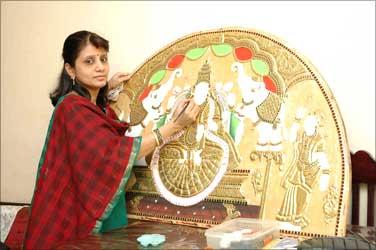 Ten years ago, Srividya Rabindranath was just another woman working for a private company. But today she is a successful entrepreneur and a member of the Bharatiya Yuva Shakti Trust that identifies and encourages first-time entrepreneurs.
BYST cites Srividya's venture as a casestudy, as she had the ability to turn her passion into a business venture.
Srividya's family came to Thanjavur nearly four centuries ago (from what is today Maharashtra). Though she was born and brought up in Chennai, she had an ingrained talent for Thanjavur or Tanjore paintings. Thanjavur painting is an art form that dates back to about 1600 AD, a period when Nayaks of Thanjavur encouraged this art.
Srividya always regarded painting as her passion and never harboured any plans to turn her talent into a successful entrepreneurship.
All this changed when she got married. With ample encouragement from her husband, she decided to learn the art of making Thanjavur paintings from Sushila Dattatri, an aunt of hers by marriage. That was more than ten years ago. Click NEXT to read on. . .
She became an entrepreneur by accident
Last updated on: February 11, 2010 15:01 IST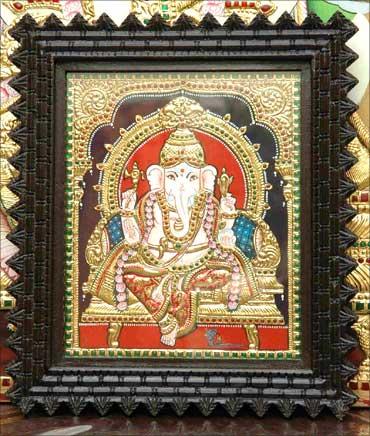 Her first painting was that of Lord Balaji. She decided to get deeper knowledge of the art form and even started teaching other women. The decision to teach had two advantages; it honed her own skills and introduced the art to a wider section of people. By now, she must have taught about 600 women.
Judging by how things panned out for her, it seems Lord Balaji had, indeed, heaped blessings on her. A small write-up in The Hindu about taking classes for women with a picture of her Balaji painting caught the attention of many people who live in Tirupati, a town famous for the Balaji temple.
"A family came down to Chennai with the sole purpose of buying that Balaji. So impressed were they with the Balaji that they wanted it at any cost," Srividya recollected.
She sold the painting for Rs 4,500 and all that she had invested was Rs 1,500. That was in 2001. Click NEXT to read on. . .
She became an entrepreneur by accident
Last updated on: February 11, 2010 15:01 IST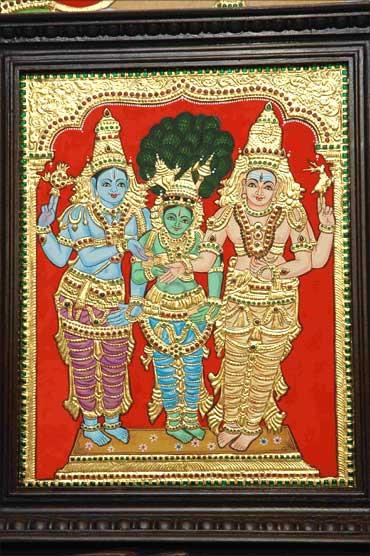 The next order came from Bengaluru. This time these art lovers wanted four paintings of Lord Krishna and Goddess Lakshmi. When she sold those paintings for Rs 35,000, the profit margin was around 50-60 per cent.
Based on the positive response that her paintings received, she decided, in 2001, to turn into a full-fledged entrepreneur.
"I had no fears about being an entrepreneur. What I was venturing into was skill-oriented and I knew what I was capable of. I knew what people wanted. I expected this venture of mine to be successful, and it is."
Srividya chose not to give any name to her enterprise.
"Paintings go by an artist's name, whether it is M F Hussain or Thotta Tharani or any other artist. People come to buy my paintings, and not a painting by a company. So, it is Srividya's painting that was sold when I became an entrepreneur."
"Moreover, we don't sign on Thanjavur paintings; we only put a sticker behind it. That is because this art form is the brainchild of so many people from earlier generations. But those who are familiar with my paintings immediately spot them by looking at the face I draw," explained Srividya. Click NEXT to read on. . .
She became an entrepreneur by accident
Last updated on: February 11, 2010 15:01 IST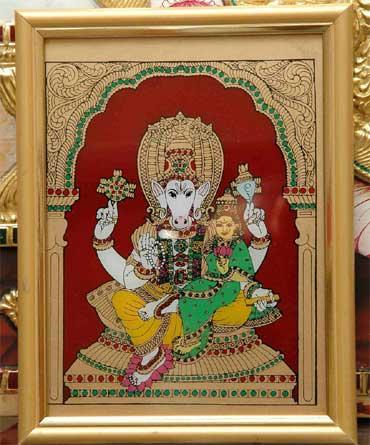 She then joined Moowes (Marketing Organisation of Women Entrepreneurs) and soon they arranged an exhibition for all the women entrepreneurs in Chennai. More than selling her paintings, what helped her most were the contacts she developed at the exhibition.
Similarly, her association with Dakshinachitra also helped her to get contacts of art lovers especially those from outside India. Today, 80 per cent of her paintings are brought by Non-Resident Indians, mostly from the United States and then from Australia, New Zealand and the United Kingdom.
"Dakshinachitra introduced me to a whole lot of customers and all of them were NRIs who loved to collect Thanjavur paintings. I also have some foreign customers."
In the first year, she sold about 5-6 paintings a month which doubled in the second year. Today, she sells approximately 30 paintings a month.
The enterprise which she started with a capital of Rs 3,000 now makes Rs 150,000 every month. Click NEXT to read on. . .
She became an entrepreneur by accident
Last updated on: February 11, 2010 15:01 IST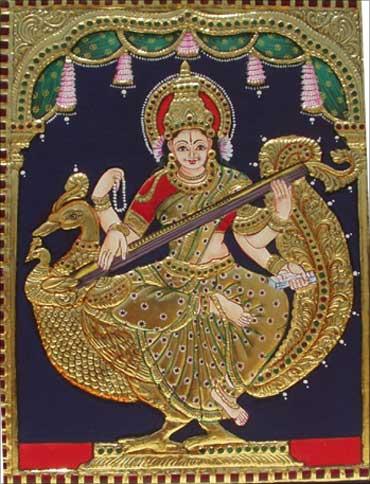 Once orders for more and more paintings came her way, she started assigning the manual work of buying the plywood, cutting it to size, pasting the cloth, applying gum, fixing the gems on the sketch, etc.
Today, the manual work involved in preparing the board is done by five villagers in Pudukkottai in the southern part of Tamil Nadu. So, these days, Srividya does only the painting.
"What my workers do is the manual job and what I do is the work that is expected from an artist."
Felicitation came in the form of Kala Shikhara Award from the Government of Karnataka for her work titled Sri RamaPattabeshekam. Click NEXT to read on. . .
She became an entrepreneur by accident
Last updated on: February 11, 2010 15:01 IST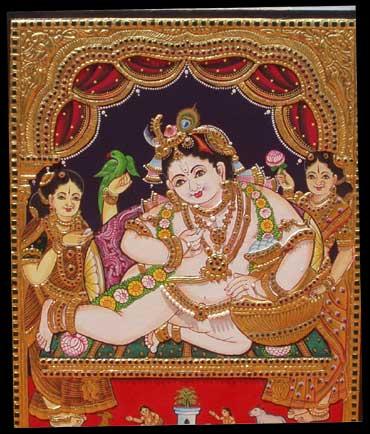 Along with Thanjavur paintings, she also started glass paintings. It needed a big investment. If she had 80 themes for glass paintings, she had to stock at least 1,000 paintings in each theme. Unlike Thanjavur paintings, people bought glass paintings in large numbers and used it as gifts.
It was then that Bharatiya Yuva Shakti Trust helped her secure loan from the Indian Bank to scale up her work. Today, she must be selling at least 3,000 glass paintings in a month.
Srividya feels Thanjavur paintings, though an art, remains just a hobby for many but if they learnt from a good teacher, anyone could excel in the field.
Her word of advice to budding entrepreneurs is, "Many who come to learn ask me, how much can I earn from this? Never look at monetary gains when you are going to learn an art. Think of what you can create, money will follow later."