Want to plant or gift a tree? Just click!
Last updated on: June 10, 2010 11:37 IST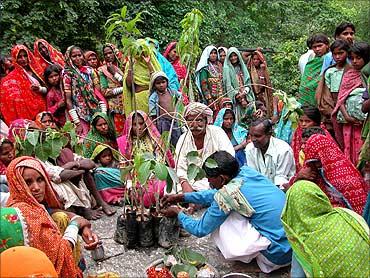 You can now plant a tree with just a few clicks! Grow-Trees.com, a social business initiative gives a unique opportunity to individuals and corporates to plant trees anywhere in India.
A personalised service for the larger good of the public, individuals can plant a tree to greet someone on his/her birthday, on New Year or any other occasion, for a nominal cost of Rs 50.
All you need to do is go to the website, select how many trees you want to plant and make the payment with your credit card.
It is a cost effective method through which the recipient will get a 'green' certificate in his/her honour. An e-mail with the certificate and a personal message will be sent to the recipient.
Launched on World Environment Day (June 5) by Pradip Shah, the founder of credit rating agency Crisil, this initiative lets you make a significant environmental impact by offsetting carbon emissions and at the same time honour people and improve wildlife habitats.
Click on NEXT to read more...
Want to plant or gift a tree? Just click!
Last updated on: June 10, 2010 11:37 IST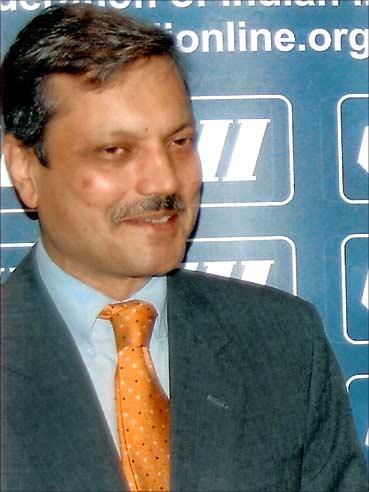 Inspired by an initiative in Israel, Pradip Shah, who is the chairman, IndAsia Fund Advisors, decided to start this venture with a social purpose.
"In 1992, a garden of 100 trees was planted in my honour in Israel, for the technical assistance I offered to their rating agency. In India, even if there is land I have found it so difficult for us to plant a tree. I have faced problems when people objected to even plating a tree in the building premises. Since the Internet penetration is growing in India, this is one of the best ways to reach out to many people," Shah points out.
Besides, creating a feel-good factor, this initiative inculcates a love for the environment, creates many jobs in rural areas, gifts all living beings with flowers, fruit, fodder and fuel. One can even gift a garden in the name of anyone.
Click on NEXT to read more...
Want to plant or gift a tree? Just click!
Last updated on: June 10, 2010 11:37 IST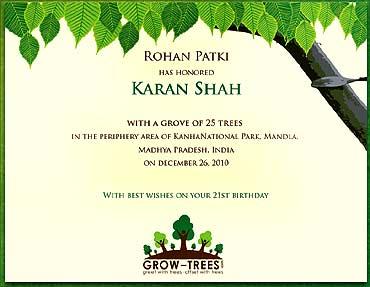 Grow-Trees.com organises planting in public lands through reliable organisations and audits their planting activity. The audits are carried out by certified chartered accountants.
Individuals can choose locations such as Kanha National Park in Madhya Pradesh, Satkosia Gorge Sanctuary in Orissa, or Kumbalgarh Wildlife Sanctuary in Rajasthan for such planting and also select purposes such as 'Trees for communities', 'Trees for wildlife and 'Trees for schools'.
The website has received a good start and about 35,000 trees have been planted in ten days. The company has received enquires from Dubai and New Zealand as well.
Grow-Trees.com plans to bring together the Indian diaspora worldwide to give back to their country in a unique way. They can plant trees in India to celebrate a birthday, a wedding, or a graduation, just as the Jewish diaspora plants trees in Israel.
Click on NEXT to read more...
Want to plant or gift a tree? Just click!
Last updated on: June 10, 2010 11:37 IST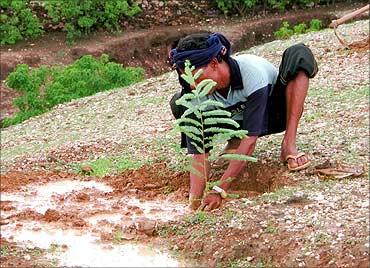 Among corporates, Piramal Healthcare, Blackstone Group have joined the initiative. Few other companies have also evinced interest in this initiative.
Corporates can honour their customers, partners and employees by planting trees in their names.
"We are also talking to three major telecom operators. This service can be used for various cost savings initiatives by companies. Companies from the banking, mutual fund, insurance, and telecom space can plant a tree for every customer who opts for e-statements over paper statements to eliminate the monthly costs associated with paper statements," Shah explains.
Companies send thousands of cards every year. They can easily switch to sending a 'tree'. It helps in boosting the green image, leads to cost savings, and makes the environment cleaner and greener.
Click on NEXT to read more...
Want to plant or gift a tree? Just click!
Last updated on: June 10, 2010 11:37 IST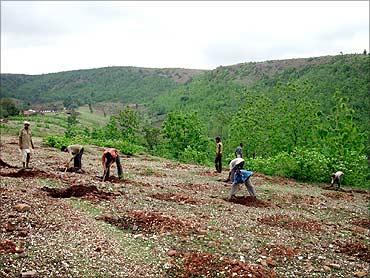 Pradip Shah admits that Indian companies have to do a lot more. With laws getting stricter, Indian companies will be forced to comply with carbon emission targets.
The US has already passed a law last year, which could lead to taxing products which come from countries with high carbon emissions.
China has already taken the lead in harnessing solar and wind power. Indian companies must invest in more green plans and initiatives, he explains.
"Companies engaging in environmentally sensitive manufacturing sectors like cement, power generation, pharmaceuticals, paper products and mining can plant trees to offset carbon emissions from their business activities and publish the e-certificate in annual reports and other communications to promote an environmentally conscious corporate image," Shah adds.
Grow-Trees.com is also an official partner of the United Nations Environment Program's 'Billion Tree Campaign'.