Mann Deshi Bank: An amazing success!
Last updated on: June 15, 2010 19:39 IST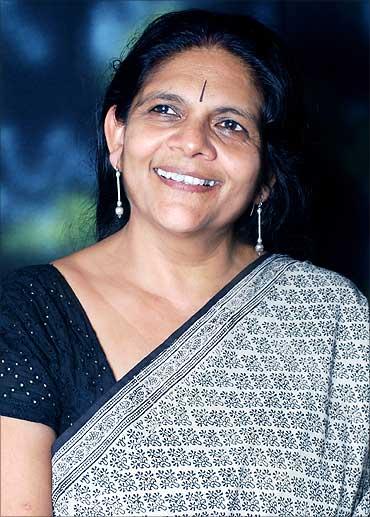 This is an extraordinary story of women's empowerment in rural India. Women in Satara district in Maharashtra run a bank and a B-school successfully.
Founded by Chetna Gala Sinha, the Mann Deshi Mahila Sahakari Bank was formed with the active participation of illiterate, rural women in 1997.
It was a struggle against all odds for Chetna Sinha who wanted rural women to be financially independent. The women needed to be removed from the shackles of poverty and money lenders in the drought-prone areas of Satara district in Maharashtra.
Money was the root cause of all their troubles. Finally, the relentless efforts of 500 rural women led to the mobilisation of a shareholder capital of Rs 600,000 to start their own financial institution.
"Founded in 1997, it is India's first rural financial institution to receive a cooperative license from the Reserve Bank of India. Today, Mann Deshi Bank based in Mhaswad, a village in Satara district, is the largest microfinance bank in Maharashtra with about 127,000 clients. Besides a business school to train women into success entrepreneurs, Mann Deshi Bank offers individual and group loans, savings, insurance and pension plans," says an optimistic Chetna Sinha.
Mobilising these poor, illiterate women, making them understand the need to start a bank that could be their economic lifeline was quite a daunting task.
"The biggest challenge was money. We needed deposits, people to fulfill conditions of the Reserve Bank of India. When we submitted the applications with thumb impressions of the members, our application got rejected. It was a tough battle, which lasted for two years. The women were then trained to read and write and given training in basic finance. It was very fulfilling to go back to the Reserve Bank with a group of women who had learned to calculate interest on any principal amount. The RBI officials were impressed," says Chetna.
With this, the bank crossed the biggest hurdle and got the license. The Mann Deshi Bank today prides to have assets of over Rs 40 crore (Rs 400 million) and a share capital of Rs 3.5 crore (Rs 35 million). Last year, the bank's net profit stood at Rs 20 lakh (Rs 2 million). "The bank has helped more than 62,000 women to build assets, own property and start small businesses," she says.
Besides this, the Mann Deshi Foundation runs a B-school which trains women to become successful entrepreneurs.
In 2002, Yale University appointed Chetna Sinha as a World Fellow, and in 2003 Harvard University recognised her as a 'Bridge Builder'. Chetna has received several additional awards for her pioneering work with women in drought affected areas of Western Maharashtra and Karnataka.
Click NEXT to read more about Chetna Sinha's success in empowering women and transforming the lives of lakhs of impoverished people...
How illiterate women became entrepreneurs
Last updated on: June 15, 2010 19:39 IST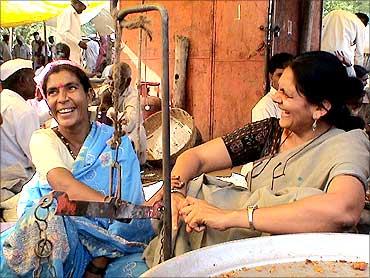 The beginning
Mhaswad, a prosperous village with cotton fields was hit by a severe drought in the late 1970s, leaving farmers to work as daily wage earners. Many migrated to the cities in search of employment. So the entire household burden fell on women, who struggled to make ends meet.
Chetna, who began working since 1980 wanted to make a difference to the lives of hundreds of women.
Initially, she tried to understand the problems of the locals. She helped the people get maximum benefit from the schemes offered by the government during the drought. She soon realised that subsidies were not the answer, it was necessary to improve the economic conditions of the local women.
Click on NEXT to read more...
How illiterate women became entrepreneurs
Last updated on: June 15, 2010 19:39 IST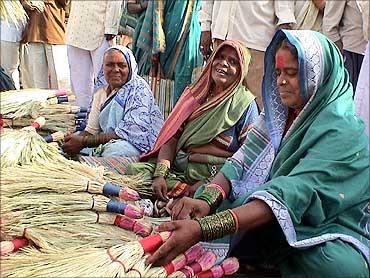 Chetna launched the Manna Vikas Samajik Sanstha (Mann Social Development Organisation) through which she started a credit cooperative society in 1992.
This society had small saving schemes suitable for the women of marginalised classes.The women pooled their weekly savings of Rs 5-10 and gave it to one group member at a time to buy goats or whatever she wished. A recovery rate of 100 per cent was maintained.
In order to deal with their problems, the collective strength of the women at the grass roots needed to be tapped, Chetna realised. The only solution for their problems was a women's bank. It was not an easy job. But Chetna along with the local women succeeded in their mission.
Besides changing women labourers to entrepreneurs, Chetna's work has impacted the education, financial knowledge and socio-political conditions in the villages and made the women aware of their rights.
Click on NEXT to read more...
How illiterate women became entrepreneurs
Last updated on: June 15, 2010 19:39 IST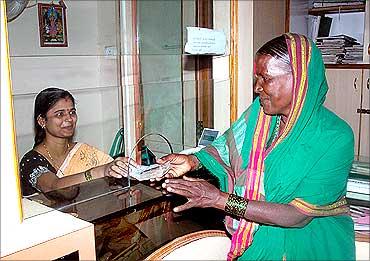 Mann Deshi Bank, the lifeline of women
Getting the license and mobilising people were the biggest challenges. "It took months to get women, train them and win their trust. Many were indebted to money lenders as co-operative banks did not encourage such poor people. With agriculture yield falling drastically, there was little means for sustenance. We realised that we needed to help them save money and offer financial guidance after we grant them loans," says Chetna Sinha.
With a strong team of 600 local women, she did what was considered the most impossible task. Today, the bank has field officers with wireless devices with the entire data of the clients. The bank's officers meet them on the field, at their homes or in the market to collect their savings or offer loans. The officer is instructed to be humane and show concern for the poor.
The daily savings could be anything from Rs 2-10 depending on what business they ran. "The default rate is just 2.5 per cent. The women are given anything between Rs 5,000 to Rs 25,000 without any collateral. They can opt to pay back within 12-32 months," she says.
Click on NEXT to read more...
How illiterate women became entrepreneurs
Last updated on: June 15, 2010 19:39 IST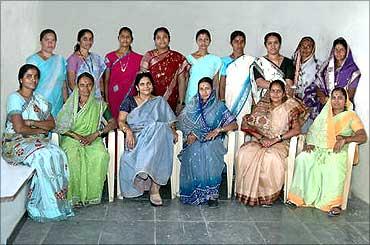 The bank is the first in the region to initiate life, accident and hospitalisation insurance for women. Mann Deshi Bank now covers 7 districts in Maharashtra - Satara, Solapur, Sangli, Raigarh, Ratnagiri, Pune and Kolhapur. The Bank has six branches in Mhaswad, Vaduj, Gondavale, Dahiwadi, Satara, and Lonand.
Mann Deshi's success has now been replicated in two districts in Karnataka. More than 95 per cent of employees are local women from the region. The CEO of the bank, Rekha Kulkarni, had joined the bank as a clerk in 2000.
Click on NEXT to read more...
How illiterate women became entrepreneurs
Last updated on: June 15, 2010 19:39 IST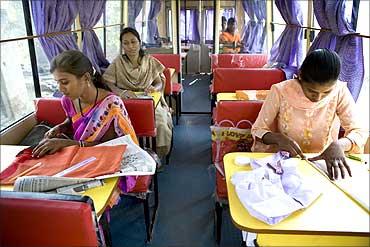 Bank's offerings
"It is essential for people to diversify, than be dependent on agriculture. So today the bank reaches out to anyone who needs money to start any business. There is no discrimination towards anyone," says Chetna.
The bank has tied up with UTI Mutual Fund to offer pension to women when they complete 58 years. These women will receive a monthly payment based on accumulated savings as pension. All they need to do is save at least Rs 100 every month till the age of 55 to get a good return as pension.
"Many rural women are worried about their old age. The pension system is an answer to their worries. They can either deposit amount as little as Rs 2-5 daily or more for the pension fund," Chetna says.
All the Mann Deshi clients are poor women with annual incomes averaging Rs 22,000. Out of this, 70 per cent belong to backward castes. Mann Deshi is first bank in the country to have more than 11,000 members from backward castes.
Click on NEXT to read more...
How illiterate women became entrepreneurs
Last updated on: June 15, 2010 19:39 IST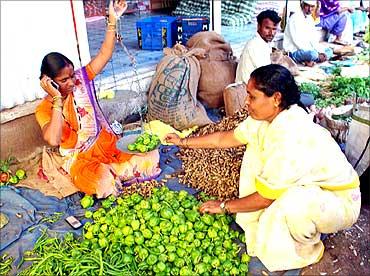 About half of Mann Deshi clients are street vendors or day labourers. The other half own small enterprises, including tailoring, rope making, and dairies.
"Our experience has shown that when women control the household finances, more money is spent on children, education, healthcare, and other important domestic items. We believe that the financial empowerment of women will hasten the growth and development of rural India, thereby creating a better life for future generations," says Chetna.
The Mann Deshi model has proved to be the most efficient in financial services with business training and information, says Chetna.
Hundreds of women are now confident, capable leaders in their families and local communities. These women help to lead self help groups, manage accounts, and keep financial records, she points out.
Click on NEXT to read more...
How illiterate women became entrepreneurs
Last updated on: June 15, 2010 19:39 IST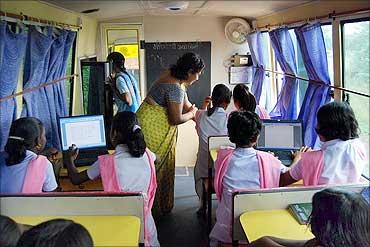 Manndeshi Udyogini
A B-school with a difference, Manndeshi Udyogini teaches anyone who is willing to learn. From illiterate women to school dropouts - all are given training in technical, financial and marketing skills to start and improve their own small enterprises.
"The B-school was launched to meet the demand from women to be financially independent. Mann Deshi Bank and the B-school have supported 17,000 agricultural households to start businesses. This is a new beginning for many farmer families. These programs have considerably reduced farmer suicides in the rural areas," she says.
The duration of the program ranges from 3 days to 3 months. The courses are tailor-made to suit various requirements.
Click on NEXT to read more...
How illiterate women became entrepreneurs
Last updated on: June 15, 2010 19:39 IST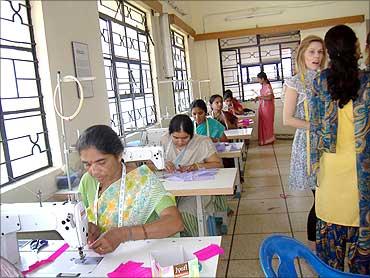 The business school offers guidance on starting a business, including loan options for seed capital.
"We have a partnership with HSBC Bank to fund the start-up capital for this innovative and exciting program. The latest addition is a 'Mobile B-school', which goes to every nook and corner of the villages to impart training to women. The bus also has tailoring machines and laptops to train women.
We tell everyone to keep a financial diary to keep tab on how much they save and spend. This diary is a useful tool to understand how they fare in business. We also take them for an industry visit, so that they see and understand how other successful enterprises work," Chetna explains.
The courses include basic and literacy programs, financial guidance classes, fashion designing, tailoring, supply chain management, and computer education.
The B-school also has a tie-up with Yale and Harvard universities. Every year interns visit the B-school to do an impact study.
Click on NEXT to read more...
How illiterate women became entrepreneurs
Last updated on: June 15, 2010 19:39 IST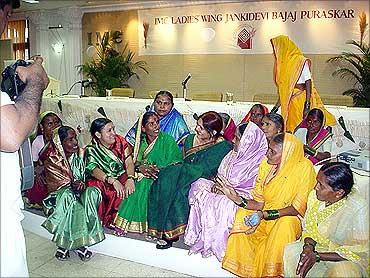 Building lives
The Mann Deshi Bank is a dream come true for these women. Besides helping them in savings, the bank has instilled a confidence to work independently and earn well.
Better food, clothing, healthcare, sending children to schools, their standard of living has improved considerably.
"Every women entrepreneur has generated jobs for women in their community. All have achieved 100 per cent growth in family incomes. The new businesses incubated include dairy cooperatives, tailoring shops, dish TV services, photo studio services, production and sale of framed photographs of local deities, production and sale of paper cups for local temples," Chetna Sinha explains.
In 2006, Vanita Pise, an entrepreneur, received the CII Woman Exemplary Award from Prime Minister Manmohan Singh.
Click on NEXT to read more...
How illiterate women became entrepreneurs
Last updated on: June 15, 2010 19:39 IST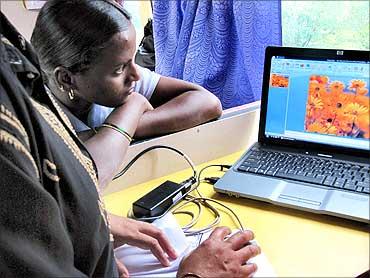 Besides, making them financially independent, the foundation under the leadership of Chetna won the case of recognition of women as co-owners of household property. This policy breakthrough enabled more than 600,000 women in Maharashtra to prevent the sale and divestment of household property by their men.
The MDM group also launched the 'Sarawati Yojana Bicycle Program' which provides interest free loans on bicycles to families that send daughters to schools. More than 800 families have benefited from this scheme.
"If the co-operative banks are willing to take the risk and challenge of working with these clients and developing innovative products to serve them, they have the opportunity to empower thousands of new micro-entrepreneurs and develop and empower the semi-urban sector of India's economy at the same time," Chetna says.
Click on NEXT to read more...
How illiterate women became entrepreneurs
Last updated on: June 15, 2010 19:39 IST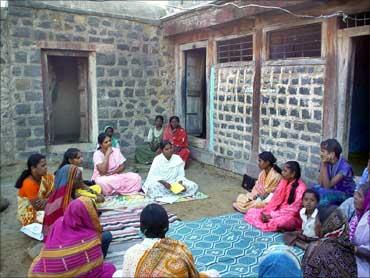 Challenges
"Infrastructure is the biggest hurdle in rural India. The lack of roads and long hours of power cut hinder progress. Another important thing is education and finance. People actually do not want government subsidy as they are capable enough. They just want an opportunities to improve their lives," says Chetna.
"In rural India, there is no network of banks so it is very important that they have access to finance then only there would be diversification from agriculture and farming to improve their lives. Today, technology is available to all but power is a major problem in Maharashtra. In rural areas, there is load shedding of 12 hours during day time," she adds.
Future plans
Chetna believes that she can do a lot more in the years to come. She plans to expand the services to Jharkhand, Gujarat and also work with cooperative societies in Jammu Kashmir. She also has plans to start a company for agro-business.
"To bridge the rural-urban divide, the main challenge is government policies. It is high time the government realised the potential of poor. I also think that society does not think that the poor are capable of improving their lives. It is just a matter of providing the right opportunities," Chetna believes.