No holds barred: Wrestlers get corporate identity
Last updated on: June 30, 2010 12:02 IST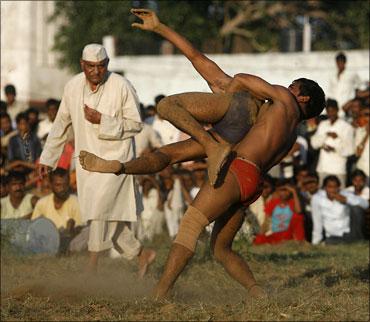 A well-built man walks out from the ramshackle, asbestos-roofed akhara near Majnu Ka Tila in Old Delhi. He is very guarded about his address and identity. But he does not seem to be disappointed with the direction his life has taken.
When he had stepped into the Sanjay Pehelwan Akhara early in his teens, he had dreamt of representing India as a wrestler and winning accolades for his country.
Fitness, self-defence, discipline, honesty and confidence were the mottos he was ready to swear by to realise his dreams.
Today, his priorities have changed, as have his dreams -- although he is still a pehelwan and the akhara is still his home.
He has ceased to be just another wrestler and landed himself a fine job with a company.
His job as a bouncer -- he prefers calling himself a PSO (personal security officer) -- in a top company in the National Capital Region promises a healthy salary and a secure future. His wife and child are back home in Bahadurgarh in Haryana.
Click NEXT to read on . . .
No holds barred: Wrestlers get corporate identity
Last updated on: June 30, 2010 12:02 IST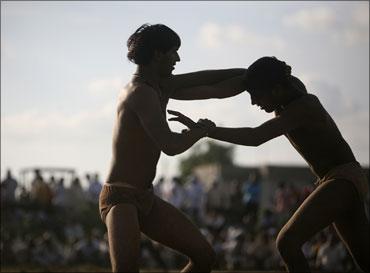 He is not alone, but one of the many wrestlers and boxers, lured to the corporate world to sort out disputes between the employer and the employee -- often as bullies who ensure workers obey the diktats of the management.
The pehelwan said companies pay up to Rs 40,000 a month for providing security to top officials. He does not have to be in office every day -- only thrice a week -- but is still a permanent worker.
"I do not bully workers but provide personal security to the top officials in the company. My tough looks suit the profile best," the pehelwan from Bahadurgarh said.
Workers at Napino Auto and Electronics -- an auto accessories company in Gurgaon -- have been on strike for more than a month. One of the workers said, on condition of anonymity, that the company had hired a dozen musclemen through job contractors. "They have threatened us to end the strike and join work or face the consequences," he said.
Napino's personnel manager B K Singh agrees that bouncers have been hired, but only to provide security to workers who are not part of the strike. He, however, denied using them to bully workers.
Click NEXT to read on . . .
No holds barred: Wrestlers get corporate identity
Last updated on: June 30, 2010 12:02 IST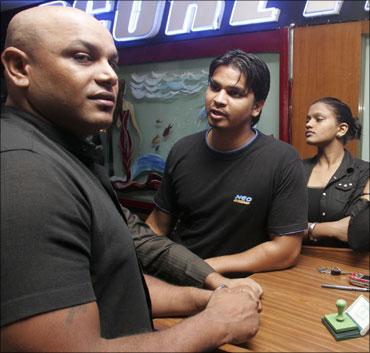 "If workers can take the law in their hands and threaten our employees who are willing to work, then we need security. The bouncers are for our security not for use against them."
A job contractor in Gurgaon admitted over the phone that he had supplied bouncers, but refused to give details.
Legendary wrestler and coach Chandgi Ram, now ailing and in his late 80s, said: "Sports begins and ends with cricket in India; thus only five out of 100 sportsmen may touch international level while the rest are doomed to unemployment. So it is quite natural that they may opt for easy money."
"There are two sides to everything. Everyone has to feed his family and unemployment leads to people taking to such illegal activities," Ram added.
The job market for wrestlers is good. The ramshackle homes at the akhara and free training provided by Chandgi Ram's son Jagdish Kaliraman still attract boys and girls from surrounding states.
Click NEXT to read on . . .
No holds barred: Wrestlers get corporate identity
Last updated on: June 30, 2010 12:02 IST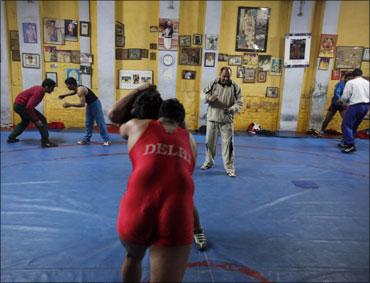 From 10-years-olds accompanied by their parents, to older ones from Punjab, Haryana, Himachal and Uttar Pradesh come for daily training sessions or stay at the akhara. Some have even come from as far away as Karnataka.
The akhara charges Rs 10,000 for food, but most students cook on their own and make use of the free accommodation.
All that the akhara gets from the government is the two coaches' salaries. The government has set aside jobs for wrestlers in railways and defence services among others, but it comes with a rider -- they need to be winners at state or national-level tournaments.
"Where do the rest go?" asks a wrestler at Chandgi Ram's akhara.
Opting for jobs as bouncers with companies or security agencies are always acts of desperation, said Jagdish Kaliraman, an employee of the Uttar Pradesh police.
Click NEXT to read on . . .
No holds barred: Wrestlers get corporate identity
Last updated on: June 30, 2010 12:02 IST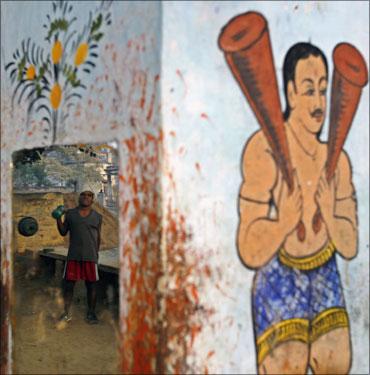 An old resident of the Chandgi Ram Akhara said most jobs as bouncers are not permanent. "Often contractors or companies directly get in touch with akharas and ask for a given number of musclemen for a certain period of unrest. So the work lasts for a week or month and the bouncers are paid on a daily basis. The payment is between Rs 1,000 and 1,500 a day," he said.
Workers and trade unions are against such practices. Jaspal Singh, who heads the Haryana unit of Hind Mazdoor Sabha (having 32 unions covering the entire auto industry in Gurgaon), said, "It is an illegal practice. The District Labour Commissioner gives licenses to contractors for supplying manpower for loading and unloading operations. They cannot supply musclemen who bully workers."
D L Sachdev, secretary of All India Trade Union Congress, said that companies should seek police help for law and order problems. "Hiring personal security is illegal. But almost every company today hires them."
Pawan Kumar of Bharatiya Mazdoor Sangh echoed Sachdev's views and added, "The main reason has been growing labour unrest, thanks to the spread of the contract system. Incidents such as violence at the Honda factory and the killing of a CEO of a multinational company in Greater Noida a year ago, have all helped the trend."
Source: