Brand Sachin on top of the world
Last updated on: March 3, 2010 11:55 IST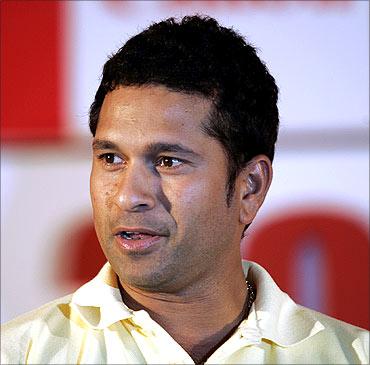 Experts say Tendulkar can leave the field tomorrow without any brand equity dilution.
He was already India's biggest icon and proudest possession after scoring an incredible 47 Test and 46 one-day tons.
But after he played that unbelievable 200-run innings of brutal finesse on Wednesday, Sachin Ramesh Tendulkar, 37, has ensured that he could leave the field tomorrow without any dilution in his brand equity.
Brand experts say Tendulkar will continue to get paid millions of dollars to appear in television commercials and on billboards selling everything from luxury cars to credit cards, soft drinks to shoes even after he retires.
Reason: Sachin is a brand that transcends time, according to Ogilvy and Mather India chairman Piyush Pandey.
Click NEXT to read on. . .
Brand Sachin rules the world
Last updated on: March 3, 2010 11:55 IST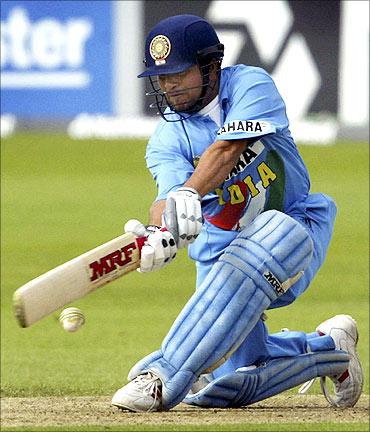 That's a far cry from the days (just a few months back) when the growing feeling was that Brand Sachin was no longer value for money.
After recurring injuries kept him off the field and a blip in form, a growing number of companies including Fiat, TVS, Airtel and Pepsico ended their long relationship with the cricketer.
Experts were quick to point out that half the country's population is below 30 years and Tendulkar, clearly, was overage.
More so, when younger men like M S Dhoni have turned in more consistent performances. One of his former teammates, Sanjay Manjrekar, even  referred to Tendulkar as 'the elephant in the dressing room.'
The impact was obvious. According to Tam Media analysis, Tendulkar currently endorses around 15 brands.
But his nearest competitor, M S Dhoni, endorses more than double that number.
Click NEXT to read on. . .
Brand Sachin rules the world
Last updated on: March 3, 2010 11:55 IST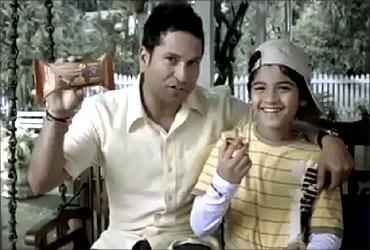 That will surely change now. With his consistent performances over the last six months, everyone expects the Little Master's brand fortunes to soar.
Even in his tough days, Tendulkar earned Rs 5-6 crore (Rs 50-60 million) a year per brand, but experts now say his brand value will no longer be dictated by his scores.
Talent management firms, which peg his earnings now at Rs 50 crore (Rs 500 million) a year, expect Tendulkar to re-scale the commercial value of cricket as a sport and multiply the value of the celebrity endorser.
India Inc agrees.
Andreas Gellner, managing director, Adidas India says, "Tendulkar is a generation-defining athlete and we are associated with him for a decade now. He personifies our brand values perfectly and is an inspirational figure for every Indian."
Click NEXT to read on. . .
Brand Sachin rules the world
Last updated on: March 3, 2010 11:55 IST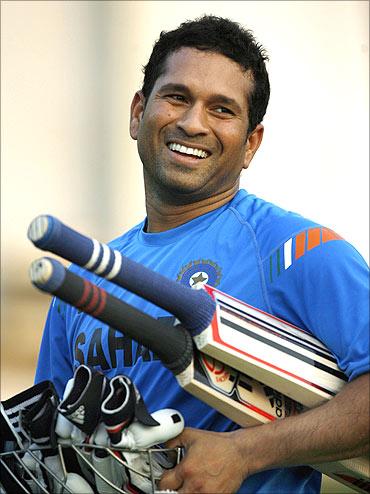 Gellner says Adidas believes in partnering with leading athletes who bring the passion behind 'Impossible is Nothing' to life through excellence in sports.
The company has also launched 'Adidas-ST' cricket hardware range which is inspired and co-created with Tendulkar.
Star-struck India is among the heaviest users of celebrity endorsements. In 2001, 25 per cent of all TV advertisements carried a known face. By 2008, this had grown to 62 per cent and continues to grow.
In 2009, the top five brand ambassadors -- MS Dhoni, Shah Rukh Khan, Katrina Kaif, Sachin Tendulkar and Priyanka Chopra -- endorsed 68 brands with Dhoni leading the pack, according to Tam Media.
Click NEXT to read on. . .
Brand Sachin rules the world
Last updated on: March 3, 2010 11:55 IST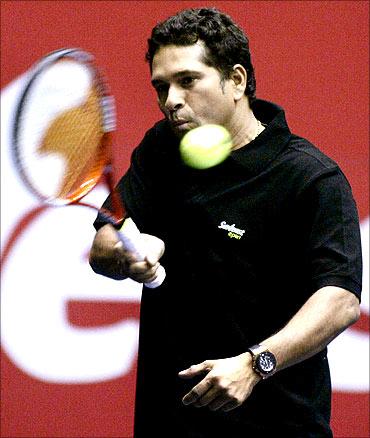 V L Rajesh, head of marketing - foods, ITC, says, "Tendulkar has been endorsing Sunfeast biscuits since 2007. He is extremely popular with kids and adults alike, reasons why we chose him as our brand ambassador. Also, associating with a national icon helps in our brand equity."
R C Venkateish, managing director of ESPN India, says, "Tendulkar was a brand ambassador for us between 2002 and 2006, when we had a brand-ambassador-driven marketing outlook. Now our content is our brand ambassador."
"We signed on Tendulkar because he is an iconic personality and the best association a sports channel could have," adds Venkateish.
However, many say even Tendulkar requires the right brands that go well with his current image.
Click NEXT to read on. . .
Brand Sachin rules the world
Last updated on: March 3, 2010 11:55 IST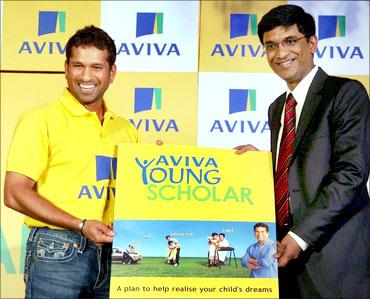 Anand Halve, co-founder of Chlorophyll, a brand building and strategy planning organization, says Tendulkar as a brand ambassador is best associated with 'maintenance or fitness with longevity'.
Companies, which want to harp on sustained performance over the years, is a perfect brand fit for Tendulkar. His brand recall is strong even though he has lost out on several endorsements due to advancing age.
Halve may be spot on. But everyone agrees with one fact: If brand managers are looking for the maximum bang from the celebrity buck, Tendulkar is still way above others.
He delivers quicker recall in a cluttered scenario. The recent performances will only cement that positioning of Brand Tendulkar.
"You've got to create heroes and you've got to pay them," said the late Mark Mascarenhas of WorldTel way back in 1995 after WorldTel made Tendulkar India's first multimillionaire sportsperson.
The hero has just ensured that companies keep on paying him for many summers ahead.
Source: