Warren Buffett: A man of many talents
Last updated on: May 6, 2010 13:12 IST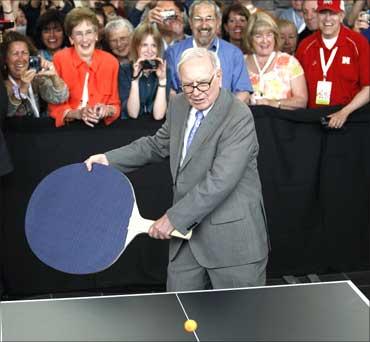 Warren Buffett, the legendary investor, who has till now made only a few investment outside the United States, plans to visit India next March.
Will Buffett's Berkshire Hathaway invest in Indian companies? While the possibility is extremely bright, one problem is that laws limit how much Berkshire can invest in Indian companies.
In the recently held anual meeting in Omaha, Buffett said his company is keen on Indian insurance business. Berkshire's main businesses are in insurance and reinsurance areas.
Interestingly, Buffett revealed his India visit plan in response to a question asked by, Sabrina Chugh, a 12-year-old Indian American at the Berkshire Hathaway shareholders meeting. Buffett said that he is eyeing India and will make a trip to India in March next year.
The conglomerate's reinsurance business is run by India-origin Ajit Jain, long rumoured to become the successor of the billionaire investor at Berkshire.
Describing Jain as a 'superstar', Buffett said, "If Charlie (Buffett's partner), I and Ajit are ever in a sinking boat - and you can only save one of us - swim to Ajit (Jain)."
Check this slide show to catch glimpses of the ace investor in a lighter mood...
Warren Buffett: A man of many talents
Last updated on: May 6, 2010 13:12 IST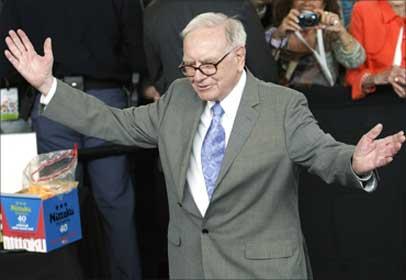 At the age of 25, Buffett began a limited stock market trading investment partnership. Warren was the general partner, and started with $100.
There were seven limited partners who contributed $105,000 towards the stock market trading partnership. The limited partners received 6 per cent annually on their investment and 75 per cent of the profits above this target amount.
Buffett earned the other 25 per cent. Over the course of the next thirteen-year period, Buffett compounded money at an annual rate of 29.5 per cent.
While he's considered the 'world's greatest value investor', there's another side to Buffett.
Although he has gained recognition for his value investing approach to the markets, the fact is that nobody -- over the past fifty years -- has traded and invested with a more diverse group of stock market trading strategies than Buffett.
Click NEXT to read further...
Warren Buffett: A man of many talents
Last updated on: May 6, 2010 13:12 IST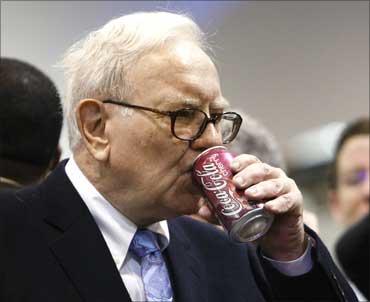 Perennially ranked among the world's richest men, Buffett is also legendarily frugal, residing in the same house in Omaha, Nebraska, that he bought in 1958 for $31,500.
He is well known for his simple tastes, including McDonald's hamburgers and cherry Coke, and his disdain for technology, including computers and luxury cars.
Buffett's strategy for making money is very clear. "The first rule of investing is don't lose money; the second rule is don't forget Rule No. 1."
Despite a net worth measured in billions, Buffett's base salary, at Berkshire Hathaway, for the past 25 years, has remained unchanged at $100,000 a year.
Click NEXT for some more interesting facts...
Warren Buffett: A man of many talents
Last updated on: May 6, 2010 13:12 IST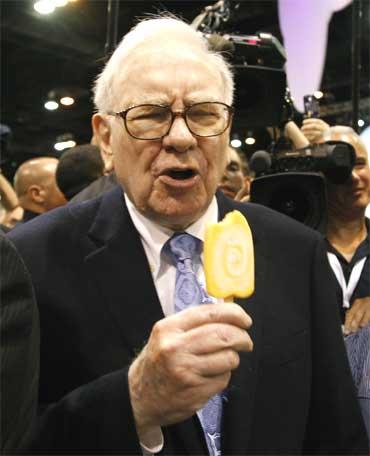 The 'Oracle of Omaha' or the 'Sage of Omaha' is not only famous for his adherence to the value investing philosophy, but is also a notable philanthropist, having pledged to give away 85 per cent of his fortune to the Gates Foundation.
His children will not inherit a significant proportion of his wealth. In an interview to the New York Times he had once said, "I don't believe in dynastic wealth."
"I don't have a problem with guilt about money. The way I see it is that my money represents an enormous number of claim checks on society. It's like I have these little pieces of paper that I can turn into consumption.
"If I wanted to, I could hire 10,000 people to do nothing but paint my picture every day for the rest of my life. And the GDP would go up. But the utility of the product would be zilch, and I would be keeping those 10,000 people from doing AIDS research, or teaching, or nursing. I don't do that though. I don't use very many of those claim checks.
"There's nothing material I want very much. And I'm going to give virtually all of those claim checks to charity when my wife and I die."
Click NEXT for more...
Warren Buffett: A man of many talents
Last updated on: May 6, 2010 13:12 IST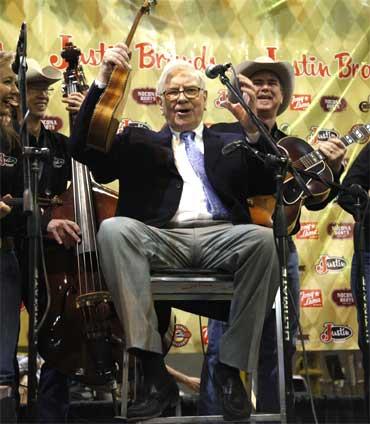 Buffett was born to Howard and Leila Buffett on August 30, 1930, in Omaha, Nebraska. He was the second of three children, and the only boy. His father was a stockbroker and four-term United States congressman.
While Harvard university rejected him, Buffett got acceptance from the Columbia University.
After completing his graduation, Buffett returned to Omaha to work at his father's brokerage firm. He married Susan Thompson in 1952, and remained married to her for more than 50 years. They had three children, Susie, Howard and Peter.
Buffett and Susan separated in 1977, remaining married until her death in 2004. Before her death, Susan introduced him to Astrid Menks, a waitress. Buffett and Menks were married in August of 2006.
Click NEXT for some of Buffett's famous quotes...
Warren Buffett: A man of many talents
Last updated on: May 6, 2010 13:12 IST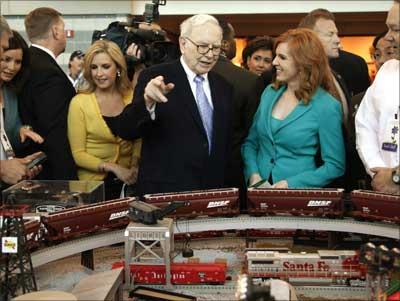 While it will never be easy for anyone to emulate Warren Buffett, his precious quotes may encourage a few to dream big.
On Corporate America:
"Over the years, Charlie (Mumger, Buffett's partner at Berckshire) and I have observed many accounting-based frauds of staggering size. Few of the perpetrators have been punished; many have not even been censured. It has been far safer to steal large sums with pen than small sums with a gun."
Habit
"Chains of habit are too light to be felt until they are too hard to be broken."
Confidence
"I always knew I was going to be rich. I don't think I ever doubted it for a minute."
Price conscious
"Price is what you pay. Value is what you get."
Decision making
"The key to investing is not assessing how much an industry is going to affect society, or how much it will grow, but rather determining the competitive advantage of any given company and, above all, the durability of that advantage."
Career decision
"It's crazy to take little in between jobs just because they look good on your resume. That's like saving sex for your old age. Do what you love and work for whom you admire the most, and you've given yourself the best chance in life you can."
Investment
"It's far better to buy a wonderful company at a fair price than a fair company at a wonderful price."
"It takes 20 years to build a reputation and five minutes to ruin it. If you think about that, you'll do things differently."
"Wall Street is the only place that people ride to work in a Rolls Royce to get advice from those who take the subway."
"I'll tell you why I like the cigarette business. It costs a penny to make. Sell it for a dollar. It's addictive. And there's fantastic brand loyalty."
"I try to buy stock in businesses that are so wonderful that an idiot can run them. Because sooner or later, one will."