What you may not know about Facebook founder
Last updated on: October 11, 2010 17:01 IST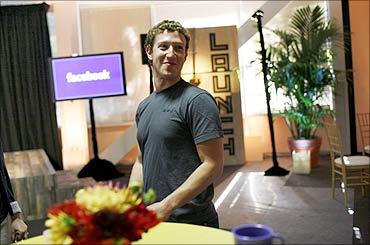 Mark Elliot Zuckerberg is not an easy man to get hold of unless your name is Oprah Winfrey. So we thought we'd ask the newly-recruited Facebook India team for a firsthand account of their boss.
Why now? Because, this has, after all, been a busy fortnight for him. The Social Network, a film based on his life, released last weekend and has climbed to the top slot in the US box office.
The Hyderabad office of Facebook opened its doors on September 30. And Zuckerberg himself appeared on The Oprah Winfrey Show to announce the opening of his charitable foundation, Startup: Education, with a $100 million contribution.
But the Hyderabad team was strangely reticent (or perhaps, naturally so). We were told spokesperson Kirthiga Reddy was travelling. Then, the film itself looks unlikely to come to theatres in India before November (both the PVR and DT Cinemas site don't have it on their 'coming soon' lists).
Click NEXT to read on . . . 
The geek who may inherit the earth
Last updated on: October 11, 2010 17:01 IST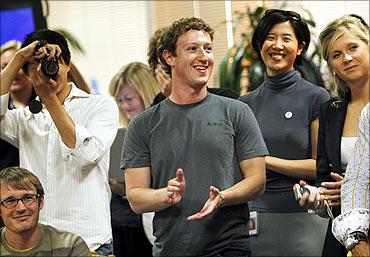 So we decided to do the next best thing: tell you things you probably didn't know about the shy 27-year-old billionaire, with the help of the excellent profile of Zuckerberg by Jose Antonio Vargas in The New Yorker, the book The Accidental Billionaires by Ben Mezrich (on which The Social Network) is based and some regular investigative work on Facebook and Google.
From Mark's Facebook page, it is clear that he visited India this year. An entry dated December 31, 2009, reads: "I'm in India this week for vacation. I'll be attending a good friend's wedding and checking out a few cities while I'm here."
Sure enough, if you turn to his photo albums (he has four of them), he has a picture of the Himalayas captioned 'Somewhere in India' in the one marked 'World Trip'.
And speaking of Zuckerberg's page, you can no longer send him a friend request. Though The New Yorker profile says, "Zuckerberg's Facebook friends have access to his e-mail address and his cell-phone number," the most you can do is "like" him.
Click NEXT to read on . . . 
The geek who may inherit the earth
Last updated on: October 11, 2010 17:01 IST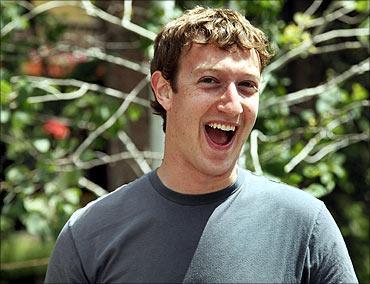 The 'Add as Friend' tab is missing from his page, probably deliberately removed. So the page functions more like Twitter, with Zuckerberg posting details of stuff he wants to share.
You can, however, email or even call his father Edward J. Zuckerberg directly. Zuckerberg Sr. is a dentist and maintains a website, www.painlessdrz.com, where he declares he has been, 'Catering to cowards and dental phobics of all ages for over 30 years'.
Mark's mother Karen is a psychiatrist and he grew up in the town of Dobbs Ferry, New York, described as 'upper middle-class' by Ben Mezerich. He is reported to be friends with his sisters Randi, Donna and Arielle on Facebook.
Zuckerberg was captain of the fencing team at Phillips Exeter Academy, where he earned a diploma in Classics before he joined Harvard. At Harvard, he was a member of the Jewish fraternity Alpha Elpison Pi though he now calls himself an atheist.
Click NEXT to read on . . . 
The geek who may inherit the earth
Last updated on: October 11, 2010 17:01 IST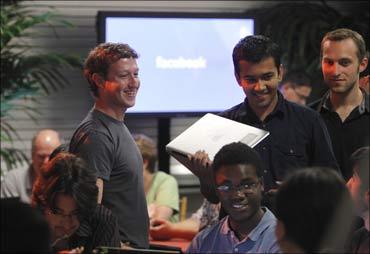 And it was at Harvard, on a bitter, beer-filled night, after being rejected by a girl, that Zuckerberg created The Facemash, "a website where you compared two pictures of undergraduate girls, voted on which one was hotter, then watched as some complex algorithms calculated who were the hottest chicks on campus" as Mezrich puts it.
A bit of tweaking and Facemash became The Facebook, and finally, Facebook. Through this all, there was much emotional and legal drama, with Zuckerberg parting ways with best friend Eduardo Saverin -- these incidents form the backbone of the film on him.
And finally, Zuckerberg now has a steady girlfriend, Priscilla Chan, a Chinese-American whom he met during his sophomore year at Harvard.
Source: