Even the rich favour Tata Nano
Last updated on: September 6, 2010 09:57 IST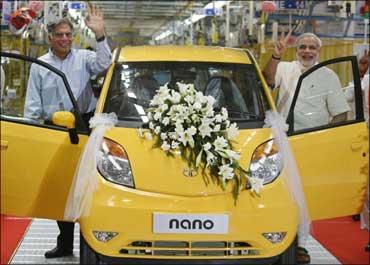 Leena Jacob, an IT professional based in Technopark, Thiruvananthapuram, is delighted with her Tata Nano. The small car, she says, proves very useful and convenient for city driving.
The other two cars in the family garage: a Honda City and a Maruti Swift.
"I am afraid of taking my Honda City into the heavily congested city roads, but the Nano is very convenient," she said.
The main advantage, according to Jacob, is its ease of handling and small size, letting her park in half the space of the Honda City.
In Mumbai, S P Shah, director-general, Federation of Automobile Dealers' Association, is waiting for Nano bookings to start again.
"I drive a Honda City to office every day and find it very cumbersome to park. I will definitely buy a Nano when bookings reopen," said Shah.
Jacob and Shah are not alone. According to Tata dealers in various cities and towns, nearly 60-80 per cent of Nano buyers already own one or even two cars, but still prefer to purchase another small car.
That is why it is not uncommon to spot a chauffeur-driven Nano on Peddar Road, which houses some of Mumbai's richest denizens.
Click on NEXT to read more...
Even the rich favour Tata Nano
Last updated on: September 6, 2010 09:57 IST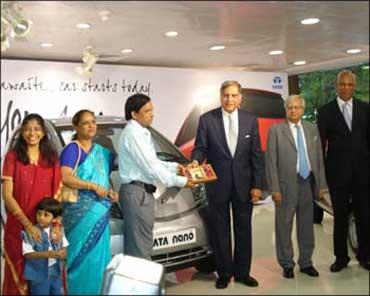 While Tata Motors does not share customer profiles, a leading dealer in Delhi who sells both Tata and Fiat vehicles, confirmed: "Around 70 per cent of Nano buyers already have a car. They purchase a Nano for different reasons: to pick up children from school or go to crowded markets. The age profile could vary, from those in their 20s to 50s."
A dealer in Mumbai reiterates the point, saying around 60 per cent of those that booked a Nano already had a car in the family.
The fact that, in most cases, it is not a first-time car buyer moving up from a two-wheeler to a Nano is reflected in the fact that just 20 per cent of the 100,000 Nanos booked so far were the standard, no-frills version.
"I use the Nano on short trips, like to the station and back, or to similar crowded areas as maneuvering or parking the car is very simple. But, I prefer driving my wife's Maruti Zen Estilo for longer journeys," said Mumbaikar Ashok Vichare, the first buyer of the Nano.
Click on NEXT to read more...
Even the rich favour Tata Nano
Last updated on: September 6, 2010 09:57 IST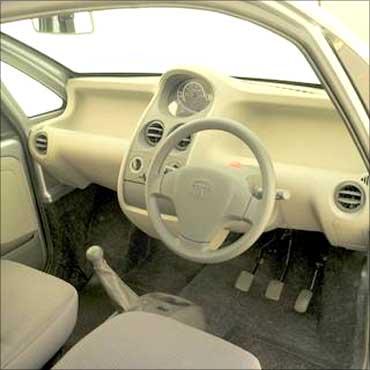 Booking trends are the same in Kerala, where Tata Motors successfully cashed in on Onam - the state's biggest festival - by promising to deliver the car within 30 days.
The new buyers range from well-heeled IT professionals to housewives, who already have a hatchback or a sedan in the family.
Tata Motors reopened Nano bookings from August 1 in Kerala.
Says R S Murali, sales coordinator at R S Motors in Kochi: "People booking the car are between the ages of 30 and 45, and mostly have a car in the family already. We have booked 1,000 Nanos since August 1."
In overcrowded cities, the Nano is emerging the vehicle of choice for daily commuting for its agility, practicality and fuel efficiency.
Shorter than the Maruti 800, but roomier inside, the Nano delivers 23 km a litre. In addition, buyers also speak highly about its design and styling, which they consider far better than the Maruti 800, which costs around 55 per cent more.
Click on NEXT to read more...
Even the rich favour Tata Nano
Last updated on: September 6, 2010 09:57 IST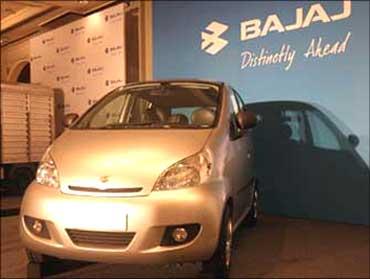 Ironically, many had expected the Nano to eat into sales of two-wheelers, especially motorbikes, compelling companies like Bajaj Auto to manufacture its version of the small car. But the expected change has not happened.
Says S Sridhar, chief executive (two-wheelers), Bajaj Auto: "When you put out a low-cost car in the market, consumers immediately compare it with a two-wheeler. But 30 per cent of two-wheeler buyers today are students looking for something sporty. The balance of customers is from B- and C-class towns, where road conditions are poor and the maintenance cost of a car is higher than that of a motorcycle."
Nevertheless, Bajaj Auto is working on a low-cost car. But, it is looking at a car whose running costs will be low because of higher fuel efficiency.
One of the main reasons why the Nano hasn't pulled consumers looking for the first car, said auto experts, is because of the poor exposure the car has received since it was unveiled, which could have defined its road worthiness.
"The performance of the vehicle cannot be evaluated now, because it is too short a period to have a clear idea on its performance," says Baiju N Nair, chief editor, Overtake, a local auto magazine in Kerala.
Source: