Free grains to poor: SC can't dictate policy, says PM
Last updated on: September 6, 2010 14:54 IST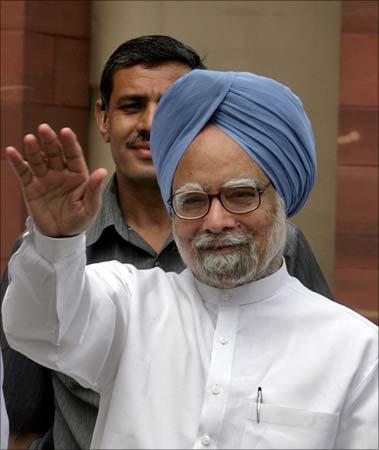 Prime Minister Manmohan Singh on Monday gently told the Supreme Court, which recently directed the government to distribute foodgrains free to the poor, not  to get into the 'realm of policy formulation'.
"How can foodgrains be distributed free to an estimated 37 per cent of the population which lives below the poverty line," Singh asked during an interaction with editors at his residence in New Delhi.
It was not not possible to give free foodgrains to all the poor, he said while answering a question on the order of the Apex Court which had directed Agriculture Minister Sharad Pawar to distribute foodgrains to the poor instead of allowing them to rot.
The prime minister said he had not not seen the final judgement of the court but he respected the 'sentiments' behind the decision that a way should be found to ensure that at a time when when foodgrains are rotting the needs of the people should be met.
"I do recognise that food should be available to the people below poverty line at concessional prices. We have not not allowed any increase in the issue price of foodgrains to people below poverty line since 2004," he said.
To the extent possible, the government had taken adequate steps in this direction while noting the Apex Court's concern that food should be available to the poor at affordable prices, he said.
At the same time making food available free would destroy incentives to farmers to produce more. If there was no nofood available there would be nothing to distribute, he said.
Click NEXT to read further . . .
Free grains to poor: SC can't dictate terms, says PM
Last updated on: September 6, 2010 14:54 IST
Taking exception to Agriculture Minister Sharad Pawar's statement, the Supreme Court last week had asserted that it had ordered the free distribution of foodgrains to the poor instead of allowing them to rot in godowns and it was not a suggestion as made out to him.
"It was not a suggestion. It is there in our order. You tell the minister," the court told the government counsel.
A bench of Justices Dalveer Bhandari and Dipak Verma referring to newspaper reports that the Union minister had claimed there was no such order, clarified that it did pass such an order.
Pawar had said, "The Supreme Court's suggestion (for free grain) is not possible to implement."
The Apex Court in an order directed the Union government to conduct a fresh survey of the Below Poverty Line/Above the Poverty Line/Antyodaya Anna Yojana beneficiaries on the basis of the figures available for 2010 and said the authorities cannot rely on a decade-old data to extend the benefits.
Reacting to this, Union Agriculture Minister Sharad Pawar said on August 19: "Distributing grains for free will not be possible. The Supreme Court said that the government should consider whether they can give it at a lower rate or for free to the poor."
The bench passed its latest direction while addressing a public-interest litigation filed by People's Union for Civil Liberties on rampant corruption in the public distribution system and rotting foodgrain in FCI godowns, even though many in the country go without food.
Click NEXT to read further . . .
Free grains to poor: SC can't dictate terms, says PM
Last updated on: September 6, 2010 14:54 IST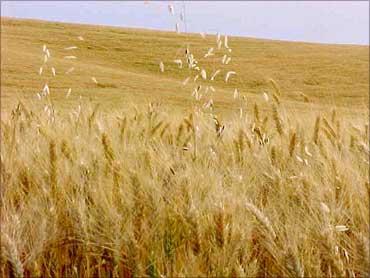 India's soaring foodgrain stocks (60.4mt) and still relatively high food inflation has been at the centre of many political debates, says a recent Citi India Macro report.
The Supreme Court directed the ministry of agriculture to:
(i) distribute foodgrains at 'low or no cost' to the poor;
(ii) keep fair price shops on all days of the month; and
(iii) consider increasing the quantum of food supply to the below the poverty line households.
The order is one of many interim orders related to a petition filed by the People's Union for Civil Liberties in 2001, which seeks to use India's mounting food stocks to prevent hunger and starvation.
Acting on the directive of the Supreme Court, the govt has said that 'as an interim ad-hoc measure, pending a final decision on the issue, the government is releasing an additional quantity of 2.5 million tonnes of wheat and rice to the states but at BPL prices for next six months'.
(BPL prices for wheat are Rs4.15/kg and rice are Rs5.65/kg vs. open market prices currently at Rs15/kg+).
Click NEXT to read further . . .
Free grains to poor: SC can't dictate terms, says PM
Last updated on: September 6, 2010 14:54 IST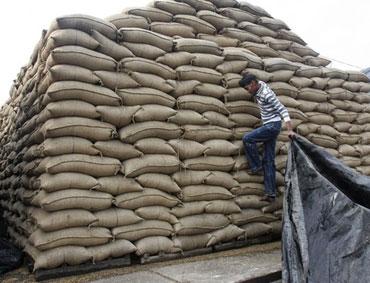 Food stocks, a paradox of plenty
: Flawed food management and distribution system; coupled with higher than recommended Minimum Support Prices have resulted in the government procuring more foodgrain than both (i) the buffer stock norms; and (ii) storage capacities. Moreover, gaps in the distribution system have resulted in procurement typically outpacing off-take.
This has resulted in:
(i) a paradox of rising food stocks, even as malnutrition levels are amongst the highest in the world;
(ii) rising subsidies due to high holding costs of foodgrains; and
(iii) decaying food stocks due to lack of storage facilities. During a debate in the Lok Sabha last week, Agriculture Minister Sharad Pawar pointed out that total covered storage capacity is just 42.5mn tonnes with --18mt of food stocks lying in open storage facilities.
Implications for prices and food security -- last week's Supreme Court order could be perceived as instance of the judiciary intervening in governmentrelated matters.
However, we believe it bodes well towards resolving the issues surrounding the weak public distribution system and could help further bring down food prices. (+10.9%YoY as per the latest weekly WPI data).
However, a key issue is determining the number of poor -- there is already a vast discrepancy between BPL households as estimated by the Planning Commission at 62.5mn vs. that of 107 mn by the states; while the NC Saxena Committee Report estimates that 50 per cent of the population would be below the poverty line if one goes by the criteria of calorie intake.
The Tendulkar Committee has pegged this number at 80mn which is reportedly in line with the National Advisory Council1. Going forward, we believe recommendations by the Justice Wadhwa Committee on computerization of the PDS could be an effective panacea. 
To this end, implementation of the Unique Identification System would be beneficial.
Click NEXT to read further . . .
Free grains to poor: SC can't dictate terms, says PM
Last updated on: September 6, 2010 14:54 IST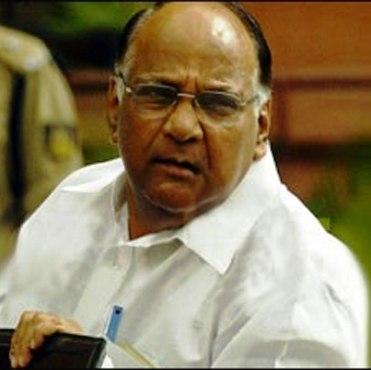 Govt corrects GDP figures
Facing embarrassment after showing sharply different economic growth figures based on two different methodologies, the government last week set the record straight on the pace of economic expansion.
Admitting its faus pax within a day, the government has revised the economic growth at market prices to 10.02 per cent for the quarter ending June 2010, from 3.65 per cent stated earlier.
Issuing a corrigendum to its figure issued on Tuesday, the Ministry of Statistics and Programme Implementation (Mospi) attributed the mistake to wrong calculation of deflators.
Deflators, which convert GDP data at current prices to constant prices, are used for factoring in inflation. Real GDP (excluding inflation) at market prices (what consumers pay) for the April-June quarter now stands at Rs 12,09,888 crore (Rs 12.09 trillion), from the earlier estimated figure of Rs 11,39,867 crore (Rs 11.39 trillion).
Click NEXT to read further. . .
Free grains to poor: SC can't dictate terms, says PM
Last updated on: September 6, 2010 14:54 IST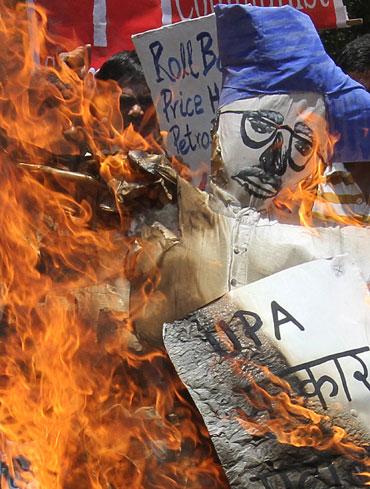 "Inadvertently there has been use of inappropriate deflators in converting quarterly estimate of expenditures of GDP at market prices in Q1 of 2010-11 (at current prices) to quarterly estimates of expenditures of GDP at market prices in Q1 of 2010-11 (at 2004-05 prices)," the ministry said in a statement.
The prime minister also said that industry must recognise that environmental concerns  have come to stay but problems of environment cannot be solved  by perpetuating poverty.
Answering a question about allegations of corruption against some of his ministers which had 'sullied' the government's image, the prime minister said that corruption constituted a major challenge for India's polity.
But every opponent cannot be condemned as being corrupt. He promised action in regard to serious allegations of corruption in the Cabinet.
Singh said that with regard to allocation of Spectrum in which Telecom Minister A Raja is facing allegations. "I took adequate precaution and took note of what appeared in the media".
He declined to comment any further saying that the matter was sub-judice..
AGENCIES