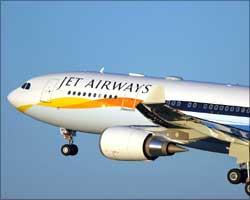 December 1992 was a memorable month for Indian aviation. That was the period Indian Airlines pilots struck work. The strike was ostensibly aimed at better allowances and safety standards. It lasted a staggering 45 days and over 400 pilots stayed away from work.
The government went on an overdrive to counter the impact. Tupolev jets and crews were brought in from Bulgaria and Uzbekistan - yes, the choice of aircraft and source might sound a little unusual today. Indian Air Force pilots were drafted. Of a daily seat capacity of 24,000 on IA, some 11,000 seats were apparently restored.
Then-Civil Aviation Minister Madhavrao Scindia summoned the owners of East West Airlines, which had launched in February that year. He told them, as reports have it, that they should bring in more aircraft. As it happened, thousands of them were lying parked around the world. East West brought in seven Boeing 737s. And found choice-starved passengers flocking to them.
The East West story began like a fairy tale but ended in a tragedy. The company's founder Thakiyudeen Wahid was shot dead, mafia-style, in October 1995. As it happened, he had shared with me the details of an ambitious rebranding and relaunch initiative for the airline. Our meeting happened two days before he was gunned down in his car, outside his office in suburban Mumbai. A year later, East West had shut down.
Thaki, as he was called, was a tough nut. At a meeting of the Air Taxi Operators association in 1993 with media persons, I remember him struggling to keep his cool. Wahid was being grilled on the persistent delays and snags East West had now begun facing. Not that the other airlines were much better off. But the one question that got Wahid's goat was to do with his alleged underworld financing links.
Jet Airways' Naresh Goyal has had to face similar questions on alleged underworld links. Two years ago, the Bombay high court even asked the police commissioner to file a report on them. In 2002, the Intelligence Bureau said they were sure of 'intermittent contacts' between Goyal and underworld henchmen in Dubai. All charges that Jet has furiously denied.
What's changed between the early days of private aviation and today? Little on the face of it. Airlines were in trouble financially then. And they continue to be today, at a completely different scale though. They faced government apathy then and continue to do so, though in less measure. The private airlines fought pitched battles with the Airports Authority of India for space to run their airport check-in counters. Or 'air-side' facilities. And the battles continue, though on other counts.
What's really different when you look back is this. The ups and downs have actually made the private airline sector become more dependable and reliable. Moreover, despite all their (mostly self-induced) problems, Jet Airways and Kingfisher have demonstrated they have done more to build the India brand equity than has, say, Air India, which has only destroyed it. Competition and opening up has worked.
Now let's take the latest strike call (not to be termed one apparently) for grounding flights on August 18. It possibly took a few tough phone conversations to get the private airlines to change their mind. I wonder if Aviation Minister Praful Patel had or could have asked Air India (the merged IA and Air India) to stand by with more aircraft on August 18. My feeling is that several employees would go on strike in response.
Arguably, Kingfisher and Jet Airways are in many ways paying the price for reckless expansion and competition when they should have been contracting. The other day I asked a friend and Jet Airways pilot how the new long-range Boeing 777s were doing. "You mean cripple 7," he said. And yet, he added, flights were going reasonably full and more routes were being added to west and east Asia.
In Air India, on the other hand, losses are mounting and no solution is in sight. A bailout is desperately needed but there is no one person whose neck is on the line for failing to nurse the company back to health. And it's not that the airline is using this opportunity to connect better with customers or fight back with a vengeance. Thaki and Goyal have fought tooth and nail to secure their companies' future. East West lost the battle but not for lack of trying.
The August 18 strike call reflected another desperate move to align costs with expenses. Airlines in India are disadvantaged on many counts, notably fuel costs. Strangely, Air India has never made a hue and cry about it. Or maybe it can't do so publicly. But then the airline has the larger comfort of being part of the government. And that's what makes it passive. The private airlines have never had that luxury. Their battle for survival has actually made them more reliable and brought better customer service to the industry. That's the larger lesson here.