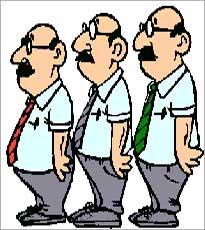 In 1990, B G Deshmukh had approached Chandra Shekhar to ask if he could join the Tatas after he quit government service. Chandra Shekhar was the Prime Minister at that time and Deshmukh his outgoing Principal Secretary.
After a long stint as an IAS officer that culminated in his appointment as Cabinet Secretary in 1986 and then as Principal Secretary to two prime ministers (Rajiv Gandhi and V P Singh), Deshmukh had made up his mind to say good bye to government service. It was in that context he had asked Chandra Shekhar if the government was comfortable with his joining the private sector.
Deshmukh had also made it clear that he would send a request only if the Prime Minister was comfortable with that move. Chandra Shekhar, according to Deshmukh, had initially agreed to let him work for the Tatas. Later, however, Deshmukh learnt that Chandra Shekhar had declined his request.
The incident points to two things. One, senior bureaucrats have to necessarily obtain the permission of the government if they wish to work for the private sector after retirement. Two, the government can decline such requests, though it is not clear on what grounds it can disallow a retired civil servant from seeking employment in private sector.
Indeed, there are no clearly defined rules that the governments have been following in this respect. For instance, in the case of Deshmukh, it was clear that Chandra Shekhar's decision was politically motivated.  A couple of years later, Deshmukh indeed joined the Tatas and it was no mere coincidence that the government at the Centre then was headed by P V Narasimha Rao of the Congress.
Yet, the government does have a policy under which it grants requests from senior bureaucrats for commercial employment after their retirement. There are even procedures for processing of proposals for grant of such permission to officers who have retired as joint secretary and above.
The Ministry of Personnel has a specified desk that deals with such requests. However, senior civil servants admit that a decision on allowing officials to work for the private sector after retirement depends largely on the discretion of the government of the day.
In recent years, however, the number of senior officials allowed to seek commercial employment after retirement has seen a rise. The Manmohan Singh government has adopted a liberal approach to such requests.
A former information and broadcasting secretary was recently allowed to work for an organisation that represented owners of the electronic media industry. A former finance secretary was allowed to work for a private sector automobile company.
A former secretary and the head of a regulatory body has been allowed to work for a commercial outfit. And a former home secretary is heading an organisation that represents private airline companies.
One might argue that there is nothing wrong in principle in allowing senior government officials to work for commercial organisations after retirement as long as the rules are so framed as to eliminate any conflict of interest that might arise.
The real issue, therefore, is to put in place a system that does not allow any scope for such conflict. For instance, the government should enforce, without exception, a mandatory cooling-off period separating a government official's retirement and the date of his joining a private sector organisation. It is clear the government has been lax in enforcing this basic requirement and discretion has played a role in a few of the recent clearances at least.
Indeed, the need for strengthening the system to eliminate such conflicts of interest has arisen also because the government has been encouraging private sector professionals to join the government. There is no doubt that the government should get more competent private sector professionals to work for it and its projects to improve efficiency in administration and the effectiveness of the delivery system.
However, it is equally important to ensure that private sector professionals taking up such government assignments maintain proper distance from their private sector interests and, more importantly, make proper disclosure about them, just as government officials taking up private sector jobs should not allow their long stint in the government to be misused to further the interests of their new employers.
Even one case of impropriety can snowball into a controversy resulting in the unfortunate abandonment of a good experiment.