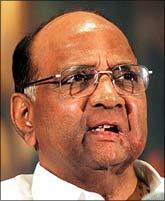 Private airline companies will collapse in the next three months if aviation turbine fuel (ATF) prices and airport taxes are not reduced, said Union Minister for Agriculture and Food Supplies Sharad Pawar.
Pawar, the Nationalist Congress Party chief, is the mentor of Civil Aviation Minister Praful Patel, who refused to play ball when private airlines threatened strike early this week.
Patel had said there was no question of a financial bailout for private airlines. He went on to say the government was not even bailing out Air India.
Pawar was speaking to DNA in a freewheeling interaction on Wednesday.
When asked whether the government should accept their demand, the minister said, "It's impractical to expect them to compete in this environment."
"Of course, the government should reduce the taxes and ATF prices, which are extremely steep. How can they survive with these kind of taxes?" Pawar asked.
On the issue of financial bailout package for Air India, Pawar said that deserved to be looked at too.
"The government has not done anything for these organisations (referring to airline companies, including Air India)," he said.
This is for the first time that a minister (Praful Patel) has taken an initiative and convinced his colleagues about the significance of reviving the aviation and the infrastructure sector, said Pawar.
However, he indicated that financial assistance alone from the government will not help Air India, and that a significant fleet expansion must also be planned for it, among other measures.
In a presentation to a Committee of Secretaries, headed by cabinet secretary K M Chandrasekhar on Saturday, Air India had sought a combination of an immediate loan and equity infusion in phases over a period of four to five years to revive the airline.
The finance ministry is now assessing the extent of financial assistance that Air India should get. The Committee of Secretaries will review the plan in a month.
As for private airlines, they had threatened to suspend flights on August 18 if the government didn't rationalise sales tax on ATF and reduce airport charges. However, following some tough talking by the government, private carriers decided to put the strike "on hold".
In a statement, the Federation of Indian Airlines (FIA) said, "in view of the agitated public sentiment and potential inconvenience to thousands of passengers and government's willingness to enter into dialogue, the FIA has decided to put on hold its decision to suspend flights on August 18."