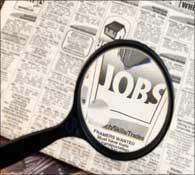 India's largest staffing company TeamLease released a study last week on the mistakes candidates make in their CVs. While it's easy to attribute these mistakes to poor knowledge of English, the reality is that language skills are only part of the problem. A major reason why CVs are riddled with sloppy mistakes is the casual approach and lack of attention to details on the part of a majority of candidates.
That's the reason why a similar survey done in the UK showed how job aspirants all over the world are united in their belief that they can get away with blunders in the most important document of their professional life. The survey revealed that a whopping 94 per cent of CVs are headed straight for the rubbish bin as silly mistakes simply put off the employers.
TeamLease has given some examples of the common mistakes found in CVs; here are some more from candidates whose parents were British. While one said he was instrumental in 'ruining' a large retail chain (perhaps he meant running?), there were other gems like 'I finished ninth in my class of ten', and 'As indicted, I have over eight years of experience in preparing accounts'.
Apart from committing spelling and grammatical errors, the candidates often give details which are irrelevant to the job applied for - and thus end up annoying the employers. An HR manager says CVs for a junior engineer's job had information like the chest and shoe sizes. One candidate even drew her holiday plans for the next three years and wrote eight pages of her family background with nuggets like how her three-year old niece had got admission in one of the top schools etc.
Yet another problem is some candidates' inclination to go over the top in trying to impress employers - they believe that recruitment managers appreciate a touch of creativity in job applicants because sifting through piles of CVs can get boring.
But there is often a thin dividing line between being creative and being downright stupid, as the following examples would show: One CV read 'I am also known as Mr Productivity and Mr Clever', and  another  CV was titled 'Straight from the Profiles in Excellence series'.
Surabhi Mathur-Gandhi, TeamLease's General  Manger, Permanent Staffing, says her team analysed more than 500 CVs in July and found that over 90 per cent of them had errors such as 'Father - Death', and 'My strength is to reduce the Grape Vine'.
She says these kind of CVs are often funny, but the situation is sad and points to the grim reality of poor resume-writing. The situation worsens when candidates commit errors due to sheer oversight and sometimes overconfidence.
A candidate's CV is the first piece of information that reaches the potential recruiter and it is always advisable to have one's bio-data proof read and checked by professionals, or someone who is proficient in English.
HR experts say sometimes, even the perfect CVs fail to attract attention because the content is vague. For example, most fail to give quantifiable results. For example, if you are applying for a sales manager's job, it's not enough to say 'I have considerable experience in sales'.
Employers will take note only if you say 'I was responsible for a 15 per cent growth in my company's sales at a time when the industry growth rate was just 5 per cent'. A good idea would be to make a list of everything you have accomplished in your professional or academic life - something that is indispensable when writing a professional CV.
HR experts say that to make sure your achievements are highlighted well, an effective technique is to break up your job descriptions into two parts: Day-to-day duties and achievements, with bullet points.
Another survey done by CMC offers some interesting insight into the art of getting through that first sift. The survey found 88 per cent of employers prefer seeing a short profile or summary on the first page of a CV; 85 per cent do not want a photograph with a CV, unless specifically asked for; 96 per cent dislike CVs written by professional CV-writing services; and two-thirds of HR specialists believe that a CV should be no more than two pages long.
This is because employers, especially the large ones, simply don't have enough time to go through voluminous documents. In any case, long CVs can make them seem boring and result in important data being buried or lost in such a lengthy document.
It makes sense to present your best skills and experience in the first part of your CV. The details regarding education, employment or academic experience should follow. So cut out details like your waistline measurement unless, of course, you are applying for a gym instructor's job.