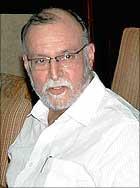 Last Friday Anil Baijal, secretary general of the Federation of Indian Airlines, which represents private airlines and state-owned Air India, surprised everyone by announcing that private airlines would go on strike for a day on August 18. Flanked by the country's two airline tycoons Naresh Goyal of Jet Airways, India's largest private airline, and Vijay Mallya of Kingfisher, the second largest, he attacked the government for high aviation turbine fuel prices and airport taxes and demanded a bailout.
The private airlines, he said, had no choice but to go on a strike to bring their plight to the government's notice and Mallya added that they might be forced into an "indefinite suspension" of operations. That day, Baijal was extremely forthcoming with journalists on the airline industry's troubles.
By Saturday, the initiative was set on a crash course. Low-cost carrier IndiGo announced that it would withdraw and Air India, which was conspicuously absent from Friday's meeting, made it clear that it was not party to the decision. By Sunday, when SpiceJet, another LCC major, withdrew from the strike, Baijal's FIA had no choice but to retract.
This time around, Baijal's mobile phone was switched off in the evening and the decision to withdraw was announced through a terse press release - in stark contrast to the hoopla in Mumbai on Friday evening.
Although it is true that Goyal and Mallya are no less responsible for this embarrassing withdrawal, Baijal's role does not escape scrutiny. As a former joint secretary (1995-98) in the civil aviation ministry and chief of Indian Airlines (1998-2000), he has been embedded deep enough in the aviation establishment to have understood the imprudence of a strike threat that would have seriously disrupted services, given that private airlines account for 80 per cent of the market.
Baijal had not bargained for the government threatening action under the Airline Act or of imposing the Essential Services Maintenance Act, which would have made the strike illegal.
Indeed, it is his influence in government and his linkages within Air India that played a key role in his appointment as FIA secretary general. And though he spoke up for the interests of private airlines (some of whom disagreed with what he said!), Air India employees think it ironic that he operates out of Air India Tower in New Delhi.
Also, insiders present at Friday's meeting preceding the press conference say he was unable to unify full-service carriers Jet and Kingfisher with the LCCs.
"Mallya said he was ready to sell his stake to the government. It was really deplorable - we had never discussed the demand for a bailout package with the government. But the full service carrier had their own agenda which was not acceptable to us," said a senior director of one of the LCCs.
On Sunday evening, the LCCs held a conference call with FIA and made it clear that they were walking out even if the association wanted to stick to its stance. Baijal had no option but to concede that the battle was over.
Sixty-three year old Baijal, though, is no stranger to controversy. A 1969 Indian Administrative Service officer, he retired in October 2006 as secretary, ministry of urban development. His appointment as home secretary in 2004, however, was considered controversial because he superseded several officers ostensibly at the request of then Deputy Prime Minister L K Advani.
His record as a bureaucrat, however, was unexceptionable. He was, for instance, instrumental in piloting the flagship programme of the Jawaharlal Nehru Urban Renewal Mission to improve infrastructure and basic services in urban India and it was no surprise when he was appointed senior advisor in Infrastructure Development Finance Company after he retired.
As additional secretary in the ministry of information and broadcasting, he is said to have been the brains behind the media policy, especially in delinking news from entertainment. Putting a 26 per cent cap on foreign equity in news channels was apparently his idea, a move for which his successors in the ministry openly give him credit. He also introduced DD Bharti during his stint as CEO of government-owned TV and radio broadcaster Prasar Bharti.
As the outgoing chairman and managing director of Indian Airlines, which is now part of Air India, he had announced a massive Rs 79-crore (Rs 790 million) profit against a budgeted profit of Rs 15 crore (Rs 150 million) in 2000. This in a year of sluggish traffic growth and no fare increases. His critics, however, say the balance sheet was window-dressed for the occasion, an allegation he strongly denied.
Now, the FIA's three-day contretemps has done little to enhance his reputation.