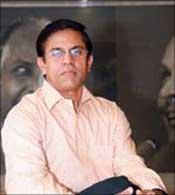 Anyone who is sceptical about the Anil Dhirubhai Ambani Group's ability to execute the projects it has on hand, and there are many, would do well to meet the man Ambani has hired to do this.
The slimly-built 51-year old Jayarama Chalasani, began his career at the state-owned power-generating giant NTPC after having got an engineering degree from the Regional Engineering College in Nagpur two decades ago. He was involved in the setting up of one of NTPC's first plants from scratch, at Ramagundam. His work must have impressed his boss RV Shahi so much that, in 1990, he was moved to the southern headquarters as manager (planning) and asked to develop other power projects at Mangalore, Kakinada and Kayamkulam - when Shahi became power secretary and Delhi's power distribution was privatised, he was fond of saying the heads of both companies (Chalasani at BSES and Anil Sardana at the Tata's NDPL) were both his 'boys'.
A few years later, when Rajinder Singh became NTPC chief in 1992, Chalasani was brought in as his executive assistant - Chalasani quit to join Reliance in 1995.
Perhaps this is why Chalasani is confident that, by 2015, Reliance Energy will be the country's second-largest power producer, after NTPC - Reliance Energy's first 600 Mw will come up this year at Rosa and by 2015, the group which has 33,000 Mw of projects with it (all acquired under Chalasani's watch) will have commissioned 15,000 Mw.
Other projects which he bid for, and won, for ADAG include the Mumbai Metro, the Hyderabad Trade Tower and five road projects at NHAI.
At Reliance (then undivided), Chalasani worked on power projects like Bawana, Jamnagar and Hirma (all suffered the same fate as other private power plants in those days) and, in 2002, he moved to BSES which had, by then, been acquired by the Ambanis.
He worked on the Delhi electricity privatisation (he still insists the concessions that BSES and NDPL received were essential to make the privatisation work) - Sardana was supposed to head BSES's Delhi operations but resigned to join NDPL, and Chalasani took charge for just a while.
Though he admits ultimate responsibility, this is why he can avoid giving direct answers as to why BSES' Delhi operations are such a mess or on why their licence shouldn't be revoked and given to NDPL (a few days ago, the Delhi regulator served notice to one of the BSES companies asking precisely this).
But Chalasani's in the news for different reasons these days. He held a press conference picking holes in the Directorate General of Hydrocarbon's defence of Reliance Industries Limited's capital expenditure in the Krishna Godavari Basin - he gave proof that the two 'independent' experts the DGH had cited were both linked with RIL.
While the tip-off in this case came from another ADAG functionary, the groundwork for most of what the ADAG group has alleged against RIL and the Ministry of Petroleum and Natural Gas has been Chalasani's - this includes documenting the change in the MoPNG's stance over the years, analysing the 'flaws' in RIL's bid which threw up the $4.20 per mmbtu price, the impact of RIL's increased capex on fertiliser/other subsidies and how this will impact both its profits as well as those of the government.
When RIL unilaterally changed some clauses in the RIL-RNRL agreement to suit it, as RNRL claims, Chalasani was Anil Ambani's director on RNRL. All of this makes him the group's walking encyclopaedia on the matter.
Which is why, when he accompanied his daughter who was joining Stanford for an MBA last year, the group insisted he answer journalists' queries from there while asking his office in Mumbai to pass on the necessary papers.
With the case hotting up, though, it's unlikely he will be allowed the same liberty when his son who, having finished his engineering from Vellore, is all set to go to for an MS at the University of Southern California.
Understated to a fault, Chalasani who was on NTPC's cricket team, refuses to say if he was a spinner, possibly conscious of the spin journalists will give to this.