Lakshmi Venu's induction on Sundaram Clayton's board is part of the TVS Group's larger succession plan to make way for the women in the family, writes T E Narasimhan.
The country's third-largest two-wheeler manufacturer by sales, TVS Motor is gearing up for a 26-year old woman manager who is eventually expected to drive the $1 billion company. Last week, Lakshmi Venu, daughter of industrialist Venu Srinivasan, moved a step closer to the driver's seat after she was inducted as a director on the board of auto-component maker Sundaram Clayton Ltd, TVS Motors' holding company.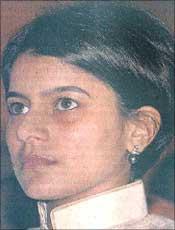 Though this development is widely being viewed as a succession plan for TVS Motors, insiders say it is just another example of how the group is readying young women managers to manage the $4 billion (around Rs 20,000 crore) TVS group companies. In fact, Lakshmi's induction is probably less of an event within the family than it is for the media because women have been involved in the group for several years.
For instance, over the last couple of years, Lakshmi Venu's cousins Arathi Krishna and Arundathi Krishna, daughters of Suresh Krishna, chairman and managing director of Sundram Fasteners, have joined the company as executive director and additional director respectively.
Shobana Ramachandran, daughter of TV Sundaram Iyengar & Sons chairman R Ramachandran, has been steering Madurai-based tyre maker TVS Srichakra. Indeed, Lakshmi's induction is part of a long drawn restructuring of Sundaram Clayton's businesses.
Lakshmi will also be the third woman manager in the automobile industry, which of course is a less travelled path for women - though like the others the development is familial rather than professional. She has a role model in her mother Mallika Srinivasan whose success at the head of Chennai-based tractor company TAFE, which is part of Mallika's father's Rs 6,500 crore Amalgamations group. The other successful woman manager in the industry is Sulajja Firodia Motwani, joint managing director of two-wheeler firm Kinetic Motor Company, a position she also inherited from her father.
If her managerial skills are yet to be displayed, Lakshmi comes with impressive educational credentials. The school topper in both school finals from Sishya School in Chennai, Lakshmi joined Yale and graduated in economics and is a doctorate degree-holder from the University of Warwick in the United Kingdom.
"I am lucky to grow up with my parents in their own businesses with completely different management skills and different ways of handling situations. It has given me very interesting perspectives and they are the role models," she told Business Standard. Venu Srinivasan's comment was "Lakshmi will have to work her way in the organisation."
Of course, he knows all about working his way up. The grandson of T V Sundaram Iyengar, founder of the TVS Group, Srinivasan started his career as a mechanic in the TVS garage. Lakshmi hasn't started quite so far down the ladder, but for the last three years, she has been working at TVS Motor's Hosur manufacturing unit as a management trainee.
This entailed travelling from Bangalore to Hosur - a distance of some 50 kms - to understand the nitty-gritty of the automobile business. Back in the corporate office she was training in management and finance.
If she faces a challenge ahead, it is TVS Motors' long-standing number three position to Hero Honda and Bajaj Auto. TVS Motor might be the third player in the two-wheeler market in India, but it is the first two-wheeler company from India to set up a greenfield project abroad when it recently commissioning of a plant in Indonesia.
Before its latest spat with Bajaj Auto over the use of a patented spark plus technology, TVS Motor under Venu Srinivasan has displayed a fighting spirit that is not associated with its conservative image. In 1989-90, for instance, the company was foundering following serious labour problems at its mother plant in Hosur. Within two years, Srinivasan pulled the company back from the brink with a remarkable turnaround, an achievement that has kept TVS Motor a standard case study for management students.