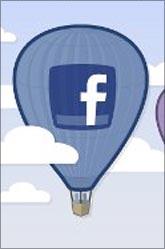 Almost 50 per cent of all the 350 million-odd active users on the social networking site are members of regional networks.
The world's largest social networking site, Facebook, has decided to rid itself of regional networks like India and China in a bid to tighten its privacy policy.
Following this move, thousands of Facebook users from India, who had opted for the "India" network when joining the social networking site, will have to revise their settings.
Every Indian who joins Facebook has an option to choose the 'India' network. India has nearly 12 million Facebook users, and the number is growing steadily. And there are numerous "India networks" -- the largest have around 13,198 members. Compared to this, Orkut (owned by Google) has around 16 million users, but the numbers are declining.
Since this update will remove regional networks and create some new settings, in the next couple of weeks Facebook will ask its users to review and update their privacy settings. Users will see a message that will explain the changes and take them to a page where they can update their settings.
When they're finished, it will show a confirmation page so that one can make sure one has chosen the right settings. As always, once the task is done, users will still be able to change the settings whenever they want.
Facebook has its reasons. Almost 50 per cent of all the 350 million-odd Facebook's active users are members of regional networks, "so this is an important issue for us," said Facebook founder Mark Zuckerberg in an open letter to users.
As Facebook has grown, regional networks like India and China have millions of members and "we've concluded that this is no longer the best way for you to control your privacy. If we can build a better system, then more than 100 million people will have more control of their information," said Zuckerberg.
"The positive side is that users will be better able to protect their privacy. On the negative side, users like me who have hundreds of contacts who have added me as friends, would now have to sift through those lists and decide who should see what. This is going to be very painful. It will need a software to manage these third-party contacts," rues Mahesh Murthy, founder and cheif executive officer of search engine marketing firm, Pinstorm.
"This was waiting to happen. The regional networks were not adding any value as such," says Kiruba Shankar, co-founder of F5ive Technologies and founder CEO of Business Blogging. He adds, though, that Facebook probably did this since the regional networks were a drain on resources without adding any value in terms of advertising. "When it comes to advertising, Facebook can't hold a candle to Google," he says.
Another Facebook user, Moksh Juneja, concurs: "It won't make any difference to the users except the fact that the India networks held an emotional appeal. It gave, perhaps, a sense of belonging so some users may protest."
Murthy, on his part, believes that the move also "throws up some very important and sensitive questions". For instance, what happens to large networks? "Is this a precursor to charging for large networks?" asks Murthy. Instances of that are the "Starbucks" network which has over 4.5 fans and the "Coca-Cola" network with nearly 3.6 million fans. "Will Facebook start charging for networks of this size?"
Murthy adds it will also be difficult to rally people around causes that matter -- for instance, the 26/11 terrorist attacks in Mumbai. "I recall that with the help of Facebook and Twitter, we managed to mobilise nearly 220,000 people  from all around the city to protest against the attacks, and pressurise the government to take action," he says.
Incidentally, the first version of Facebook was launched five years ago. Its current privacy model revolves around "networks" -- communities for your school, your company or your region. This worked well when Facebook was mostly used by students, since it made sense for a student to share content with their fellow students. Over time, networks were added for companies and regions as well. Today, Facebook has networks for entire countries, like India and China.
However, as Facebook has grown, some of these regional networks now have millions of members.
Hence, Facebook will now "remove regional networks completely and create a simpler model for privacy control where you can set content to be available to only your friends, friends of your friends, or everyone. We're adding something that many of you have asked for -- the ability to control who sees each individual piece of content you create or upload. In addition, we'll also be fulfilling a request made by many of you to make the privacy settings page simpler by combining some settings", said Zuckerberg, noting that Facebook "began discussing this plan back in July 2008".
Experts like Murthy counter that Facebook has used regional networks to grow its presence. "Why should Facebook care now? It has enough users in India. The social networking site -- which is now the fourth largest country in terms of population, albeit online, after China, India and the US -- is acting like a Big Brother. While protecting privacy is indeed a welcome idea, it should not end up making it harder for people to connect," concludes Murthy.