With govt still not keen on FDI, several organised retail chains will find it difficult to fund expansion, writes Shobhana Subramanian.
Another one almost bites the dust. Vishal Retail has been bailed out by its bankers who have put together a corporate debt restructuring plan for the beleaguered company, which has piled up a debt of Rs 700 crore (Rs 7 billion). It's a fresh lease of life but suppliers will be wary and will demand immediate payments which, in turn, will pressure the balance sheet.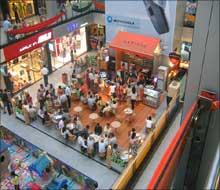 Indeed, news flow from the retail space over the last fortnight suggests that while the worst may be over, the going is unlikely to be easy. With negotiations due early next year, consumer product companies are refusing to give retailers higher margins.
One CEO went on record to say that modern retail didn't really give them the kind of throughput needed to justify the margins. He may have a point because it's true that retailers haven't been able to roll out new stores at the pace they had promised. Also, FMCG companies are somewhat miffed that retailers are pushing private labels and, to get even, are helping kiranas do up their outlets. This tussle promises to be exciting.
Meanwhile, the Raheja Group, which owns department store chain Shoppers Stop, exited yet another format, GourmetCity, which was part of its Hypercity chain. Some time ago, Shoppers had sold F&B outlets Brio and Desi Cafe to another chain and closed down the cataloguing business.
Obviously, the Indian market isn't ready for too many niche formats and it's possible a few more of these, like HomeStop, will also be wound down. Right now, money can possibly be made only in core segments and that too isn't easy as can be seen from the results of Reliance Industries' retail ventures.
While Reliance Retail posted a loss of Rs 20 crore (Rs 200 million) in the year to March 2009, which is actually good going, Reliance Fresh, now a separate subsidiary, reported a loss of close to Rs 250 crore (Rs 2.5 billion). Of course, both ventures are still in investment mode, so it's not such a big deal.
The other bit of bad news was that Trent, which is trying to open hypermarkets in the National Capital Region, ran into some trouble with the courts over the use of the name Star Bazaar. But the biggest blow for the sector would have been the news that the government is reportedly not keen to allow foreign direct investment in multi-brand retailing and intends to reiterate this. That must be disappointing for retailers like Pantaloon which have been hoping to rope in foreign partners because they need capital desperately.
While the bigger business houses - such as Reliance, Bharti and the Tatas - may be in a position to support their retail initiatives for long periods, till they're on their feet, a chain like Pantaloon, which has piled up a debt of close to Rs 4,000 crore (RS 40 billion), will now find it increasingly tough to grow. The cost of rolling out stores at an estimated Rs 1,800-2,000 per sq ft isn't small and the high interest cost on the existing debt limits profits. Also, even if the economy is on the mend, it's not as though business is booming.
Same-store-sales for Shoppers has grown by some 2 per cent in the September quarter. And take Pantaloon's sales for the same quarter. They were up just 18 per cent year-on-year compared with a 20 per cent rise in previous quarters, even though the period coincided with part of the festive season.
With annual profits expected to be around Rs 250-300 crore (Rs 2.5-3 billion), it's hard to see how Pantaloon can add 2.5-3 million sq feet annually, that it's talking about. One can't really blame the bankers for not increasing credit limits to a retailer like Vishal, because the business itself doesn't seem viable anymore. Since retail is a long-haul business, even retailers funded by big businessmen (Kumar Mangalam Birla for instance) would be glad for some capital.
At the risk of being repetitive, organised retail will benefit the economy and consumers. For one, it will help generate employment - consulting firm McKinsey has said that 1.6 million jobs could be created in the next five years. That apart, it will offer consumers a wider variety of products at more competitive prices in a more hygienic environment. And it won't hurt the kiranas.
ICRIER, which has done some painstaking research on the impact of organised retail, found no evidence of a decline in "overall employment in the unorganised sector as a result of the entry of organised retailers". And this was after the Ambanis, the Birlas, the Mahindras and Bharti had set up shop. The short point is that foreign capital coming into this sector can only help.