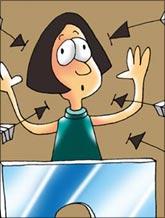 We buy a variety of goods and services in our day to day life and derive satisfaction from its consumption and use. Thus we all are consumers, and as a consumer, we expect a certain value for money, that is, right quality, right quantity, right prices, information about the product, etc.
However, in the present day, we end up being harassed and cheated by market giants very often.
In early days, unfair trade was almost impossible with limited wants and a conservative style of living. However, today, with increased industrial revolution, liberalisation and globalisation, our wants have increased manifold and this has given plenty of scope for malpractices.
There are many ways by which consumers are exploited. A few of them are:
A. Selling at higher prices -- The price charged for the product will not be proportionate to the quality;
B. Product risk -- Drugs that are hazardous, banned or beyond expiry date, electrical appliances with inadequate safety precautions, etc;
C. Adulteration -- This is very common in food items and could prove to be highly injurious to one's health;
D. Sub-standard Products -- Items whose quality is far below the required standard;
E. False Claims -- Manufacturers make false representations about their products in the media with a view to mislead the consumers. Claiming that use of a particular oil will cure baldness, using a company's fairness cream for a specific period will make one fair, etc., are all typical examples of exaggerated, misleading advertisements; and
F. Warranty/Annual Maintenance Contract -- In many cases, though the product will have a warranty or will be under annual maintenance contract (AMC), when a problem arises, the consumer is told that certain parts will not be covered and they will have to pay.
The Consumer Protection Act, 1986, is definitely a blessing for consumers wronged by manufacturers or dealers. Numerous complaints about defective goods have been heard by consumer fora over the years.
For instance, there was a complaint filed in a district forum in Maharashtra alleging that the seeds purchased were defective in as much as they did not germinate. On hearing the complaint, the forum awarded a compensation of Rs 20,000, which was upheld by the State Commission and the National Commission on appeal.
In another case, the car purchased by the complainant suffered many defects right from the time of purchase. In spite of repairs carried out by the dealer and the manufacturer, the defects were not rectified.
So, the buyer approached the State Commission which held that the car had inherent manufacturing defects and directed the manufacturer and dealer to refund the price of the car, along with interest.
When the product needs to be tested to prove a defect, it must be taken to a laboratory approved by the Central or state government for analysis. Based on the findings, the complaint is decided.
A complainant charged that when she sat on the European-type water closet in her house, it crumbled to pieces, causing her multiple injuries. She sought compensation from the manufacturer. On investigation, it was found that the closet had been in use for five or six years.
The National Commission held that only a laboratory test could reveal if the closet was of sub-standard quality. The National Commission dismissed the complaint stating that without such test, no conclusion could be reached.
Though recourse is available to consumers through this benign legislation, manufacturers and dealers should realise their responsibility towards society and ensure that quality goods are produced.
The author is legal coordinator, complaints' desk, Citizen consumer and civic Action Group (CAG), Chennai.