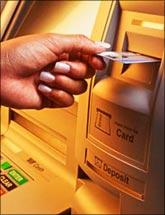 When I moved into my own home at a Delhi suburb six years ago, the nearest bank branch was six kilometers away. I used to keep looking wistfully at two large barren pieces of land near my home earmarked for shopping malls.
I used to hope that some day a bank branch with an ATM would come up. When the first mall came up last year, one of the first outfits that sprung up was indeed a bank branch with an ATM by its side. But the most noteworthy thing was that it was of a PSU bank.
Now initiative and aggressive expansion is not something that I, among many others, have come to expect from PSU banks. Perhaps that stems from my previous relationships with them.
As I began my career in journalism, I used to dread Sunday mornings when I had to perforce do my banking work at a bank branch that remained open on Sundays for two hours.
In the days of no ATMs, Net and phone banking, trips to the branch were unavoidable for essentials such as cash withdrawals. A busy work life throughout the week meant these were the only two hours in the week when banking was possible.
Of course, there were many others like me and the branch used to be terribly crowded. Much of the misery and torture that I suffered followed from that. Enduring long queues and surviving the mindless counter-to-counter hopping were some of the prominent items in a long list of cruelties inflicted on me.
Then, there was the equally cruel top-up of insensitive and callous bank staff, whose behaviour sometimes was simply breathtaking. Since there weren't other banks that provided Sunday banking, and I could never bank with foreign banks, given their steep requirements, I had no option but to be stuck in an unhappy relationship.
Rightly or wrongly, I came to associate all PSU banks with undesirable banking experience. A few years later as Indian private banks came on to the scene, I enthusiastically embraced the first one accessible.
Getting access to ATMs, Net and phone banking were like a boon from the heavens. Like many other Indians, for the first time, I was getting access to products and services that were previously available to customers of foreign banks.
I found accessibility to loans also easier with the new kids on the block. However, as time passed, I discovered the more painful aspects of the relationship: unsolicited phone calls of telemarketers, missing account statements and so on.
My view of PSU banks would have gone unchanged, had it not been for the events that unfolded in the last few years. One after another, large PSU banks have, in this period been introducing new services to catch up with their private sector counterparts.
In fact, today large PSU banks provide all or more services than private sector banks provide. With a reach still larger than their younger cousins, the accessibility of such services has only increased.
These banks also score majorly on costs of services, especially for crucial products such as home loans. I also now find a greater urge on their part to reach out to people, especially the young.
Almost all large PSU banks have gone through image makeovers through advertising campaigns that I have personally found very appealing and high on aesthetics.
Last but not the least, these banks have also been performing financially well too. All this has continued even in a period like last year when economic conditions were downright hostile. Little wonder that PSU banks swept Outlook Money NDTV Profit Awards 2009 in the categories of Best Bank and Best Home Loan Provider, bagging six of the seven awards given out.
Though laudable, the transformation of PSU banks is still work in progress with many old irritants still remaining. Ridiculously high collateral requirements in cases for educational loans, painfully long response time in cases of home loan refinancing, among others, still for make for a long list.
But you simply have to give it to this category of banks for getting back in contention with pure value-for-money banking services.
Before I end, I need to tell you that there is a branch of another bank opening at my neighbourhood mall soon. And yes, you guessed it right. It is of yet another PSU bank.