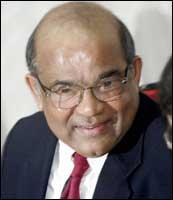 "Fame followed by blame." This is how former Reserve Bank of India (RBI) governor and this year's recipient of the Hall of Fame Award reacted to his nomination for the most prestigious of the Outlook Money NDTV Profit Awards 2009.
Reddy was conferred the award for strengthening the Indian financial system. In the last two years, up to 2008, of his tenure at the head of India's central bank, there was no dearth of people, some in the Union government, who felt Reddy was throttling India's runaway growth by tightening India's easy money regime with moves such as raising interest rates.
At that time, most of the Indian corporate sector, especially the financial sector, believed in the conventional wisdom that low interest rates were essential in perpetuating the easy availability of credit needed to fund the high growth.
To Reddy's credit, he was one of the few people, not only in India, but also across the globe, who found asset prices rising irrationally as a result of easy money, creating a bubble that would cause serious hardship for most Indians if it burst.
The fact that Reddy's position was at odds with many influential figures in the government is well-known. That is why the fact that he held his ground and stuck to his beliefs is even more laudable.
As the sub-prime crisis set in mid-2007 and its effect started being seriously felt in 2008, Reddy's position stood vindicated. All this has enhanced the credibility and dignity of the top job at the country's apex bank further.
While advanced economies slowed down and contracted in the aftermath of the global financial crisis, thanks to Reddy's timely moves, India still grew by 6.7 per cent in 2008-09 and is expected to be the second fastest growing economy in the world, still growing at about 6 per cent this year.
True, many people, especially those in the Indian middle class who had acquired wealth in the form of stocks, equity mutual funds and homes, among other things, have had the crisis making a dent in their wealth and future plans with some even losing their jobs, today, they can still look at the near future to get their financial lives back on track.
That's a lot better than in most advanced economies.
Reddy continued the long line of scholars who had served the RBI as governors. Even, last year's Hall of Fame awardee, C. Rangarajan was the chief when India ushered in economic liberalisation.
So what sets Reddy apart from his predecessors? Montek Singh Ahluwalia, deputy chairman of the Planning Commission, the chief guest at the Outlook Money NDTV Profit Awards 2009, and Reddy's friend for almost three decades, has an interesting take. He says that while many of his predecessors handled crises, Reddy has successfully anticipated and managed to duck a major one. Few will doubt that he would have been equally effective in handling the aftermath.
Reddy's performance as RBI governor has won him admiration the world over. A year after leaving the RBI, he is a much sought after speaker on matters economic.
These engagements apart, Reddy is catching up on his social life, having relocated to Hyderabad. Years in public service had made this career bureaucrat who has held top jobs in the government such as additional secretary, the commerce ministry and secretary, ministry of finance, besides a stint in the World Bank and IMF, shun proximity with people, including relatives, in the interest of maintaining credibility. Now, with responsibilities off his shoulders, he is being able to spend more time with relatives and friends.
"I take care of my grandchildren and my children take care of me," he says with a hearty laugh. His other passion, books, remains.
His reading spans both non-fiction and fiction and he is also remembered for distributing books to members of the RBI board.
"I never knew lazing around was so easy," says Reddy with candour as talks about his new life. A just reward for a man who saved many creases in the foreheads of his countrymen.
Y V Reddy's profile:
Education
PhD, Osmania University,Hyderabad
MA (Economics), Madras University
Diploma in Economic Planning, I.S.S, The Netherlands
Career
Governor, Reserve Bank of India
Executive Director, IMF
Deputy Governor,Reserve Bank of India
Secretary, Ministry of Finance
Additional Secretary,Ministry of Commerce
Advisor, World Bank