What you need to flaunt this season are touchscreen phones that are smart and sassy, writes Priyanka Joshi.
Last year's iPhone 3G has blown into a big boom this year. Predictably, the prices of touchscreen phones have come down to Rs 10,000 and options have multiplied. While the iPhone was the first mobile phone to truly show the full potential of a touchscreen mobile device, vendors like Samsung, Acer, Sony Ericsson, LG, Asus, HTC and Nokia, to name some, are giving Apple adequate competition.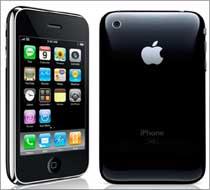 It is obvious to be drawn to factors like affordability and style when it comes to choosing your mobile phone, given the tenacity with which new phone models keep popping up in the market overwhelming the older phone models. No wonder, there are affordable touchscreen phones, which are both classy and can be your ideal workhorse too.
The reason touchscreens have become so popular, assert mobile device vendors, is the fact that they provide users the most natural way to interact with their phones. "From selecting contacts, dialing numbers and typing mails or SMS on a touchscreen is an extremely fast and efficient input system," agrees Richard Tan, country head (India) of Acer's Smart Handheld Business Group.
At the premium segment, you can't go wrong with Acer's neoTouch or Samsung's Omnia II. Besides stunning designs that will draw all eyes to these phones, Acer and Samsung provide a near-perfect user interface on these devices. For instance, Samsung Omnia II incorporates a standard mobile phone keypad on the screen that even the most technophobic lot could get easily used to.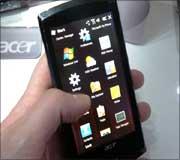 Tan points out a few outstanding features on the Acer's latest neoTouch, which he hopes will lure holiday season buyers. "The calendar and contacts feature have been prepped up for a massive 3.8-inch touchscreen display.
The calendar has a better visual interface and its contact book can save social networking ids that connect directly to a contact's Blogger or Flickr accounts with a single click," informs Tan. Simply put, Acer swears by neoTouch S200 for its out-of-the-box social networking capabilities.
Finger-operated touchscreens typically work best on large displays, above three-inches in size, because this makes them more accurate and user-friendly.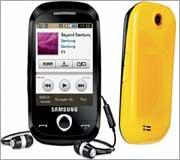 Samsung Corby, an inexpensive touchscreen phone at Rs 9,600 is drawing the young with features like social networking and Web chat applications. Sporting a distinctly youthful design and mid-range functionality, Corby uses one-finger zoom and gesture control features to stand out in the crowd.
The quirky gesture control is a feature which enables users to unlock the phone and execute the menu directly by drawing an alphabet letter on the screen. Straightforward access to its media player and an easy drag-and-drop application menu makes Corby an enticing buy.
Acer's entry-level touch offering, which is out to challenge Samsung Corby, is the beTouch E101 priced at Rs 11,999. A slightly bigger display on beTouch and a jog dial functionality helps put the device ahead of Corby.
Some classy touchphones

Samsung Omnia II
Based on the Windows 6.1 platform, it allows viewing and editing MS-Office documents.
Also provides facilities like Push email service that can be easily handled on a 3.7-inch touchscreen display, making it a first-rate workhorse.
Rs 28,990.
Samsung Corby
Finger-friendly full QWERTY keypad. Features like buddy list, chat style SMS, easy email set up wizard provide intuitive messaging and emailing experience.
Rs 9,600

Acer beTouch
The interface resembles Apple iPhone A 3.2-inch touchscreen and a jog dial simplifies navigation.
Rs 11,999
Nokia N97 Mini
A 3.2-inch screen gives a decent display to Nokia's Ovi range of services. Also comes with the lifecasting application from Nokia that allows it to publish location and status update directly to the Facebook account.
Rs 30,939

HTC Magic
Available to Airtel subscribers only. A 3.2-inch display encases a built-in internal GPS antenna and 3.2 megapixel camera with autofocus feature.
Rs 29,900
Nokia, which claims to have introduced its first touch-enabled device, the Nokia 3108 with a special touch-pad in 2003, renewed its focus on touchscreen phones just last year. Beginning with Nokia 5800 XpressMusic, Nokia 6208 Classic, and later the Nokia N97, the company seemed to be in no hurry to launch an entry-level touchscreen device.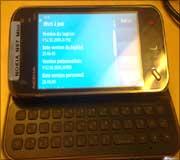 But the company has added the Nokia 5530 XpressMusic priced at Rs 12,599 and Nokia 5230, which should hit the shelves soon and will be priced under Rs 10,000.
Meanwhile, HTC too is building a touchscreen portfolio through it's Android-based (operating system for mobile phones developed by Google) HTC Magic on Airtel networks. This 3.2-inch touchscreen display weighs just 116 grams.
To attract buyers, Airtel is offering free data downloads of up to 100MB for six months.
At under Rs 30,000, it is a premium phone like Nokia's N97 but these attractive handsets clearly make their presence felt every time you draw them out of pocket.