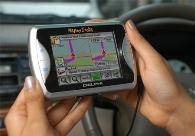 With mobile phones and laptops boasting of embedded maps and GPS features, one would think that personal navigation devices (PND) would make a graceful exit from the market.
On the contrary, PND manufacturers are betting on accelerating their reach in 2010, primarily backed by rising automobile sales. We are big fans of mobile phone-based navigation applications, but there is a lot to like about stand-alone navigation devices.
These dedicated gadgets typically offer better display screens and simplified maps that are easier to use while on the move and don't require you to choose between making a call and accessing location information.
MapmyIndia Loaded
Price: Rs 14,990
MapmyIndia's latest navigation device, MapmyIndia Loaded, is among the few advanced navigation devices we have seen in the market.
Loaded with maps of 401 cities, with detailed directions of streets, localities, sub-localities and points of interest, MapmyIndia has taken pains to make it easy to read maps.
In effect, the company gives you directions to about 830,000 km of roads connecting 400,000 towns and villages and takes you to a million points of interest, like cinema halls, restaurants, petrol pumps, etc. That's quite a bit of detail to have on a 4.3-inch touch screen device.
We took the device for a test around the National Capital Region (NCR) and in Mumbai. The touch screen interface was easy to see and a breeze to use.
The display has a matte finish, which helps reduce the glare that you will get while using it outdoors. We did face a difficulty while typing in street addresses on the touch screen but, eventually, we got used to the input method.
All the bells and whistles aside, what really matters on any GPS unit is its ability to intelligently get you from point A to B. On MapmyIndia Loaded, GPS signal performance was solid, and it had no problem maintaining a strong signal when driving between tall buildings.
So, even if one misses a turn on the road (like we did), the device quickly re-calculates the new route, based on the current direction. In fact, it takes less than a minute to recalculate the new route.
The device comes with preloaded maps (no need to pay for any future downloads) on a 2GB memory card. The memory can be upgraded to 8GB. With the built-in Bluetooth technology, you can also receive or make calls.
The MapmyIndia Loaded connects to any Bluetooth-enabled phone and displays the incoming call with the caller ID from the phone. However, the sound isn't very loud, using just the internal speaker, but once the unit is connected to the car's stereo system, it is much easier to hear the caller.
At Rs 14,990, it might seem more lucrative to buy a mobile phone with GPS capabilities, but remember, a mobile phone can never really be a substitute for a navigation device with a nice display and detailed route maps.
SatNav Moov 560
Price: Rs 16,990
We firmly believe that GPS units with text-to-speech and widescreen displays are worth a consideration and that's where SatNav's Moov 560 comes in.
This gadget comes with maps of almost 404 cities and over 1,600,000 destinations (points of interest) that can be displayed in either 2D or 3D forms. A 4.7-inch touch screen super widescreen is a pleasure to have on a navigation device. If you go globe-trotting frequently, the company offers maps covering over 250 provinces across the US and Canada and 22 European countries.
During our review in the NCR, the Moov 560 capably planned the shortest and the closest route to our destination and the voice-based support gave some much needed assistance in navigating heavy traffic.
The text-to-speech feature allows the gadget to give audio warnings of the roads and points of interest as they approach, while you keep your eyes on the road. The free map-browsing mode comes handy, especially if the device cannot find the address entered.
The Moov 560 comes with an internal memory of 64MB that can be increased using external memory cards. It runs on a rechargeable Lithium-ion battery that has a battery life of just about two hours (remember, larger the display, faster the battery drain).
Audio and video playback is also supported, although it is nothing to boast about. Some other features, like a Trip meter that can be used to calculate the distance and speed travelled, are nice but not critical to the device.
Priced higher than the MapmyIndia Loaded, the Moov 560 retails at Rs 16,990, but that's backed by voice support for a trouble-free navigation.