The new legislation will replace opacity with transparency
The government's proposal to bring a Bill during the winter session of Parliament to protect the interests of home buyers is to be greatly welcomed.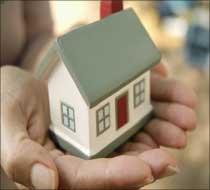 Most home buyers invest the largest share of their life savings in a home, and till now have suffered from asymmetry of information vis-a-vis the builder or seller.
As a result, the typical home buyer has had little scope for ensuring that he gets what he has contracted for, and compensation for non-delivery.
On the other hand, it is necessary to ensure that regulation is not excessive, and leaves builders with the freedom to do their business without being harassed by officialdom.
The best part of the proposed legislation is the provision to bring in transparency where till now opacity has been the norm. Transparency is sought to be ensured by making it mandatory for a builder to register a project with the regulator, furnish all the relevant details and submit proof of ownership of land and also the necessary permissions for executing the project.
These will then be posted on the regulator's website so that they are accessible to all, and deviations from the plan easy to establish. Along with this, the Bill needs to mandate a set of standard disclosures.
The draft Bill also allows a builder to accept an advance only after a sale agreement is signed (which is when the buyer gets to see the fine print) and not at the time of booking, as is now customary.
Industry bodies have pointed out that the Bill keeps out of its ambit government agencies, local authorities and statutory bodies that play a key role in orderly urban development.
There is a provision for a builder to execute a bank guarantee for 5 per cent of project cost, which can be encashed and used to set things right if he does not complete a project on time or deliver the promised specifications. But if delay is caused by official agencies, the builder needs to be protected too.
The Bill also needs to include two aspects on which the HDFC chairman Deepak Parekh has been vocal for long. One is to make it mandatory for builders to price their properties on the basis of the carpet area and not a largely notional "super built-up" area, as is the practice now. Even more importantly, a home should come with a warranty so that a home owner has some legal recourse if the builder has done a shoddy job.