The newest CEO in the Tata group brings an aggressive pace and style to India's largest IT consultancy firm, writes Shivani Shinde.
If Natarajan Chandrasekaran is aware that he is filling big shoes, he doesn't show a great deal of nervousness about doing so. At the first press conference after he took over as CEO and Managing Director of Tata Consultancy Services from S Ramadorai, he left no one in doubt that his style would differ significantly from his mentor.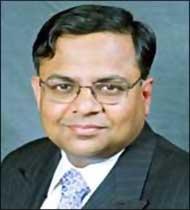 For one, the body language is notably different from his conservative predecessor. At the press conference he chose to stand and answered journalists' queries with an easy informality.
For another, the outlook appears to be more aggressive and direct. TCS may be India's largest IT consultancy firm, a jewel in the Tata Sons crown, but as far as "Chandra", as colleagues call him, its $6 billion annual revenues account for just 1 per cent of global technology spends. To improve that, he promises to come out with an "audacious" vision statement in a few days.
Insiders acknowledge the differences. "He has been groomed by Ramadorai so there is some degree of continuity and the transition has been smooth. But what he brings is his aggression and direct approach," said a senior company officials.
Investors apparently like him because of his focus on margins.
Much of this is yet to be tested since Chandrasekaran took over only on October 6 from a man who grew the company from $150 million in 1996 with 7,000 employees then, to its current revenues and 140,000 employees.
Ramadorai himself took over from a man who was a legend in the business - F C Kohli - so Chandrasekaran has plenty to live up to.
"He also likes to think big and is of a more recent vintage," his colleague added. Certainly, the 46-year-old Chandrasekaran is one of the youngest CEOs in the Tata group.
Some suggest that his drive and determination are proven by his decision to run the 42-km Standard Chartered Mumbai Marathon in 2008, despite the fact that he had never run long-distance. He started training for this four years ago and ran the Berlin Marathon last year and plans to participate in this year's New York Marathon. His other, recently adopted, hobby is photography.
Chandrasekaran, who lives in Mumbai with wife Lalitha and son Pranav, is an old TCS hand. He joined the company in 1987 after completing his Masters in Computer Applications from Regional Engineering College, Trichy, Tamil Nadu in 1986. He also holds a Bachelor of Science in Applied Science from the Coimbatore Institute of Technology, Tamil Nadu.
He started out with Mumbai as his base and did stints in California, Stockholm and the United Kingdom. In 1993, he moved to the US where he cut his teeth on the art of team building and customer management by creating a team from scratch and growing the business into one of TCS' top five global customers.
His aggression is highlighted with the company's focus on new services lines like BPO, platform-based solutions and emerging markets. Chandrasekaran is also instrumental in the big-ticket acquisition of Citigroup Global Services for $500 million, a decision that has positioned the firm as a leading player in the BPO segment.
"You have to give him credit for the growth of the BPO business. Five years ago the company's BPO offering was negligible. It was an internal study done by McKinsey that suggested acquisition as a route to leapfrog in this segment," said a colleague.
Responsible for formulating and executing the company's global strategy, Chandrasekaran has been at helm of several key strategic transitions at TCS since 2002 when he took over the role as head of global sales. As chief operating officer since 2007, he has been the architect of the new organisation structure unveiled in 2008.
Where Ramadorai gave TCS a truly global footprint, Chandra is pushing the envelope by creating centres in markets like the US and hiring more local people in geographies like France, Germany and Japan.
From what analysts say, this makes strategic sense, but others suggest his other big task will be to connect with the huge employee base and not restrict himself to a few people. "The recent restructuring has divided the company into over 20 business units with their own CEOs, business plans and HR strategy. How that develops has to be seen," said an industry expert.
He has, at any rate, time on his side. As an emerging long-distance runner, he will know that that's a huge advantage.