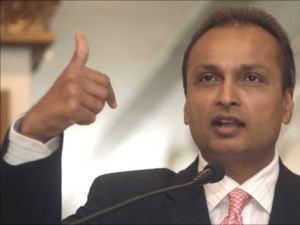 Ever since a succession battle broke out between the Ambani scions four years ago, Anil Ambani has sought to take the moral high ground.
Whether it was the issue of the treasury stock (which came about when Reliance Industries Limited and Reliance Petroleum merged), or the dependent nature of so-called independent directors of RIL, or the opaque structuring of conflict-of-interest deals, Anil Ambani came out with guns blazing, accusing his older brother Mukesh of trying to diddle the shareholders of the company their father had built.
When this issue died down, the younger Ambani had another bugbear: Mukesh, helped by the ministry of petroleum and natural gas, was going back on a contract to supply him natural gas for his power plants.
Anil spoke eloquently of the fine line between profit and greed, of the importance of trust, and how his brother was trying to diddle even a government-owned company like National Thermal Power Corporation. A barrage of newspaper advertisements alleged, among other things, a nexus between the petroleum regulator and Reliance.
But the knight on a charger has just got unseated. A government-appointed auditor has found that Anil Ambani's Reliance Communications under-reported revenues to the government by a whopping Rs 2,915 crore (Rs 29.15 billion) -- it declared one set of revenues to the government and another to its shareholders.
This resulted, the auditor says, in RCom underpaying licence/spectrum fees by Rs 315 crore (Rs 3.15 billion). Other than this, the auditor's report says the company booked Rs 1,352 crore (Rs 13.52 billion) of non-telecom revenues as telecom revenues and also booked the same Rs 617 crore (Rs 6.17 billion) of revenues twice in two years.
The company says its accounts are in order. If the auditor's findings are confirmed, the issues involve fraud on the government and duping of investors by declaring higher revenues per user (which would have hiked the company's share price). If the charges are proven, they should attract exemplary punishment.
What is ironic is that the younger Ambani should have been campaigning on the platform of corporate governance, especially since this is not an isolated case involving his group.
The Appellate Tribunal for Electricity, for instance, has just rejected his appeal against an order of the Delhi Electricity Regulatory Commission; the DERC had found that the Anil Ambani-controlled BSES had inflated capital expenditure by Rs 535 crore (Rs 5.35 billion), by bringing in an affiliate company as an intermediary.
While BSES initially said tenders had been issued for the work, the ATE said there was no evidence of any tender.
It has, however, given BSES a last chance (BSES refused to do this earlier) to show if its equipment was similarly priced to that bought by the other private power provider in Delhi, NDPL.
Meanwhile, it does not improve Mr Ambani's image when DERC sends a show-cause notice to BSES after an agency that it hired found there were glitches in BSES software, which may have caused the surge in the billed amounts in BSES areas a couple of months ago.
Mr Ambani has the right to point fingers at anyone he chooses, but he would carry credibility only if his own actions did not invite stricture after stricture.
Image: Anil Ambani