It's offers galore. Cash is good, but you could use your credit card too, and pay back in easy instalments. Make the best of the facility, writes Sunil Dhawan.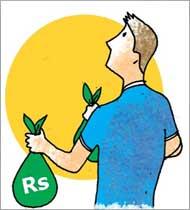 Going through advertisements, making a list, comparing deals and offers. With the festival season on, the retail pull is strong. The best and the simplest way to buy a product is to pay cash; it could even get you a discount, which means you bought at the lowest cost possible. But, if you find your cash stretched, there's plastic to the rescue. And, now you have the option of paying back in parts as EMIs. Sounds easy, but does it make sense to do so.
Paying off
A credit card purchase may be cleared in four ways. One may pay off the entire outstanding amount by the due date without revolving any credit and, thus, avoiding paying any interest. This also gets you an interest free period of up to 45-51 days.
Another way is to pay off the mandatory 5 per cent of the outstanding amount each month or the minimum amount due and keep rolling over the balance. But, this could be expensive as you would have to pay an interest of about 3 per cent each month and the new purchases made during the subsequent months don't get any interest-free period.
The third option is to opt for 'balance transfer' of the outstanding amount and save on interest charges. The fourth option is to covert the entire purchase into EMIs. This can work in your favour if used well.
EMIs on credit cards
This facility allows you to pay back for the purchase made using a credit card in instalments. The advantage here is that you pay a lower interest rate of about 1.5 per cent to 2 per cent each month. The normal interest rate is higher at about 3 per cent. Also, even if the entire dues are not cleared, one still gets the interest-free period on new purchases.
The facility is similar to a personal loan. But, for availing personal loans, one has to go through the lender's documentation process. Further, rules for taking a personal loan have become more stringent. So, instead of taking a personal loan, if one goes the EMI route on the credit card, there is no documentation or paperwork to go through and no waiting for approvals either. Your existing card gets you the loan and you simply start paying the EMIs.
Cost of instalments
Before you agree to convert your transaction into EMIs, take a look at what it will cost you. Here are a few examples
Bank
Joining Fees (Rs)
Interest
Min. Processing Fees (%)
Prepayment Penalty*
Period (Month)
EMI (Rs for
24 months)

---

Standard Chartered
499
2% p.m. on RB
NIL
NIL
12
53 (on every Rs 1,000)
Axis Bank
   500**
1.5% p.m. on RB
1.50
3
6,12,24
49.92 (on every Rs 1,000)
SBI
NIL
Flat 14% p.a
2.00
3
6,12,24
134 (on every Rs 2,500)
Citibank
NIL
2% p.m. on RB
2.50
3
6 to 36
132 (on every Rs 2,500)
HSBC
NIL
1.5% p.m. on RB
2.00
3
6,12,18, 24
100 (on every Rs 2,000)

---
HDFC Bank has the offer for select cardholders and has tie-ups with merchant establishments for EMI conversion. ICICI Bank does not have an EMI offer at present Minimum transaction has to be worth Rs 2,000-5,000 RB: reducing balance (remaining principal) *% of outstanding **Gold Plus card List not exhaustive. Check with each bank as offers vary
Moreover, you know exactly how much you would need to pay each month. If the amount is not huge, it works better than a personal loan.
Different arrangements
Not all credit card issuing banks offer separate EMI cards. But, most banks do have the option of converting purchases into EMIs even on one's existing non-EMI card. Check with the bank if your card has this facility or not. For example, HDFC Bank credit card holders have to call up the bank to check if the EMI conversion offer exists on their cards.
Also, certain merchant establishments have a tie-up with HDFC Bank and you can convert purchases from these places into EMIs if you buy using your HDFC Bank credit card. On the other hand, Axis Bank's Gold Plus card allows you to convert any amount above Rs 5,000 into 6, 12 or 24 instalments.
The pay-back tenure varies across banks and types of cards as do the minimum transaction amounts that can be converted. (See Cost of Instalments).
The cost
Each instalment or EMI will be equal to the principal amount of repayment plus the applicable interest amount. In most cases, you have to pay a one-time processing fee. Some banks also offer interest-free EMI schemes (by asking only for processing fees) while some banks levy interest in addition to the processing fees.
The latter still works out cheaper than going for the rollover facility in credit cards. For a transaction of, say, Rs 5,000 on a credit card, if you roll over the credit and pay only the minimum 5 per cent every month, it would be five years before you can completely clear off the dues.
However, before you swipe your card and convert the payment into EMIs, it's important to understand what you are paying and how it works to make sure that you don't end up paying too much.
Let's take an example to see how interest rates on credit cards work. Say the purchase is of Rs 1,000 and the EMIs are supposed to be paid for 12 months. The EMI works out to be Rs 91.68 each month at 1.5 per cent interest on monthly reducing balance.
This means 18 per cent (1.5 per cent x 12 months) on reducing balance and a flat interest rate of about 10 per cent. This means that at the end of 12 months, you have paid 10 per cent more than the product's MRP. And, not to forget the additional processing fees that may be levied.
In addition to these, if you wish to prepay the pending amount, there would be prepayment charges. All these charges could make the final cost much higher.
Look out
Nowadays, banks are quick to call you and offer to convert a purchase into EMIs. Before you agree, ask about the processing fees, interest rate, prepayment charge and flexibility in time periods. Do the math and see for yourself if the deal is worth it. Also, if you are ready to pay the entire amount on the due date, avoid splitting into EMIs.
Apart from looking at the various charges, make sure you clearly understand how the specific scheme would work for you. Check the repayment schedule. Ask about penalties and take care to avoid paying any. Above all, keep your spending under strict control.
Paying through EMIs may sound simple, but it could land you into trouble by piling up the debt against you. It is always better to pay-to-live than to live-to-pay.