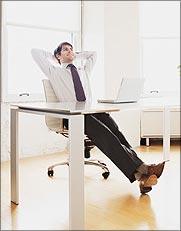 There is always this existential debate as to what kind of companies are good places to build your career. Votaries of MNCs argue about the positives of global transnational -- training, expat postings, learning, structure and process that MNCs offer.
Not to be left behind, those working in Indian companies vociferously support the cause of Indian companies, quoting autonomy, respect, family feeling, no hire-and-fire, etc.
Actually, the debate is pointless. In reality, it is a debate between what do we need in our career at different stages and do companies we work for offer that.
There is no set answer to this. It is as good as working for a foreign MNC as it is working for an Indian company as long as the company is well-managed and people-focused.
Career requirements are just like the cycle of life. When we are infants we need to be taken care of completely, provided an opportunity to learn basic skills and as we grow, we need our independence and only need broad direction. Later, as adults, we are on our own. This is a universal paradigm. Ditto with careers.
In early stages, we need an organisation that provides us an opportunity to learn -- entry level programs, multifunctional exposure and additional classroom inputs to ensure that the transition from academics to industry is smooth.
Learning, absorbing and assimilation is the cornerstone in early stages. If you are on the threshold of making an entry into the corporate jungle, ask the above questions.
In your late 20s and early 30s, after you cut your teeth in the corporate world, you need an organisation that allows you to demonstrate skills acquired and sharpen them further.
Questions to ask are -- does it provide autonomy, give responsibility to young people, fast track high performers, tolerate mistakes as part of the learning process and 'punt' on promising employees?
If the answer is 'Yes' to three of the five questions above, hang in there and consolidate your career. Otherwise, look for a company that gives you these opportunities.
In the next phase, focus first on consolidation and then on diversification. Does your organisation move you to larger roles, greater autonomy, more elbow room for your ideas, lets you dig deeper into your role/function.
Once you grow into a well-rounded functional manager, do they provide exposure to multiple functions, geographies, different experiences -- and also in hot skills currently in vogue like working on M&A, business restructuring and turnaround, start ups, etc?
Does the place you work provide opportunities for you to give your career the finishing touches -- ensure that there are no rough edges, professional blind spots -- and make you a well-rounded general manager/business manager?
As a well-rounded professional with significant successes, your professional needs change. Issues of identity, respect at an individual level and also for skills acquired and opportunity to steer at a strategic level assume significance.
You will need a platform where your skills, experience and insights can be in full bloom and you have overall corporate responsibility for decisions that have a long-term impact.
Possibly, this is the only stage where an Indian company has an advantage over an MNC (unless you have winged your career to a global role in the corporate headquarters).
In short, it is not the origin of the company that decides whether it's a good place to be in, but finding companies that meet your professional needs.
The key is to realise that professional needs keep changing as one's career progresses. If you are lucky, you will get an organisation that can meet your changing needs.
It is a smart idea to revisit career priorities and needs once every 5-6 years and figure out if the organisation you work for is meeting those.
The author is a senior HR professional with the pharma industry.