A relevant question that needs to be answered is what actually triggered the Manmohan Singh government's austerity move, writes A K Bhattacharya
.
Ministerial expenses on travel have always remained a tiny portion of the Union government's total expenditure. Ten years ago, tour expenses of central ministers were estimated at Rs 40 crore (Rs 400 million), accounting for about 0.01 per cent of the government's total expenditure that year.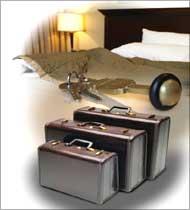 In 2009-10, they are budgeted at Rs 161 crore (Rs 1.61 billion) and their share in the government's total expenditure is marginally up to 0.02 per cent.
It can be argued that the four-times increase in the ministerial tour expenses over the last ten years is not entirely out of sync with the rising trend of the government's total expenditure in this period. But what cannot and should not be ignored is the absolute figure of Rs 161 crore spent on 76 union ministers, which would mean that on an average each of them would be spending around Rs 2 crore (Rs 20 million) on their travels during the year.
A tour and travel budget of Rs 2 crore in a year is indeed a generous amount for a public servant, who has access to all the guest houses run by state governments in various cities and towns.
As far as foreign travel is concerned, all our ministers can get the best rates in hotels through long-term deals that the Indian embassies usually conclude in most countries. In any case, barring a few, not many other ministers should be required to travel abroad frequently for official work.
A relevant question that needs to be answered is what actually triggered the Manmohan Singh government's austerity move? Was there something more than two ministers in the external affairs ministry staying in five-star hotels for several weeks?
There are no clear answers, but the sudden spikes in tour expenses for ministers in certain years must have been disconcerting for the finance ministry and may have been a factor.
For instance, the annual tour expenses for central ministers for the Atal Bihari Vajpayee government in 1998-99 were just Rs 39 crore (RS 390 million). They stayed in the region of Rs 40-41 crore (Rs 400-410 million) a year for the following three years and went up to Rs 53 crore (Rs 530 million) in 2002-03. In other words, for almost five years in the Vajpayee government, the tour expenses of its ministers were under check, with an increase of only Rs 14 crore (Rs 140 million) over this period.
The problem arose in 2003-04, the last year of the Vajpayee government. Note that the ministers in the Vajpayee government were preparing for the elections during this year. And the total tour expenses incurred by these ministers went up to Rs 88 crore (Rs 880 million), an increase of 66 per cent in one year. There are no official explanations for the sharp rise in ministerial tour expenses in one year.
Not surprisingly, the finance ministry, in 2004-05, had provided for a reduced amount of Rs 46 crore (Rs 460 million) for ministerial tour expenses.
But by the time the year ended, the the newly-appointed ministers in the Manmohan Singh government had spent Rs 80 crore (Rs 800 million) on their tours and travels. The following year saw an austerity drive that few noticed.
The expenses on ministerial tours and travels declined to Rs 63 crore (Rs 630 million), only to go up again to Rs 92 crore (Rs 920 million) in 2006-07. An attempt was made to rein that expenditure in during 2007-08, but in vain.
Central ministers' tour expenses went up by 62 per cent to Rs 150 crore (Rs 1.5 billion) that year. It is likely that the rise was once again due to the approaching general elections.
After that failed attempt to control expenses, the Manmohan Singh government appeared to have given in. While its expenses on ministerial salaries and other sumptuary allowances have maintained marginal increases over these years, the tour and travel expenses of ministers continue to rise.
That this expenditure has grown at a disconcertingly fast pace is evident from the fact that during the last 10 years, the government's expenditure on the Prime Minister's Office has only doubled (compared to the four-times increase for tours and travels by ministers) to Rs 23.39 crore (Rs 233.9 million).
It is quite understandable why ministers are under attack for their tours and travels, and not the Prime Minister's Office, whose expenditure under Manmohan Singh went up from Rs 15 crore (Rs 150 million) in 2004-05 to Rs 22.58 crore (Rs 225.8 million) in 2008-09. And in 2009-10, it is budgeted at Rs 23.39 crore (Rs 233.9 million).