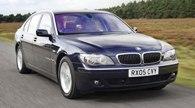 If you are very good at your game, you are allowed a few mistakes. For example, if your name is Maradona, you are allowed to use drugs, shoot journalists and even occasionally score goals with your hand.
Likewise, cars such as the Mercedes-Benz S-Class and the BMW 7 Series do not necessarily have to be on a high-octane petrol diet - they occasionally do visit the slimy side of the fuel station and drink dark pitchers of truck fuel.
And guess what, we have no option but to continue praising them because they look damn good while at it. And when their bellies are full they will even make a song and dance about how good they are when it comes to tearing up asphalt and thereby connecting distant towns.

If you stay in Europe, these towns are usually separated by whole countries. Get the picture now? You will, soon.
Most Ferraris and Lamborghinis do the 100 kph sprint in 3-4 seconds. The BMW 730Ld featured can manage that in 7.4 seconds. You realise what that means?
This car weighs almost double of most Ferraris and Lamborghinis, has only half the output at 245 bhp, can still manage 240 kph - which is a shade short of what you are allowed in most countries - costs less than half the money to buy, has five seats with lots of airbags and other safety kit and, hold your breath now, consumes diesel!
And it is separated from super cars by a mere three seconds! And we thought Albert Einstein was supremely talented.
Needless to say, I fell in love with the machine. Like all BMWs, it shrunk around me as I started driving, despite the sheer size.

The alphabet 'L' in the name of the car indicates that it is a long wheelbase 7er and the rear legroom is worth every penny if you are going to spend time in the comfortable rear seats. But make no mistake, this is every inch a BMW and that means it needs to be driven to be appreciated fully.
The six-cylinder motor displaces close to 3000cc and is aided by a variable geometry turbocharger in developing a mouth-watering spread of torque.
A six-speed automatic gearbox with Steptronic is used to send this turning force to the rear wheels in the true tradition of cars from Munich. There is more technology to this power transfer process than there is beer at an average Oktoberfest tent, though.
Dynamic stability control including ABS, dynamic traction control and cornering brake control along with reasonable restraint from the driver will help you keep this Beemer right side up all the time.
Naturally, a four-lane highway is its natural habitat and the 730Ld gobbles miles as if it is its birthright. Ride quality on good roads is sublime and is much improved on bad roads despite the 'run-flats'.
But it is the directness of the steering, the sharpness of the turn-ins and overall agility of the whole car that separates it from its competitors. Changing lanes at triple digit speeds? Charge into a decreasing radius corner and brake late? This car is more than willing to do all that and still look sublime and absolutely in control while at it.
I took the test car through some hilly terrain and the only thing that was hindering the enjoyment was its sheer width. 

Memories of the launch drive of the new 7 in and around Dresden last year came gushing in - the roads were relatively narrow and it was a tough ask to keep all four wheels on tarmac all the time.

Change pace to a relaxed (still fast) cruise mode and the 730Ld will pamper you with a quality music system and a brilliant climate control.
There's got to be something I don't like about the car, right? Well, I cannot yet come to terms with that large kidney-grille - it is too flat and feature-less for comfort from most angles.
Some people, like Srini for example, think it is a brilliant car to look at. I want Bangle back. Period.  At Rs 81.2 lakh, the car featured here is the most sensible 7 Series around. Pity most of them will form part of expensive hotel and travel fleets than that of personal collections. The turbo-petrol V8 powered version will do the latter job fine, thank you!